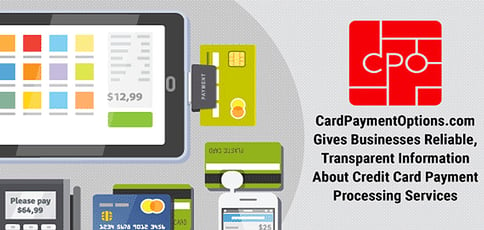 TL; DR: Small-business owners — like restaurateurs or barbers — are often masters of their craft. But understanding the intricacies of credit card payment processing services tends to fall outside their expertise. When Phillip Parker got a part-time college job at a merchant processing services company, he learned that the industry had a bit of a bad reputation. That's why he created CardPaymentOptions.com, a website that brings transparency to the industry by educating business owners on payment processing companies. Retailers needing to know which providers would be best for their needs now turn to CardPaymentOptions.com to get honest answers.
Phillip Parker, the Founder and CEO of CardPaymentOptions.com, put his résumé up on Monster.com during his senior year of college. Like many job hunters, he said, "I forgot about it. And then, out of the blue, a company reached out and offered me a job."
It was a merchant services company, an industry with which Phillip was entirely unfamiliar.
"They wanted me to go out and market merchant services to small-business owners. But right away, I learned that the industry itself had a very bad reputation. At the time, I had no idea why," Phillip said. "Over and over again, I met vendors who were getting burned. So I asked, 'What's happening? Why is there so much confusion here?'"
Instead of diagnosing the problem and moving on, he worked to solve it. He built CardPaymentOptions.com, a website to help him answer customer questions and build trust. Anyone, whether or not they bought what he was selling, could visit it and learn more about how the business worked.
Eventually, he left the industry and started working at a startup. But after a few years in his new field, he noticed that people were still visiting his old site.
"Even though I hadn't worked in merchant services for a while, I kept getting emails from people asking me questions. My site was getting a good amount of traffic. I decided I had a real opportunity and could turn CardPaymentOptions.com into an even more effective tool to help small businesses."
Showing Business Owners How to Navigate a Complicated Industry
Phillip's goal for his expanded site was to pull back the curtain on the often misunderstood payment processing industry and provide information on the best — and worst — providers.
"I wanted to help businesspeople who were knowledgeable about their own industries, but less sophisticated about credit card payment services," Phillip said. "From the beginning, our focus was simple: to identify good providers, call out bad providers, and show businesses how to find services that meet their needs."
In retail, margins are incredibly thin, so it's important to maximize every transaction. Small-business owners might not even realize it, but merchant service providers could be eating up thousands of dollars of potential profits.
CardPaymentOptions.com reviews every provider in the industry, providing a one-stop shop where business owners can investigate different companies, learn who markets their services ethically, who buries nasty terms in their contracts, and who goes above and beyond the status quo to provide honest services, transparent pricing, and fair contracts.
Phillip also makes recommendations.
"It wasn't something we did at first, but I started getting a lot of emails saying, 'This is great. I'm glad to know that the provider I'm using right now is dishonest, but I also want to know who I should choose instead," he said.
The Four Hallmarks of a Recommended Provider
Small-business owners who choose a CardPaymentOptions.com-recommended provider know that they'll be dealing with fair, honest, and transparent credit card processing services. Companies must meet stringent guidelines to become a CardPaymentOptions.com-recommended provider.
CardPaymentOptions.com's system for identifying recommended providers has four main criteria:
1: Complaints
"The most important thing to identify is whether or not a company is getting complaints. It's tough because it's a complex industry and almost every provider will get a few, no matter what," Phillip said. "But if they're receiving a higher number, then there's something wrong. And if there's a pattern to the complaints, then something's really wrong."
2: Pricing
This may be where CardPaymentOptions.com's industry knowledge and expertise matter most because provider pricing models can be inherently confusing. And a company needs to discern what type of pricing models a provider offers.
"Like the cost of goods for a business owner, credit and debit card processing fees also have a wholesale cost referred to as an 'Interchange' fee."
Different credit cards have different Interchange rates that vary by the card issuing bank and whether they're part of a rewards program. Merchant services providers often package the dozens of Interchange rates into three tiers: non-qualified, mid-qualified, and qualified, with non-qualified being the most expensive and qualified being the least.
"The problem is that companies can package those tiers any way they want. That makes it impossible to compare providers' pricing apples to apples," Phillip said. "By manipulating the different tiers, they manipulate their pricing models, making it almost impossible for business owners to understand what's going on."
But CardPaymentOptions.com investigates pricing models and recommends vendors who price their services fairly.
"There's another way to do pricing. It's called 'interchange plus,' which is simply doing away with the tiers and passing along the Interchange rate with a small, consistent markup over it. When providers do this, there's no mystery in the pricing at all. Business owners know what they're paying and why they're paying it because they have complete transparency in their processing fees," Phillip said.
3: Contractual Terms
Contract quality can make a big difference for businesses' bottom lines, especially when those contracts have high cancellation fees.
"Some providers try to lock business owners into contracts for three or four years. It's my opinion that there's rarely a good reason to have an obligation like that. In cases where the contracts come with subsidized equipment, cancellation fees may be justified to protect the provider from losses; much like a cell phone contract. But, when you're talking about small businesses and mom-and-pop shops, they don't need expensive or complex point-of-sale systems," Phillip said. "If they are not informed on the potential pitfalls of merchant service agreements, they can wind up locked into really egregious contracts. When they try to get out of them, it can cost hundreds or even thousands of dollars."
4: Customer Service
Finally, CardPaymentOptions.com examines the quality of a vendor's customer service. Do the companies have phone numbers that business owners can call if they need support? Do they offer products or services in addition to credit card processing?
This is particularly useful for businesses in niche markets where some vendors own proprietary technologies and focus on specific industries. Entrepreneurs who want companies to cater directly to their business can find an ideal partner through CardPaymentOptions.com.
Providing Honest Answers to Difficult Merchant Services Questions
When Phillip was a young college student working a part-time job — cold-calling businesses and walking into mom-and-pop shops — business owners didn't always welcome him with friendly smiles and open minds.
"Sometimes, I'd walk in, and they'd immediately tell me, 'Get out of here. We've been burned one too many times,'" he said.
"If a business owner asked me to leave, I'd say, 'Okay, I totally get it. But take my business card. The address for a website I built is on there, and if you visit it, you'll learn exactly why you got burned and, more importantly, how to never get burned again.'" — Phillip Parker, Founder and CEO of CardPaymentOptions.com
But instead of either walking out or embracing the disingenuous slick talk rampant throughout the industry, he found a different solution. "If a business owner asked me to leave, I'd say, 'Okay, I totally get it. But take my business card. The address for a website I built is on there, and if you visit it, you'll learn exactly why you got burned and, more importantly, how to never get burned again.'"
Upon leaving his role as a salesman in the industry, he took this honest, transparent attitude and turned it into a company that business owners can trust. It's tough enough to keep a business going, let alone start a new one. People who need a bit of help navigating the thicket of merchant service providers go to CardPaymentOptions.com, where they find a clear path leading to better services and higher profits.