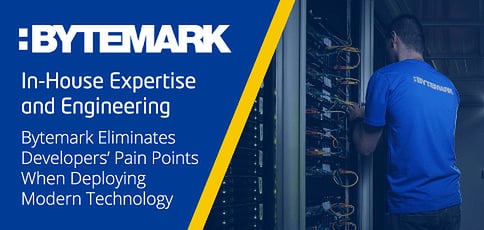 TL; DR: By focusing on delivering sophisticated cloud hosting and dedicated servers, Bytemark aims to simplify complex configurations for developers looking to maximize efficiency. The UK-based provider owns and operates its own datacenter, taking pride in building systems rather than buying them. From personal support to transparent pricing, reliability, and financial reports, Bytemark earns customer confidence with its more than 15 years of experience connecting with developers and exploring new ways to automate and streamline client workflows.
After starting as a zero-tech business giving men styling advice and wardrobe suggestions, the London-based company Thread now serves 500,000 clients using a combination of human stylists and machine learning algorithms running on dedicated servers.
"Men have a right to feel confident by looking great when they leave the house, and there are far too many of us who can't do this on our own," Co-Founder and CTO Ben Phillips said in a case study. "We're aiming to make Thread the default destination for men to get their clothes and styling advice."
Since the beginning, Ben and his team have trusted UK hosting provider Bytemark to operate and scale the infrastructure powering Thread's site. As a tech-forward host, Bytemark specializes in cloud and dedicated servers, and the company's knowledgeable staff ensures Thread's online touchpoints are operating at peak performance.
"Bytemark's customer support is second to none. We've had to use their urgent support a couple of times now, and it's been impeccable," Ben said. "I'm a firm believer in keeping things as simple as possible. While I get excited by new technologies and spend time building things at home to keep myself sharp, I'd rather use tried and tested software and ideas when it comes to the important things."
The entrepreneurial spirit and appetite for high-tech applications is what brought Marketing Manager Bethan Vincent to Bytemark and inspires the team to continue exploring new ways to support customers with advanced hosting solutions.
"The technology we build in this business supports people creating some of the coolest stuff out there," she said. "Some of our customers are developing AI-powered fashion platforms, doing machine learning stuff, and doing it on our servers. That gets me and all of us out of bed in the morning. What's the next challenge or great idea?"
Bytemark Emphasizes Reliability With a Custom Datacenter
Upon finishing University and starting a hosting company, both Co-Founders Peter Taphouse and Matthew Bloch hoped to create a low-maintenance and self-sustainable architecture that would let them stay at home most days. Roughly 10 years later, however, Bytemark was opening a $1.5 million datacenter that emphasized stability and energy efficiency.
"It's all custom built to our specifications," Bethan said. "Our engineers know it inside and out rather intimately, and I think that kind of reliability really draws people to us."
Bytemark engineers build all of the company's dedicated servers by hand, carefully selecting each component to maximize performance and stability while minimizing power consumption. According to Bethan, the company's expertise resonates with customers looking for advanced hosting solutions.
"Between the reliability of our platform and the fact that we own it, as well, customers feel like their data is secure with us," Bethan said. "We're not going to ship it over to the US or anything, which is a big key with the GDPR. Customers can always be confident with us."
The datacenter's low-power design emphasizes fresh air cooling — a rather uncommon practice in the UK — and earned a distinction for the innovation as a finalist in the DatacenterDynamics EMEA Awards in 2013. All power to the datacenter and Bytemark headquarters is generated from 100% renewable resources.
"They know we know what we're doing," Bethan said. "We're not reselling someone else's datacenter space."
Moving Forward With Containerization and Streamlining DevOps
Fifteen years after becoming the first provider of virtual machines and cloud hosting through User-mode Linux, Bytemark engineers, developers, and systems administrators are exploring ways to make containers and orchestration more accessible.
"It's all about that next level of abstraction on top of cloud hosting and virtual machines that allow people to do more DevOps-type stuff," Bethan said. "AWS has owned that space for quite a while, but the product and the barriers to entry are really complicated. We want to bring the power of things like Docker and Kubernetes to developers in a simple and easy-to-use way."
Easier containers and orchestration will enable Bytemark customers to improve productivity and simplify operations, according to Bethan, who said the company's new solution would bridge the gap between a developer's lofty ambitions and limited time.
"People want really easy ways to get their code out there, but they also want complex orchestration," she said. "They want the possibilities that things like Docker give you. They want the complex stuff to be made easy."
Although Bethan said specific details surrounding the new features and tools aren't quite ready for public consumption, Bytemark is emphasizing scalability to ensure containers can be deployed in both small and large operations.
"In the past, people wanted to be their own systems administrators and loved getting down and dirty working on their Linux machine," she said. "With modern developers, they just want things to work and want things that run their code. They want it to work like magic."
Custom Hosting and Support Options Connect Bytemark to Customers
Bytemark's team of more than 30 employees mostly work out of the datacenter facility in York, England, meaning the company's support agents are closely connected with Bytemark's infrastructure.
"Customers love that you can ring someone and they're sitting above the datacenter or right next to the system administrator who connected your server," Bethan said. "It's a very personalized experience."
As the Thread team can attest, Bytemark prides itself on delivering top-tier support. The company offers UK-based customer service through phone and email tickets during regular business hours, but the team is available around the clock for emergency repairs to urgent, business-critical issues.
Because of the company's more advanced products and customer base, Bytemark gives site owners more flexibility and control over their environments.
"We give people full root access. They can kind of do whatever they want but also lean on us for support if they need to," Bethan said. "We're not looking to fit everyone into a box. We want to work with customers and come up with a custom solution that works best for them."
Employees regularly converse with customers and developers at various conferences, meetups, and on online forums to ensure Bytemark's products meet their needs, according to Bethan.
"We're always seeing what people are talking about and the problems they face with their development," she said. "We're in the business of solving people's hosting and DevOps problems."