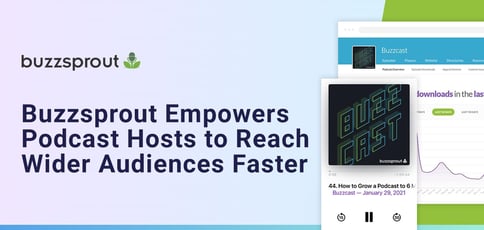 TL; DR: Whether you're an experienced or aspiring podcaster, Buzzsprout aims to help you broadcast your message to the masses. The company's podcasting platform is feature rich and delivers hosting, accessibility and monetization tools, and rich analytics, among other solutions. And with Buzzsprout's educational guides, tutorials, and vibrant support community, podcasters are finding it easier than ever to reach their audiences and realize their dreams.
Podcasts are all about careful listening. A good podcast will draw the audience into a story. The narrator and interview subjects piece together a program that resonates with listeners. Unlike watching TV, podcasts stimulate people to create pictures in their minds. They take imagination and passion to the next level.
Curiosity is more intense when you don't get immediately served with promotional imagery, and active listening turns each story into a vivid experience.
Becoming a podcast host will enable you to deliver your message and reach people who share your point of view. The experience can be plenty of fun, not to mention potentially winning over dedicated listeners.
But the process of learning the nuts and bolts of the streaming experience can make or break your day or each podcasting episode. Offering a quality podcast that encourages people to come back and connect again is what sets you apart from the millions of social media players trying to gain an audience and become influencers.


That's where Buzzsprout comes into the picture. The free podcast hosting software offers a dynamic platform with easy-to-understand features that link podcasters to their audience.
Podcasters of every experience level can access resources and educational tools with Buzzsprout, and beginner podcasters will feel just as comfortable as the pros.
And if you couple the straightforward resources with the software's dedicated and ultra-fast customer support, you will soon realize that trouble-free streaming is at your fingertips. Think of an exciting topic and let the ball roll — no time like now to get your message across.
Users may wonder how Buzzsprout keeps all voices together, empowered, and easy to listen to, ready to dive into new experiences. It's precisely its culture and how the company approaches podcast hosting as an experience. Buzzsprout is up to date with needed features and constantly goes through brainstorming sessions to leave no issues uncovered.
The rhythm of product updates is what draws podcasters to Buzzsprout, and once the connection is made, the platform's daily vibe keeps people streaming, sharing opinions, and discussing everything that moves them.
Today we will provide you with some insight into how Buzzsprout keeps changing podcast hosting, turning it into a fantastic experience for social media players and everyone tuning in.
Fresh Tools to Update Your Entire Back Catalog in One Step
Buzzsprout aims to give podcasters the control they need over the content they provide to their audience. And keeping all episodes updated is essential to making streaming an unforgettable experience for every listener.
To support them, Buzzsprout has kicked off a new set of tools.
"We've released Dynamic Content tools to allow podcasters to insert ads, announcements, and updates into their entire back catalog all at once," Alban Brooke, Head of Marketing, told us.
With the new Dynamic Tool, you can add or remove pre-roll or post-roll segments in any of your podcast episodes so you can keep content relevant for the audience.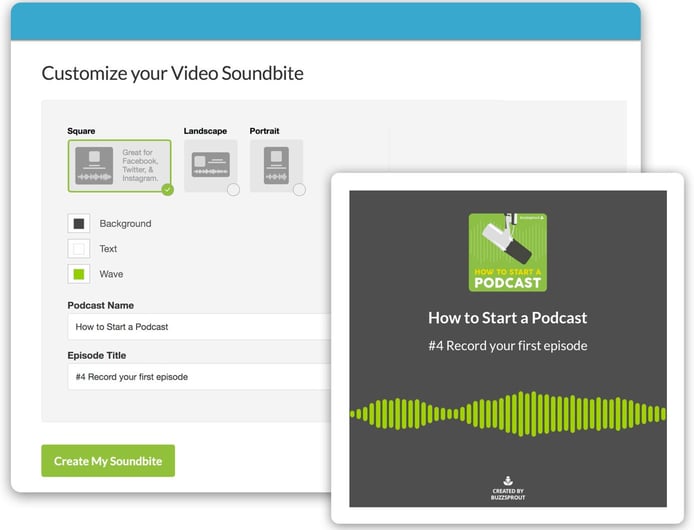 You will also be able to alert your listeners, regardless of the episode they are currently tuning in to. A listener can discover you based on an episode they love from today or a few weeks ago. That's why it matters to keep all your content revised and easily accessible. Once your voice gets traction, it pays to encourage your listeners to check in often. That way you make a personal connection by announcing the changes you plan to make, inviting them to contribute in different ways, and keeping everything you offer as a host top-notch.
Don't be tempted to leave the first episodes at the end of your revision. Sometimes, it's precisely your early work that determines how a potential listener relates to you and whether they will come back looking for your unique voice.
If you're just starting as a podcasting host, revision is just as important. At this stage, you won't have a long back catalog to keep in check, but you may feel like you should do several episodes at once to give listeners context and let them know what you think.
Take the time to review your content thoroughly because, while a fresh perspective is always welcome, professionalism matters. Avoiding mistakes or slight missteps that give the impression you're out of tune with current events may take you off the radar for new listeners.
Straightforward Stats and Promotion to Get Your Show Going
Alban made clear the company's definition of success. "At Buzzsprout, we say that we'll be successful if we make our podcasters successful," he said. "Our core features will always be podcast hosting, stats, and promotion tools. We've continued to add more functionality to help make it easier for podcasters to start their shows."
Indeed, Buzzsprout points out the easiest way to gear into podcasting. Podcasters will use stats to learn more about their listeners. They can see which apps the people listening to their podcasts are interested in, the total download time, and where their audiences would rather listen to their latest content.
Buzzsprout optimizes all your episodes automatically. All you need to do is push the upload button, and you're on your way to a great show. You can choose to publish the episode immediately or schedule when you want it to go live.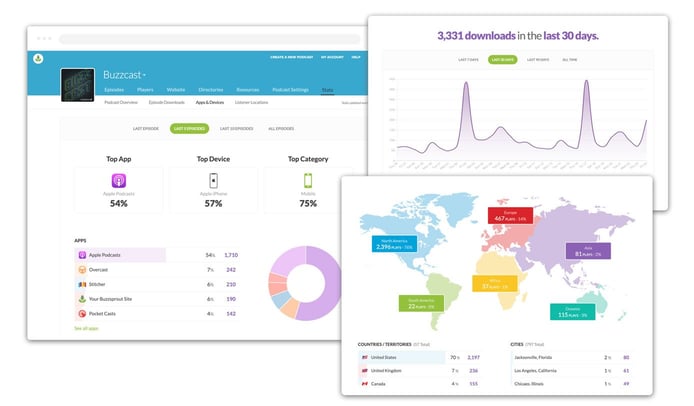 Reaching millions of listeners whether they are beginners or pros is hassle-free because you can list your episodes in Google Podcasts, Stitcher, Alexa, TuneIn, Overcast, PocketCasts, Spotify, Apple Podcasts, iHeartRadio, Podchaser, Castro, and Castbox.
Updates at Buzzsprout are not automatic either. They frequently come after helpful discussions involving different players in the field.
"Every six weeks, we all pitch ideas for how to improve the app. These come from customers, industry trends, and where we see the industry going. Then we take on six weeks of projects and roll those out at the end of that six-week period. Buzzsprout regularly gets updated every six weeks," said Alban, by zeroing in on the process of coming up with new features and solving any issues that come up.
An Effortless Pro Experience That Makes Your Voice Count
Buzzsprout stands out to every podcast host thanks to its promotion, directories listing, stats, and audio filters. Buzzsprout has a core value that goes deeper than metrics.
It is easy to use, and that's what makes all the difference to hosts and listeners.
"Ease of use is our north star. If a feature isn't easy to use, it won't be used. Our goal is to make pro-level features accessible by every podcaster," Alban said, pointing out just how much it matters to have a straightforward platform at your disposal every time you have something to say.


Creating a world in which voices can be heard, each with its own tone, aspirations, and principles is at the heart of Buzzsprout's mission. What matters to podcasters is to put themselves out there with the right tools but most of all with an interface that resonates regardless of how much — or how little — podcasting experience they have. New voices or major ones will always shine better without glitches. And loyal listeners aren't built only with sound effects or the latest promotions. They come first and foremost because they care about what you have to say, and they have found something that moves them in your words.
Keep on giving and talking. Buzzsprout is ready to stream it with no hassles, so you can gain extra listeners with each new episode you create.