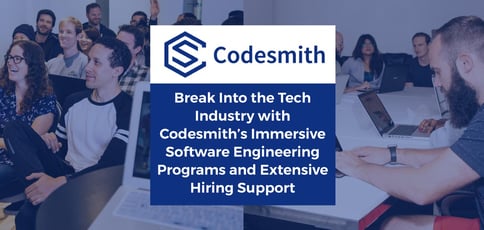 TL; DR: If you're interested in a high-paying tech career, look no further than Codesmith. The school's immersive software engineering programs condense the elements of a traditional four-year computer science degree into 12-week onsite boot camps and nine-month remote opportunities. After building a comprehensive portfolio and receiving ample hiring support, Codesmith graduates from a diverse range of backgrounds emerge ready to take on mid to senior-level software engineering jobs.
For years, we've heard dire warnings about the massive digital skills gap forecast to hit America. Now, the storm is upon us: This year, an estimated 1.4 million computing jobs will be available, with only 400,000 college graduates prepared to fill them.
But for young adults entering the job market and seasoned professionals looking for a career change, dark clouds may give way to sunshine.
After all, the bright side of the software skills gap is a high demand for talented individuals to fill lucrative positions. According to a 2016 Burning Glass Technologies report, jobs requiring coding skills pay approximately $22,000 more per year than those that don't.
To make the most of this profitable opportunity, students from a diverse range of backgrounds are turning to intensive software engineering programs, such as those at Codesmith. The school offers prep courses, 12-week onsite boot camps in New York City and Los Angeles, and nine-week remote opportunities with extensive post-graduation support.
Codesmith is certified by the Council on Integrity in Results Reporting (CIRR), a nonprofit organization that reports on, documents, and audits student outcomes, bringing transparency and accountability to the school.
"Codesmith educates its residents in everything from crafting distinguished resumes, to increasing conversion rates through strategically composed applications, to tightening communication and confidence throughout the interview process," said Codesmith Graduate Leury R. "The best part of it is that the support doesn't stop once you graduate. Codesmith continues to follow up as you go through the application process, and give you feedback, and offers help through things like mock interview practices and emotional support."
After building a comprehensive portfolio and working with experts in career services, Codesmith's diverse students graduate ready to fill mid-to-senior-level software engineering jobs. Today, the school's alumni hold positions at some of today's most recognizable tech companies, including Amazon, Google, and LinkedIn.
Full-Time Onsite Programs in NYC and LA, Plus Online Opportunities
Codesmith offers a range of full-time onsite and part-time remote software engineering programs. The school's 12-week boot camps take place in its west and east coast headquarters.
These educational opportunities help students learn to think like an engineer while gaining a thorough understanding of the fundamentals of computer science, including data structures, programming paradigms, design patterns, and algorithms.
In addition to lectures, workshops, pair programming, and project building enrich the learning experience. The programs are truly immersive, with students spending more than 100 hours each week coding.
The Los Angeles campus is surrounded by fast-growing tech companies such as Hulu, Riot Games, and SpaceX, while the New York City location is set among the headquarters of Google, Amazon, and PayPal — all of which have hired Codesmith graduates.
According to data from the Codesmith website, the median starting salary for Los Angeles alumni is $117,500, with 87% of students obtaining jobs within 180 days of graduation. Almost half of Los Angeles graduates earn more than $120,000 per year.
Graduates of Codesmith's New York City location have found similar success, with a median starting salary of $112,500 and 86% of graduates hired within 180 days. A quarter of alumni earn more than $140,000 annually.
For those who can't make it to either city, Codesmith offers online training opportunities.
"What motivated the next step forward for Codesmith to create a Part-Time Remote Software Engineering program was specifically access," said Shane, Lead Online Instructor at Codesmith. "What it came down to was making the teaching style of Codesmith accessible to anyone, anywhere in the world."
CSX, Codesmith's free online JavaScript learning platform, offers a variety of video courses and coding challenges, from beginner to advanced levels. The institution also has a CSX Slack channel, with over 4,000 engineers who join in from around the world. The supportive community helps participants find pair-programming partners, ask questions to mentors, compare approaches, share resources, and more.
Free weekly workshops are available in New York City, Los Angeles, and are live-streamed from both locations. These workshops cover beginner to advanced JavaScript topics through immersive live lectures, pair programming challenges, and technical communication practice.
"JavaScript the Easy Parts" workshops are designed for beginners who want to master the fundamentals of JavaScript. The workshops cover the concepts like variables, control flow, and looping, functions and objects and Web Development Fundamentals: HTML & CSS. "JavaScript the Hard Parts" dives into advanced topics such as callbacks, closures, higher-order functions, recursion, and more. There's a combination of live interactive lectures and pair programming, followed by networking and drinks on Thursdays.
A CIRR-Certified School with Transparent Graduate Outcomes
Codesmith's impressive post-graduation outcomes, verified by the latest CIRR Outcomes Report, reflect the holistic nature of the school's programs. Students leave Codesmith armed with not only an education but a solid work portfolio of web applications and open-source projects, including a robust GitHub presence.
During previous programs, students have built sophisticated developer tools, blockchain platforms, scalable infrastructure, and developer libraries, among other projects.
Reynolds Colon, a graduate from the New York campus who is currently a software engineer at BlackWaspTech, collaborated with his team on a final project designed to improve the lives of engineers. The result was a middleware library that incorporates GraphQl, Apollo, and Redux.
The school is also known for its in-depth career services and hiring support. During its programs, industry experts, fellow students, and alumni conduct multiple mock interviews that prepare students to remain calm while thinking on the spot.
Post-graduation, the Codesmith team and its community remain supportive, offering up-to-date best practices for interviews, negotiation strategies, and networking.
"After I graduated, the support never stopped," said alumni Shane Y., a Machine Learning Engineer at Amazon, in a testimonial on the Codesmith site. "The team checks in with me regularly, and there's a career coach available 24/7 and willing to answer any questions you have. I am so thankful that I made the decision to join Codesmith. It was really a life-changing experience."
Empowering and Supporting Women and Minorities in Tech
By encouraging diverse perspectives, Codesmith aims to build an inclusive culture where people aren't afraid to lend a hand, offer valuable feedback, and motivate each other to improve.
To that end, the school partners with Lesbians Who Tech to offer the Edie Windsorship Scholarship, which covers up to 50% of tuition. Codesmith also works with We Build Black to empower the black community to achieve their career dreams and work toward socio-economic change via mentorship, scholarships, education, and support.
To increase the visibility of women in tech, Codesmith holds events like All-girl-rithm that unite current, past, and prospective alumni to work on coding challenges, whiteboarding, and algorithms. In addition, the school offers onsite implicit bias workshops designed to help students overcome subconscious social stereotypes and attitudes in the industry.
And, because the immersive programs and fast-pace environment can be overwhelming for students from all walks of life, Codesmith prioritizes mental health through one-on-one sessions with staff and faculty. During this time, they are encouraged to voice any issues or concerns they have.
Weekly family dinners for onsite residents also contribute to the empathetic environment, while remote students take part in Saturday Shout Outs & Snacks. These team-building events provide recognition for hard work while encouraging networking.
"The community aspect is strong at Codesmith, both between current students and alumni and also with people who come to the free workshops we host every week," said Tamar Martirosyan, Marketing Manager at Codesmith. "People love spending time here in our offices."
CS Prep: Your Gateway to Developer Bootcamps
Not ready to dive straight into Codesmith's immersive programs? No problem — CS Prep helps even the most inexperienced coders grasp basic coding concepts and software engineering best practices.
The two-week online program helps attendees learn the abstract ideas behind programming as well as fundamental JavaScript elements such as functions, closures, and the call stack mechanism.
"Scholarships are available to cover up to 100% of tuition, and your CS Prep tuition rolls over to one of our Software Engineering Immersive Program's tuition upon acceptance," the Codesmith website states.
Check out the school's upcoming start dates for more information.