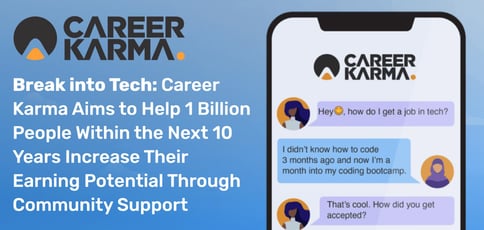 TL; DR: Career Karma is a community of peers, coaches, and mentors dedicated to helping students accelerate their tech careers through free assistance to prepare and enroll them in coding boot camps. The organization provides resources for learning to code, choosing a school, and financing your education. With a series of info-packed guidebooks and an expanded boot camp roster on the way, Career Karma is furthering its commitment to helping participants take control of their careers.
Everyone gets fed up with the 9-to-5 grind now and then, but if you find yourself channeling the character Peter Gibbons from the movie "Office Space" more often than not, it might be time for a career change.
Ruben Harris, Artur Meyster, and Timur Meyster knew this feeling all too well when they decided to trade their high-paying jobs in investment banking for continuing education in tech.
"They met in Atlanta after college and had grown tired of the drudgery at their day jobs," said Chad M. Crabtree, Editor in Chief at Career Karma. "So, individually, they each began pursuing coding boot camps."
After graduating from their respective schools and getting acquainted with the industry, the trio began hosting Breaking Into Startups, a career advice podcast featuring the stories of successful tech entrepreneurs from nontraditional backgrounds.
"The whole point of the podcast — which caught a lot of buzz quickly — was to share inspiring stories and connect people with career training programs that would help them break into tech," Chad said. "Eventually, it morphed into the Career Karma app."
Today, Career Karma has expanded further into a supportive community of peers, coaches, and mentors who help future software engineers prepare for, select, finance, and enroll in coding boot camps.
"It's based around the 21DaysCkChallenge, a three-week program where you go into the app every single day for about five minutes, do some reading, and watch a couple of videos that help you develop positive habits," Chad said. "Career Karma's goal isn't necessarily to teach people how to code, but to help them overcome the obstacles and challenges that they may encounter on their career journeys."
Free Assistance Preparing for and Enrolling in Coding Boot Camps
Chad told us that anyone and everyone looking to break into the tech sector can join Career Karma — even if they have zero tech experience. Many community members find their way to the program after becoming tired of their current positions and looking for something with greater potential for growth and job security.
"The tech sector is the place to be in that respect," he said. "We welcome people who come from nontraditional backgrounds and are looking for a career change — the same way that the founders of Career Karma got started in tech."
Chad said there is vast opportunity in the tech industry, and the statistics back him up. Research indicates that an estimated 1.4 million computing jobs will be available by 2020, but only 400,000 college graduates will be ready to fill them. That's why many of the coding boot camps we see sprouting up in cities across the nation now exist.
"The main driving force for the creation of coding boot camps was the skills gap for qualified tech workers, but people are also becoming more skeptical of higher education institutions," he said. "A lot of people don't have the resources to pay for their college education, so they go into massive debt."
Boot camps provide an affordable, alternative option for getting people on the fast track in terms of acquiring the skills they need to thrive in tech — whether they're directly in the industry or not.
Support from a Community of Peers, Mentors, and Coaches
"One of the things Ruben says a lot is that tech isn't an industry anymore — tech is everything," Chad said. "Even though some of our users maybe aren't looking to get a job in the quote-unquote tech sector, they're still looking for ways to enhance their career and increase their earning potential by gaining coding and web development skills."
Finding the right boot camp for you is simple using Career Karma. Simply download the free app and take a three-minute personality quiz, and you'll receive an in-depth Starter Kit with information on coding, boot camp selection, scholarships, and stipends, among other tips.
After an initial assessment, Career Karma assembles users into peer groups and designates a career guide to help them navigate the process. New users will meet a range of people at different stages in their career journey — from first-time attendees to seasoned professionals.
Interactions take place on the Career Karma app, available at the Apple Store or Google Play. Because Career Karma receives placement fees for helping match students with boot camps, the service is always free. The only thing the organization asks it that students help those who come behind them.
"Everyone who works at Career Karma, whether they're staff or contractors, is helping people with one of the most important decisions in their life — and I don't think anybody here takes that lightly," Chad said. "That's why there is such an emphasis on providing personal connections and support."
Helping Attendees Make Informed Decisions Through Education
Another key resource is the Career Karma blog, which Chad personally spearheads. It features countless articles and videos on topics such as boot camps, career hacking, startups, and the industry in general.
"The main purpose of the blog is to help people make important career-related decisions when it comes to what boot camps are and what they offer," Chad said. "We also provide information about college and university programs, and weigh the pros and cons of each option so people can decide what's right for them."
To help clear the fog around financing, Career Karma recently collaborated with James Gallagher, an income share agreements researcher and writer who specializes in the future of education and startups. The result was "State of the Income Share Agreement (ISA) Market 2019," a detailed report on the promise of alternative financing methods.
"Last month, we published the most comprehensive report on the ISA market to date," Chad said. "The main thing that makes ISAs so effective for the coding boot camp market is that they closely align the incentives of the institution and the student."
Students who fund their educations through ISAs pay for them via a percentage of their income after graduation, assuming that their earnings satisfy the minimum income threshold. If they do not make the minimum income or become unemployed, they will not have to make payments.
"Boot camps, therefore, have every incentive to help get students the skills that they need to be successful, but then also to help connect them with job sources so that they can start their careers," Chad said.
Up Next: A Series of Guidebooks and an Expanded Boot Camp List
As for what the future holds, Chad told us that Career Karma will be publishing fresh batches of content regularly.
The upcoming menu includes a series of definitive guides detailing how to pay for coding boot camps, how to get into coding boot camps, and job market trends. The most recently published guide, "How to Pay for Coding Bootcamp," has already been a massive hit with aspiring developers. Career Karma is also working to further enhance its set of listings for coding boot camps, adding several hundred from around the country.
In regard to long-term goals, Chad said the group will continue to focus on providing robust sources of information backed by personal support. Using this approach, Career Karma has set the lofty goal of helping 1 billion people achieve their tech career dreams within the next decade.
"I think the one thing that sets Career Karma apart from other organizations that are providing similar kinds of information is our personal coaching and mentorship," he said. "Even our three founders are directly engaged with users on a daily basis. That kind of support allows our users to be more successful."