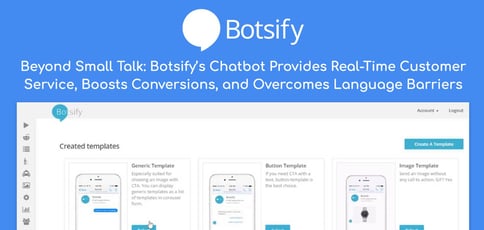 TL; DR: Through its advanced chatbot, Botsify aims to streamline the customer service process for businesses while also boosting conversions and removing language barriers. The software includes a range of features, from easy integrations with WordPress and Shopify to conversational forms that help with lead generation. Now, customers can even build chatbots for WhatsApp, creating another channel for growth.
Businesses in today's fast-paced ecommerce scene should remember one thing when it comes to support: If you snooze, you lose.
The proof is in the stats. In a 2018 survey of 1,000 consumers in the United States, United Kingdom, Australia, and Singapore, two-thirds of respondents said waiting on hold is the most frustrating aspect of customer service.
A vast majority (90%) of those surveyed also said that an immediate response is "important" or "very important," and they expect that response within 10 minutes of asking any marketing, sales, or customer service question.
But if you've ever worked in a customer service capacity, you know firsthand that a single human can only take on so much. And that's precisely the problem that companies like Botsify are trying to solve.
With Botsify's multilingual chatbot, businesses, marketers, and executives can better engage with customers via real-time responses, ultimately boosting conversions through the power of artificial intelligence (AI).
"Before Botsify, some businesses were taking four or five hours to get back to their customers," said Usama Noman, Founder and CEO of Botsify. "Now, their response times are typically less than one second."
Botsify provides both intuitive no-code self-service options and fully managed services designed to build a strong foundation for each bot. Additional features include integrations with Alexa, Shopify, WordPress, and social media platforms, as well as conversational forms for lead generation.
Now, customers can even build no-code chatbots for WhatsApp — a popular messaging tool — creating yet another channel for effective business growth.
Build a Strong Foundation for Your Bot with Managed Services
Usama said the benefits Botsify's chatbots can bring to a business are undeniable, from boosting conversions and streamlining the customer service process to removing language barriers. But, as with most things in life, you get back what you put in.
"When people first hear about chatbots, their first impression is they can build one in two hours and completely automate their customer support," he said. "It doesn't happen overnight. The businesses that build out their chatbots extensively, putting in the time and money necessary, are far more likely to achieve success."
Botsify's standard platform includes 10 chatbots; 30,000 unique users; unlimited messages, stories, forms, and media blocks; the ability to delete users; multiple scheduled messages per day, and 24/7 support.
But Botsify also offers a fully managed solution for a few hundred dollars a month that includes free development, dedicated support for maintaining and improving the chatbot, unlimited unique users and customization requests, and weekly reporting. Both plans are available via a risk-free 14-day trial, and regular subscribers can cancel their accounts at any time.
"We know the platform we built, we understand the technicalities, and by working closely with customers, we can provide them solutions for their problems," Usama said. "Our goal is to build a chatbot sophisticated enough to meet all of their requirements — only then do we hand over platform access."
Between the two plans, Usama said the company serves more than 80,000 customers, including growing brands such as Shazam, Travelex, Unicef New Zealand, Sukoon, and Autobahn Indoor Speedways.
Integrations with Alexa, WordPress, Shopify, and More
With a number of integrations and plugins, Botsify is an incredibly flexible solution that allows businesses to customize their bots as needed.
Through Botsify's integration with Alexa, businesses can create third-party apps known as Alexa Skills that expand the abilities of Amazon's digital assistant on Amazon Echo and Echo Dot devices. These voice bots allow businesses to do things like collect feedback through surveys and solve problems via dialogue on smart devices.
An integration with WordPress — which powers 34% of the internet — allows businesses to build relationships with their readership, increase traffic and engagement, and reduce bounce rates. The process is as simple as creating a website chatbot, copying JavaScript code, and pasting the code into WordPress.
Botsify also allows ecommerce businesses to link their products to a chatbot via a simple integration with Shopify. The technology enables customers to search and purchase products through the chatbots on the company's website or by using Facebook Messenger.
But that's not all. Botsify can also be used in tandem with Zapier, a tool that helps users worldwide grow their businesses by leveraging the power of AI. Using Zaps, marketers can automate tedious tasks such as creating stories on Botsify from Google Sheets rows, Excel sheet rows, notes on Evernote, and Zapier Webhooks, among other sources.
Ultimately, these integrations and platforms allow users to enhance the overall value of their bots via customization.
"We are satisfied with the performance of the Botsify platform in handling the queries of our community of more than 2 million Facebook users," a customer from EFU Life Assurance Ltd., a Pakistan-based life insurance company, wrote in a testimonial on the Botsify site. "One of the best features is the AI-based routing of queries related to various business units like marketing, HR, and customer service, and also easy integration with our CRM."
Increase Lead Generation with Conversational Forms
Usama said his favorite aspect of the Botsify platform is its ability to obtain data from users via conversational forms. Businesses can easily customize these forms with multiple field types to gather information such as names, email addresses, locations, and geocodes. With the Botsify API, it's even possible to validate whether the data is likely correct.
"Conversational forms help businesses quickly collect data, and it also links with different platforms and CRMs so you can push the data directly to your sales funnel and start getting leads," he said.
Businesses can also send data collected via the chatbot directly to Google Sheets or a Slack channel and receive notifications via email alerts.
The conversational forms were designed to ensure a quality experience that won't irritate users and result in lost leads. They use AI to identify similar phrases and keywords from user questions and respond with the most appropriate answers.
"Pop-up boxes requesting email addresses are so outdated," Usama said. "Today, people are looking for personalized experiences with chatbots who ask questions in a very conversational way. This is the type of experience people relate to."
Usama told us that the technique makes customers more likely to hand over data and boosts conversion rates, resulting in a high ROI.
New: Grow Your Business with Chatbot for WhatsApp
In addition to social media platforms, brands, advertisers, and publishers have been increasingly turning to messaging apps to engage their audiences. To address this growing communication channel, Botsify recently unveiled a feature that allows marketers to build chatbots for WhatsApp.
The mobile messaging app is one of the most popular solutions of its kind, attracting more than 1.5 billion active monthly users by December 2017.
"There are literally thousands of businesses around the world completely run on WhatsApp," Usama said. "Then there is a second tier of customers who use the app as a primary source of customer support, and a third that uses WhatsApp Business."
Botsify's WhatsApp integration, currently available via a trial, all three tiers will be able to reach customers quickly and efficiently through a communication channel they love.
"We are already allowing businesses to book free demos," Usama said. "We expect that WhatsApp will be the next big thing for us."