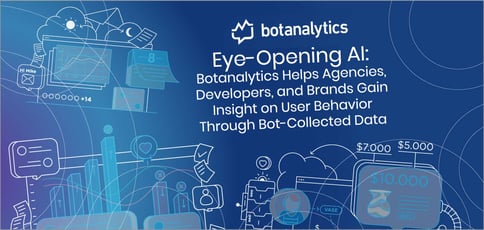 TL; DR: Botanalytics, a robust analytics tool for chatbots, uses the power of data to help businesses and developers gain insight into user engagement. The software is designed for a seamless user experience featuring an intuitive universal dashboard and support for bots on a variety of conversational platforms. Ultimately, Botanalytics hopes to play a part in evolving the chatbot market by empowering businesses to improve their bots through easy-to-use analytics.
It's 2019, and the high-tech future we dreamed of when we were younger has become a reality. We've welcomed chatbots and virtual assistants like Alexa into our businesses, homes, and even our pockets — and have no intention of tempering our virtual hospitality anytime soon.
Gartner predicts that chatbots will power 85% of all customer service interactions by 2020. And, according to Grand View Research, the global chatbot market is predicted to reach $1.25 billion by 2045.
Bots will continue to take the reins in terms of customer service interactions, but that doesn't mean businesses should let them run wild. Ensuring proper conversational flow is a matter of identifying bottlenecks, observing conversations, and measuring engagement.
And that's precisely what Botanalytics was built to do.
"Chatbots have become much more common and human-like in recent years," said Nazli Hizal, who works in Marketing at Botanalytics. "With Botanalytics, businesses have the opportunity to use those bots to understand consumer behavior and implement necessary changes based on data."
The conversational analytics tool provides an assortment of comprehensive data in one dashboard, allowing businesses to gain key performance insights at a glance. For a more in-depth look, users can browse conversation data, user activity, and retention through extensive filters that make finding specific data a breeze.
Botanalytics is focused on providing the most intuitive and inclusive user experience possible, with a streamlined user interface and support for bots on a variety of conversational platforms. By empowering businesses to improve human-bot communication through easy-to-use analytics, the company ultimately hopes to evolve the chatbot market at large.
A Conversational Analytics Tool Focused on Chatbots
Botanalytics, headquartered in San Francisco, was founded by Ilker Köksal and Enis Gayretli. During his sophomore year in college, Ilker had launched a previous startup, which he sold after graduation. In April 2016, Facebook launched its Messenger platform, which included an API for building chatbots.
Eager to enter this emerging market, Ilker and Enis started Botanalytics that same year. The company quickly took off with the help of venture capital funding. Then, in 2018, Forbes designated Ilker and Enis as innovators in the enterprise technology space through its coveted 30 Under 30 award. "I think that helped us accelerate within the bot analytics market at large," Nazli said.
Today, the conversational analytics tool helps budding local businesses and multinational enterprises alike gain insight on their users by analyzing and tracking chatbot metrics. After a free 15-day trial, Botanalytics offers paid Pro and Enterprise plans, which are priced based on access to various reports, machine-learning tools, security support, and customer service reps.
"This way, you pay based on the services you use," Nazli said. "You wouldn't want to pay as much as a big multinational enterprise if you're just a tiny local company with a chatbot."
Dora Celik, who works in Marketing at Botanalytics, said the tool is useful in a variety of scenarios. A local florist, for example, could use a keyword search to make data-driven decisions.
"If you're trying to sell white roses, you can actually search for how many times the words 'white roses' appeared in your conversations," Dora said. "If it's not often, that could mean you need to rethink your sales approach."
A Seamless User Experience: View All Analytics in One Dashboard
Dora said it's common for people to feel anxious when they hear the word "data" — and that reaction is even more apparent when you're talking big data. But analytics don't have to strike fear into the hearts of businesses.
"In terms of user experience, many people don't want to put a lot of effort into learning analytics," he said. "That's why we designed the user interface to be as welcoming as possible."
Nazli said her favorite feature is the Botanalytics dashboard, which displays high-level metrics as the platform generates messages and conversations. "It's really amazing because you can go to the dashboard and everything is in there — you don't have to click anywhere, you don't have to switch between pages — it's just all there," she said. "That makes it really convenient to find the data you need."
The dashboard is freely customizable, which makes it easy to add or remove metrics according to individual requirements — whether your chatbot is selling products, providing information, or simply entertaining guests through conversation.
Botanalytics also allows users to examine data on a deeper level. With the segmentation feature, for example, businesses can filter user conversations based on engagement steps, view user profiles, track conversation details, and explore bottlenecks.
Once you've identified the point where users may be struggling, the company's Human Take-Over feature allows a living, breathing representative to replace the bot, solve the user's problems, and, ideally, boost engagement rates.
Available for Facebook Messenger, Slack, Amazon, Google, Kik, and More
Botanalytics may have started with Facebook Messenger, but today the company supports bots on a wide range of conversational UI platforms, including Amazon, Google, Kik, Skype, Slack, and Twitter. "The fact that we have integrations with so many different platforms sets us apart from our competitors," Dora said.
In addition to bots on those platforms, Botanalytics provides analytics on voice-first products, such as Amazon Alexa and Google Home, which are becoming increasingly popular. According to a recent study Juniper Research, a predicted 8 billion digital voice assistants will be in use by 2023. The study also found that smartphone assistants will lead the charge, followed by wearables, smart speakers, and smart TVs.
With Botanalytics, users can track performance on a regular basis to gain insight into whether the voice technology is providing a satisfactory user experience. The service also includes detailed comparison reports comparing bots across different platforms.
For those looking for a comprehensive view in report form, the Botanalytics Smart Report provides a complete story of a team's customer service efforts. The tool includes weekly insights on engagement, the productivity of sales representatives, tasks you may wish to automate, and bot analytics. The data-driven tool is intended to help organizations increase customer satisfaction, reduce costs, and scale customer support operations.
Nazli said innovations like this are the product of market evolution and customer feedback. "We regularly meet with customers to hear what they have to say, and if we get a lot of requests for features users would like us to add or new products they want us to develop, we will always take those requests seriously," she said.
Future Evolution and Hopes for a More Vibrant Market
As businesses continue to adopt Botanalytics, the company's hope is that the insights provided through the platform will lead to enhanced user experiences — and better bots overall. After all, ongoing improvements are only possible by observing a bot's efficiency based on data and fixing problems as needed.
"Companies that use Botanalytics gain better insights into their data, deliver better products, and offer better services," Dora said. "And, as chatbots improve in terms of efficiency, the market share will increase as well."
In that way, Botanalytics is creating its own job security.