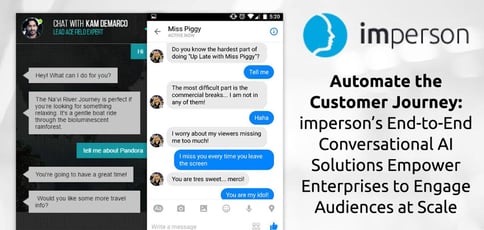 TL; DR: imperson leverages decades of research in conversational design to provide authentic, human-like chatbots that enable enterprises to effectively engage their online audiences. The company's turnkey solutions are trusted by some of the world's most recognizable brands to boost conversions and ROI. With imperson's cutting-edge technology, organizations can keep up with the best practices for engaging customers at scale.
In 1999 — years before Siri, Alexa, and Google Assistant would become household names — researchers at a foundation in Tel Aviv, Israel, were working on technology that would enable computers to engage people in human-like conversation.
The effort continued over the years, purely for research purposes. Soon, improvements in computing speed and the introduction of cloud infrastructure opened the doors for commercial implementations, such as Apple's initial release of Siri in 2011.
In 2014, Co-Founders Erez Baum, Eyal Pfeifel, Seth Greenfield, and Yaki Dunietz took the knowledge they had acquired at the Israeli research foundation and used it to launch imperson, which develops turnkey chatbot solutions using propriety conversational AI technology.
"imperson was founded based on the technological advancements in AI before it, folded into a commercial enterprise product," said Seth, who now serves as CEO of the company. "We spent about a year in stealth, developing conversational flow, moving all the infrastructure into the cloud, and looking for areas where brands and large enterprises could leverage the technology."
In its earliest days on the market, imperson was part of Disney/TechStars Accelerator, a program that helps innovators turn their new media and tech ideas into a reality. After graduating in 2015, the company went on to revolutionize the way producers, brands, publishers, and enterprises engage with their customers.
Today, imperson provides an end-to-end solution for enterprises looking to use authentic, human-like chatbots as part of their engagement strategies. The company's turnkey solutions and forward-thinking approach help some of the world's most recognizable brands — including Disney, Moet Hennessy, Viacom, Johnson & Johnson, Hyundai, and Lionsgate — boost conversions and ROI.
Revolutionizing Marketing and Customer Engagement
The fully managed, end-to-end bot solutions provided by imperson cover everything an enterprise would need to build and maintain its bot's presence. Onboarding is a breeze with full-service creative guidance, which includes setting up and defining the bot's voice and personality.
The company also deploys and hosts the bot, provides an analytics dashboard with real-time insights, monitors performance, and tailors the customer experience based on the user's actions. imperson's proprietary technology controls conversation flow based on dialog context, natural language understanding (NLP) algorithms, and relationship memory. Finally, conversation flow analysis algorithms optimize the conversational experience through a constant machine learning process.
Seth describes imperson's chatbots as human-like — and for good reason. "When I say human-like, I mean it should be comfortable to the person on the other end, but clearly we're not trying to fool anybody into believing that they're speaking to a person," he said.
Expectations between human and bot conversations are vastly different. Chatbots tend to possess an extensive catalog of knowledge — more than the average human customer service representative would have to offer in a simple chat conversation. Still, as Seth puts it, the key is to maintain some sense of illusion so that you don't "show the springs."
"People know when they see a Miss Piggy (chatbox) that they're not actually speaking with her, but the conversation should still be free-flowing, allowing the customer to be able to ask the questions they want answers to and receive proper responses," he said.
Authentic, Transparent, and Purpose-Driven Experiences
To that end, Seth said transparency is key to building brand trust and ensuring a good chatbot experience. This is evident in the fact that imperson makes it blatantly clear to customers that they're not talking to a real person — yet the conversation often results in an authentic, natural experience.
"People are very accepting of this type of engagement," he said. "We see it at different points in conversations — people drop the stiffness and start reacting with things like, 'Thank you!' or 'This was great!" It's something you'd never say to a computer, but with the good conversations that our technology is able to replicate, that's what happens."
It's crucial that the company's enterprise clients can set and accomplish their own unique goals through the end-to-end engagement solution — and that's one of the areas in which imperson shines.
The bots can serve a variety of purposes. "Our chatbots help brands in many areas, including customer support, product information, and lead generation, through human-like conversation," Seth said.
Jack in the Box, for example, uses the voice of its fast-food mascot to promote menu items, distribute special offers, help customers find the nearest location, and even play games. The Big Brother bot, on the other hand, allows fans to vote, learn about house guests, and create memes, among other content.
"One of the unique advantages of our system is its goal management feature, which strikes a happy medium between allowing brands to accomplish what they want and letting customers accomplish what they're looking for," Seth said. "Like any human-like conversation, it's the balance between the two that makes a good conversation."
Boost Mobile Conversions and ROI
Seth told us it's the natural and authentic nature of imperson's chatbots that leads brands and enterprises to success. "A lot of automation that's happened up until now has not been brand-specific, and the brand lost its voice," he said."The ability to actually put a brand's voice back behind the bot is a key driver for results."
The company has seen brands achieve incredible gains in conversions and lead generation. In one recent example, a brand was selling a high-volume product. By adding a chatbot to its website, Seth said the company saw a whopping 90% increase in signups.
"I was very surprised when we got that number originally — most brands would be thrilled with 20%," he said. "We believe that the 90% increase is due to the natural way that this is being done."
Chatbots are also useful tools for mobile sites. According to Statista, in 2016, 69% of digital time in the U.S. was spent via mobile devices. And, by 2020, the number of smartphone users worldwide is projected to reach 2.87 billion.
Still, getting information from a website can be challenging on a smartphone.
"The real estate is limited — a chatbot solves that issue," Seth said. "You just ask a question, and the bot will go through some form of triage to understand exactly what the person wants. It's something that a salesperson knows how to do instinctively. A chatbot should be at least as good as that."
Into the Future: The Convergence of Chatbot and Virtual Reality
According to Seth, imperson's conversational AI solutions are built to allow for nearly infinite possibilities at scale. He said it's normal for brands to want to dip their toe into the water when testing new technology, but they need to ensure they are working with a provider that can grow with the company.
"Starting small is always a good thing, but it's important to have a plan going forward," he said. "You don't want to build up a system that you have to basically throw out because you can't go any further with it."
In terms of the future of chatbot technology, Seth is intrigued by the eventual merging of conversational AI, augmented reality, and virtual reality. "I look forward to the day when I can go into a showroom and speak to some entity in there that's able to not just talk to me about a product, but walk around it with me," he said. "That's going to take a little while, but it excites me a lot."