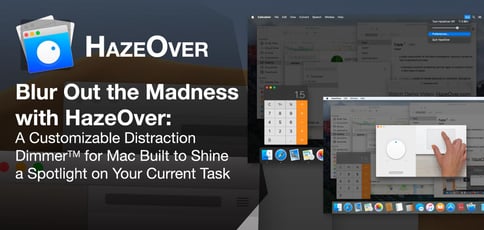 TL; DR: If you're a Mac user looking to boost productivity, you may want to consider HazeOver. The distraction-dimming app reduces visual noise by highlighting your main desktop window and fading out everything in the background. With customizable intensity and speed settings, HazeOver aims to improve concentration in a way that's most comfortable for you.
Considering the multitasking demands employers place on their workers, it's a wonder humans haven't grown octopus-like appendages over successive generations. For years, we've defined success as the ability to balance competing demands concurrently, without any regard for focus and concentration.
Today, research from the American Psychological Association shows that those who simultaneously perform more than one task spend more time overall and have a higher propensity for error. Zero in on a single project at a time, without distractions, and you'll be more productive, reduce stress, and make fewer mistakes.
Max Ananov, Founder and Creator of HazeOver, has known this for years. In 2007, frustrated with the visual clutter on his Mac desktop, Max began designing an app that would accentuate his primary window while fading out all others.
"I'm not very organized, so I wanted something to help me stay focused and not get overwhelmed with what was going on on the screen," he said. "The idea for HazeOver came naturally to me."
When Max released the app on the Mac App Store in 2011, he was one of the first to market with a single-tasking approach to desktop productivity. Over the years, as the concept caught on, Max added features such as shortcuts and a custom dark mode.
Today, the app continues to improve user productivity through selective dimming effects that gently fade away intrusive emails, chat messages, and tweets, among other distractions. Now, with a range of intensity and speed settings, HazeOver is making its productivity tools even more customizable.
Increase Accessibility and Improve Productivity
Max said that HazeOver is one of those apps you can't fully appreciate unless you get your hands on it, so he recommends taking the free trial for a spin if you're on a Mac. Many HazeOver users have told Max that the app helps facilitate better workflows. In addition to increased productivity and reduced stress, some users have observed unexpected benefits.
"I was most surprised when someone wrote me an email explaining he had photosensitivity issues and was using the app to help with that," Max said. "I hadn't expected that use case."
He's also received feedback from users with ADHD who prize the app for its ability to increase focus. "Until lately, Mac's interface featured primarily white windows, which made it hard to discern the orders of windows," Max said. "I got feedback that my app helped with accessibility because you can see one window while the background is in a contrasting shade."
Others, including a user operating under the name Buckuardo, say HazeOver makes it more comfortable to stare at a computer all day. "It's great not to have background apps and windows distract my eyes on a large screen, but the other huge benefit is that my eyes no longer feel as burned after a long day at the screen," he said.
The product was designed to be intuitive and user-friendly, so workers can spend less time managing windows and more time focusing on the task at hand. To do this, Max said HazeOver "automagically" highlights the active window when you switch between multiple instances.
Eliminate Distractions and Spend Less Time Managing Windows
If you don't have time to download a free trial, HazeOver's demo video shows just how the app works on a MacBook Pro. Say you've got a bunch of windows open, including your calculator, Messages app, contacts, reminders, and various browser windows.
With HazeOver, all you need to do is enter Launchpad, click on the HazeOver application, and ensure it's enabled. Then, as you switch from window to window, the last instance you've clicked on will remain highlighted while the rest will fade to gray.
The tool is especially useful in managing windows because you can forget about minimizing, closing, or hiding elements that are in your way when everything fades into the background. If you have an exceptionally large screen, a full-screen view may not be practical for you. In this case, HazeOver will help you concentrate on your main task.
When it comes to implementing future features, Max said the process is largely governed by user feedback. In February of this year, he introduced an update to HazeOver 1.8.3 that improved compatibility with electron-based apps, fixed dimming of apps assigned to all desktops using the Dock menu, and fixed flickering when switching spaces with full-screen apps on multiple displays, among other adjustments.
The company's latest release, HazeOver 1.8.4, introduces enhanced toggle dimming on the menu bar, improved automatic desktop revealing and support for Pathfinder, and fixed dimming when dragging a window between screens and switching between windows of the same app on different screens.
Customizable Dimming Control and Options for Multiple Displays
Over the years, Max has received requests to make the app less restrictive so users can create personalized experiences. For example, when you switch to a different window, HazeOver will automatically fade out the previous window. How the program accomplishes that task — either through an instant switch or smooth animation — is up to you.
"Based on feedback, some people prefer to make the transition instant, and some find it is distracting when it suddenly changes and want it to be less noticeable," Max said. "So, I included both options."
Users may toggle between HazeOver's dimming options by double-clicking the HazeOver icon in the menu bar or use Control, Option, Command + H to turn the app on and off entirely. Users also have the option to adjust the intensity of the haze effect between a soft gray and bold dark background. Simply position the mouse pointer over the menu bar icon and scroll to adjust the brightness.
HazeOver is also compatible with AppleScript to allow for automated control over the application. Through the powerful scripting language, users can change dimming intensity, tint, animation duration, and secondary display modes, plus set preferences for multiple windows. Detailed instructions are available via the HazeOver help guide.
To assign keyboard shortcuts to HazeOver actions, users can download Max's other app, ActionShortcuts, which empowers Mac users to run commands and scripts from keyboard shortcuts or the menu bar.
And while Max is happy to implement new features as a product of customer feedback, he's always cautious not to make the app more difficult to use than it should be. "The worst thing I could do to a productivity app designed to increase focus is to overcrowd it with lots of options and features," he said.
Support 4K Video Playback with 4Ktube Extension
Now that HazeOver is in a good place, Max had time to develop his latest app, 4Ktube Extension. This new addition to his app collection makes it easier for Mac users to watch 4K videos.
Because YouTube doesn't support 4K video playback in Safari, Max designed the app to show a 4K badge in the toolbar whenever video quality higher than 1080p is available. Clicking the toolbar icon in Safari when a high-quality video is available will allow users to open the video in the Google Chrome browser, which does enable 4K video.
"Like HazeOver, I developed 4Ktube to scratch my own itch," he said. "I use Safari, and I want to watch the highest quality videos available, but Safari doesn't allow for that, so it's a workaround."