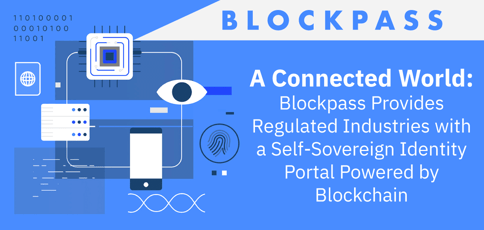 TL; DR: Proving you are who you claim to be is a hassle. Blockpass, an identity system that supports the verification of humans, objects, and devices, is helping create trusted connections between multiple entities. The blockchain-based self-sovereign identity protocol is effective for use in a variety of spaces, including regulatory compliance. With the help of the Blockpass Identity Lab, the innovative company will continue to explore how blockchain technology can simplify secure identity verification.
When I was a child, I'd save up money throughout the year for an annual Toys "R" Us shopping spree. Today, as an adult living in an ecommerce-based world, Toys "R" Us is no more, and the thrill of shopping has largely been replaced with the excitement of receiving an Amazon package in the mail.
Recently, I received a mobile phone alert that my box of dark chocolates was waiting patiently for me in our community mailbox. I went straight for the key hanger, but my heart sank as I realized my husband had taken the mailbox key with him on a business trip — and wouldn't return until the following week.
Without my key, I had no way to prove that I was, in fact, the owner of my package. All I could do was wait for my husbands' return, powerless as my dark chocolates melted in the hot Florida sun. My analogy is a superficial one, but it underscores the fact that proving your identity — for example, when you try to open a new bank account or partake in other transactions — can be an incredibly frustrating process.
In the future, that may change. Blockpass, a blockchain-based identity protocol launched in 2017, is building a foundation that supports the verification of humans, objects, and devices in an increasingly connected world.
"Blockpass was launched to create a secure environment for the Internet of Things (IoT)," said Hans Lombardo, CMO at Blockpass. "We also observed that there wasn't a good identity verification solution — and felt that we could orient a human identity system toward blockchain."
Hans said the idea is to build a foundation for seamless and trusted interactions between humans, devices, and the objects with which they interact — including everything from a locked Airbnb unit to legal marijuana products in tamper-free containers. And while Blockpass is currently suitable for a range of use cases, Hans said its ultimate goal is the "global realization of decentralized identity for regulated industries and the Internet of Everything." With the company's focus on innovation through the Blockpass Identity Lab, that goal is very much within reach.
KYC, KYD, and KYO: Compliance in the Blockchain Ecosystem
As an identity application for regulated services and the IoT, Blockpass is the first step toward the development of a self-sovereign identity protocol for the Internet of Everything (IoE). The IOE, an all-encompassing open network, unites devices, objects, and humans through gradual embedding of hardware and software.
As an identity system, Blockpass supports the verification of humans, objects, and connected devices within the IoE. Initially, Blockpass focused on human-oriented Know Your Customer (KYC) verification, but it will soon develop protocols for Know Your Device (KYD) and Know Your Object (KYO) verification.
"The first iteration of Blockpass is an effort to create a secure, user-controlled identity on the internet because so much of the internet is centralized or federated through companies like Google and Facebook," Hans said. "We wanted to create an application that would allow you to control your identity using your phone through a mobile app."
To get started, the Blockpass team reached for what Hans called the low-hanging fruit — KYC.
"We decided to create this application as a RegTech for clients to bring blockchain ecosystems into compliance," he said. "Now, mainstream financial systems and merchants are interested in our product because it's mobile, robust, and user-centric — and it complies with privacy regulations like GDPR because we don't keep any data on the user."
Self-sovereign identity applications allow users to establish, store, and manage identities while maintaining control over all data involved. The data collected to determine identity are not stored on a central server but passed on to the verifier for as long as is required to create the identity. Data are then deleted at each step of verification and returned to the user's personal device.
A Decentralized Solution for a Range of Use Cases
Blockpass authenticates identities through hash codes. These codes are created through a data structure called a Merkle Tree that converts digital information into a sequence of numbers and letters.
Blockpass uses hash codes to provide a safe, immutable, distributed whitelist of KYC-verified identities. The user simply provides information to Blockpass, the app verifies the information, and if it's marked clean, the user can instantly interact with Blockpass-enabled applications to do things like open a bank account or exchange cryptocurrency.
In its current form, Blockpass can be used in multiple ways. For example, the technology enables interactions with regulated services and facilitates transactions such as the purchase of security tokens. Second, Blockpass can be used to satisfy merchants and service providers. Third, blockchain users can leverage the technology for self-sovereign identity establishment and management.
"Everyone talks about when we will get to Web 3.0, a decentralized version of the web," Hans said. "In our view, to get to Web 3.0, users need to establish self-sovereign identity."
Self-sovereign identity enables the user to validate and control their identity without reliance on a third party. "There's this idea that decentralized web is only possible through decentralized identity," Hans said. "If identity is decentralized, and in addition to human identity, you have object and device identity, then humans can share, rent, and sell objects and devices."
This type of structure, Hans said, would enable an individual in California to remotely rent a local, self-driving car from its owner in Hong Kong. "The idea is to create a really secure identity for people, devices, and objects," he said.
A Focus on Innovation: The Blockpass Identity Lab
The Blockpass Identity Lab, a collaboration between Blockpass and Edinburgh Napier University in Scotland, is committed to developing methods to protect the personal data of consumers. Under the lead of Lab Director Professor Bill Buchanan, OBE, a world-renowned computer scientist, the lab is developing a number of advanced technologies for identity verification.
"One of them is zero-knowledge proof technology, which allows you to anonymously verify identity without exposing private data," Hans said.
Blockpass is also working with the Blockpass Identity Lab on proof-of-deletion technology. "If you have an account with Facebook and want to close it, this technology provides evidence that the data has actually been deleted," Hans said.
Also on the innovation front, Blockpass is building a platform that will provide KYC for companies. "For a company to set up a bank account or get insurance, all of its directors, owners, and shareholders need to be verified through KYC," Hans said. "The process requires certified copies of passports, proof of address, and a company certificate with annual returns and other information."
The platform Blockpass is creating will have all of that information in one blockchain-based account, allowing users to verify their identity with just one click.
Soon, Blockpass will introduce a marketplace built around mobile verification. If you're a KYC-verified user through Blockpass, the marketplace will allow you to interact with any merchant on the platform without the need for further verification.
"For example, we're integrated with one of the largest cryptocurrency exchanges in the world, Bitfinex," Hans said. "Say you use that, and then maybe there's an insurance company that's on our platform, you click it, and your data is sent there, too."
All marketplace actions are the choice of the user, and Blockpass doesn't store any of the data that passes through its system.
Plans to Impact Regulatory Compliance Through RegTech
A security token is a digital asset used to authenticate the identity of a person attempting to gain access to a restricted resource. Like traditional financial institutions, the crypto community is subject to federal security regulations.
Moving forward, Blockpass hopes to help ensure that security tokens are compliant with those regulations.
"It's not going to be an easy road, but we're determined to do it," Hans said. "Our goal is to be a RegTech provider that's going to be involved in helping the regulator become more comfortable with tokenized securities."
In the blockchain space, Blockpass is relatively unique in that it has already deployed a live platform. The company's future efforts in the area of security tokens will represent ongoing progress.