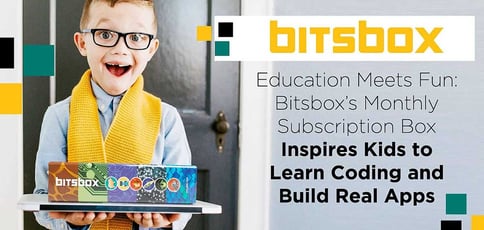 TL; DR: Bitsbox teaches kids to love coding through a learning system that arrives monthly via mail. Each month's kit features a grownup guide, stickers, and new Javascript-based app projects brought to life through the company's intuitive website. With the ongoing development of school boxes for classrooms and a focus on learner feedback, the company is shaping the next generation of developers.
From Netflix to Spotify, we're accustomed to the instant gratification provided by on-demand online technologies. Still, there's nothing quite like the feeling you get when you receive a package at your doorstep.
And if mail delivery has the power to bring a little sunshine into an adult's life, you can imagine how it makes an 8-year-old feel. Former Google employees Scott Lininger and Aidan Chopra tapped into that euphoria when they founded Bitsbox, a company that teaches any child who can read how to code using an artfully packaged learning system delivered monthly.
Scott came upon the idea for Bitsbox when his 7-year-old daughter asked him what he did at work. "He was so excited by her interest that he went online and began searching coding tools for kids," said Emma Erickson, Content Marketing Specialist at Bitsbox. "He wanted his daughter to learn to code as he had and wasn't impressed by what he found."
When he was younger, Scott learned to code using a TRS-80 Color Computer and an instruction book. To make the computer do something, Scott had to write code, which meant copying instructions from the book and fiddling with dozens of commands that made little sense at the time. After some practice, the code he was writing started to become clear.
In his hunt to help his daughter learn to code, Scott couldn't find a type-based tool comparable to the one he had used years ago. His only solution was to make his own — and thus, Bitsbox was born. With Bitsbox, kids receive a monthly kit featuring a grownup guide, stickers, and new Javascript-based app projects on Coding Supercards they can use to create apps on the Bitsbox website. Every six months, they receive a custom binder to help keep materials organized and easy to access. Other goodies, like stickers and a corresponding chart to track progress, make the kit even more charming.
Today, Bitsbox has motivated more than 1 million children in 70+ countries to try their hand at Javascript-based app creation. The boxes, sent by mail on a regular schedule to keep kids excited, feature creatively designed example projects that kids can use to build apps online and share them with friends. With ongoing development based on feedback from young learners and plans to update school boxes designed for classroom use, Bitsbox is fostering a love for coding in the hearts and minds of today's youth.
Motivating More Than 1M Children in 70+ Countries to Build Apps
Teaching children to learn to code is an investment in their futures. Studies show that coding is a core skill increasingly sought by employers, and tech jobs tend to bring in high salaries. In turn, the coding education market is becoming steadily more crowded.
Emma said she's seen a range of educational coding tools on the market in recent years, from robots and bracelets to board games. Bitsbox's challenge is competing with brands that package educational lessons in toys.
"We all have the same end goal: Teach kids how to code," she said. "A blinking robot often grabs a kid's attention quicker than a stack of app projects, so we're really intentional in making the content of the app projects appeal to kids."
That means mimicking games they play, like PacMan or Super Mario Bros.; including the ever-popular smiling poop emoji in stamp collections; using silly sounds; and encouraging customization. "My personal favorite feature is also our most recent: the Make Your Own Stamp feature," Emma said. "Since shipping our very first box, the ability to use your own photos in Bitsbox apps has been the most frequent feature request — now kids finally can!"
The company also recognizes the value in providing children with an intuitive, frustration-free experience. Emma said that if your child can read, they can code with Bitsbox, though the suggested age range is between 6 and 12.
Hundreds of Javascript-Based Apps to Create and Share
Many experts agree that Javascript is the best coding language to learn. It's the most popular, relatively easy to understand, interactive, and a foundational language for building future programming skills. Still, the prospect of learning any computing language is intimidating for adults, let alone children.
To that end, Emma said the top benefit Bitsbox offers is the ability to demystify typed coding. "Too often, typed coding is seen as abstract and intimidating," Emma said. "Our system proves that coding is exciting and that kids have the power to create the technology they love."
The tutorial app Bitsbox uses to introduce beginning users to code, Food Fight, features just three lines of customizable code:
fill('pink')
p = stamp('pie')
p.tap = explode
"We do this with a simplified API of Javascript in order to make it kid-friendly," Emma said. "Users can change the fill color, the stamp, and what the stamp does when you tap it."
Emma said encouraging kids to mimic real coding with a keyboard empowers them to achieve future programming success. "Parents are usually more hesitant than their kids are to jump in, and it's because we're programmed (pun intended) to think that coding is that green gobbledygook that only hunched-over geniuses in dark rooms can master," she said. "And that just isn't true!"
Ongoing Development Based on Feedback from Learners
Some of the most brutally honest comments you'll ever hear come from the mouths of children. As a parent, learning exactly what your child thinks about your outfit or personality isn't always fun. But for companies like Bitsbox, blunt feedback is downright priceless.
"Feedback from users fuels a majority of our feature updates," Emma said. "Kids are as honest as it gets, and our coding platform allows them to send questions or feedback with just one click."
The company also turns to parents and educators to inform product development. In some cases, Emma said the company has found their overall perspective on coding revealing. "If a grownup doesn't understand what coding is, how are we going to convince them to teach their children?" Emma said. "Their feedback has driven our entire methodology."
Adults don't need any coding knowledge to get children started with the learning program. To help parents and teachers feel less intimidated by the process, Bitsbox now includes a "Grownup Guide" with information about the coding concepts and commands used in each box.
Emma said Bitsbox is able to stay humble (and nimble) because it's a startup. "In fact, we shifted our product's form factor 20 months into our practice because of what we were hearing from users," she said."We know we might not be exactly right the first time, but we're always willing to adapt and improve."
Bitsbox plans to focus on getting in-person feedback from users in the coming months. "We have local kiddos coming into the office every Tuesday to code with our Product Team, and we'll be attending several education conferences across the country," she said.
Classroom Boxes Designed to Bring Coding to Schools
Bitsbox primarily serves adults, including homeschool educators, who purchase the product for at-home use. But the company also provides comprehensive box sets perfect for the classroom setting.
Because Bitsbox is an online application, teachers only need one or two computers for every two students, a keyboard, a mouse, a modern web browser and a reliable internet connection. The classroom boxes may be used in individual classrooms or libraries. Before purchase, educators are free to take the product for a test run using the company's online sample apps.
Emma said Bitsbox recently hired a lead learning engineer to help the company connect with a network of educators as well as design a revamped Bitsbox curriculum. "We're looking forward to diving headfirst into schools in 2019," she said.