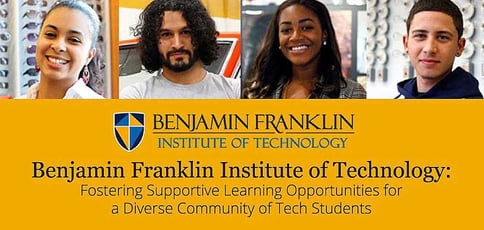 TL; DR: Benjamin Franklin Institute of Technology, founded in 1908, provides an affordable pathway to technical careers for underserved populations in the Boston area. The urban college creates opportunity through a hands-on learning environment rich with practical, career-focused knowledge. With a 93% job placement rate, the school has become adept in ensuring it prepares graduates for lifelong careers in the tech industry.
Benjamin Franklin, who was born in Boston in 1706, once stated that "Genius without education is like silver in the mine." Now, more than 200 years later after his death, the great American inventor's contributions to his hometown are helping educators at the Benjamin Franklin Institute of Technology (BFIT) identify and train young talent in the area.
The nonprofit college was founded, in part, with funds bequeathed by Benjamin Franklin in 1789 to "the Inhabitants of the Town of Boston." In 1904, Andrew Carnegie, who considered Franklin a hero, supplemented the funds with a matching gift used to build the school. Today, Franklin's legacy continues to inspire the school's approach to curriculum development and holistic support.
"We offer affordable college education in high-demand technical fields, including computer technology, biomedical engineering technology, and electrical engineering," said Calvin Conyers, Director of Admissions at BFIT. "Our goal is to equip students with job-ready skills that will allow them to succeed upon graduation."
BFIT serves as a diverse community of students through a supportive learning environment committed to career readiness in technology. Calvin said the urban college, which boasts a 93% job placement rate, works in tandem with industry leaders to create conduits for training, internships, and jobs — putting earning potential within reach for a traditionally underserved population.
"The lifelong skills our graduates receive are among the greatest benefits we offer," he said.
An Affordable Pathway to Lifelong Careers in the Tech Field
The rapid pace of technological advancements in recent years is creating a skills gap in the U.S. workforce that is expected to increase as droves of baby boomers retire. The situation is so dire that recent estimates indicate that as many as 1.8 million tech jobs could go unfilled by 2022.
As employers search for qualified workers, BFIT is stepping in to create job opportunities for its students and graduates. Calvin said the college keeps a finger on the pulse of the industry to ensure courses prepare students for jobs that need to be filled.
"At BFIT, every course you're taking is influenced by the state of the industry and intended to really prepare you for a career — not just to fill credit hours," he said. "Our industry partners tell us what students need to survive in the field, and those are the courses we're offering our students."
The college has successfully leveraged this technique for years. After Henry Ford introduced the affordable Model T, the school's Gas and Gasoline Engines course became so well-attended that students would line up around the corner of the school just for placement on a waiting list.
Calvin said BFIT strives to introduce students to in-demand jobs that they might not necessarily consider. "There are a lot of technical fields in high demand that students aren't exposed to as they're being brought up," he said. "It's a matter of introducing students to all of the options that are available to them."
Serving the Boston Area with a 93% Job Placement Rate
For instance, Calvin said BFIT's opticianry program, which prepares students for positions in eye health technology, boasts a 95% job placement rate. In Massachusetts, the average starting salary for opticians is $48,000 per year, with job opportunities expected to increase by 23% over the next 10 years.
"We're the only school in the state with a two-year opticianry program, which prepares students to design and dispense contact lenses and eyeglasses," Calvin said. "No one grows up thinking about a career in that field. Our job is to provide real clarity on exactly what they're getting themselves into."
The fact that BFIT is the only college in the state with the program is especially surprising considering that Boston is one of the leading college metro areas in the U.S. — and home to Boston University, Harvard, and MIT.
Calvin said the college focuses primarily on a niche population of students within Boston's inner city. "We typically recruit students who don't have the option to go to other schools based off of finances or sometimes even academics," he said. "Often, these are students who are really excited about four-year institutions. Then, once the bill comes, they realize that they can't handle it financially."
In terms of outreach, BFIT taps traditional channels, like high schools and college fairs, but also engages the community via more casual outlets. "We have a community outreach person who is strictly responsible for attending different community events, basketball games, things of that nature, to build up interest in areas that are typically hard to access."
Small Class Sizes Mean Hands-On Education and Individualized Attention
Calvin said BFIT instructors are refreshingly open-minded when it comes to adversity. "The population we're serving is comprised of students who typically have outside issues that could impact their educational experience, whether they're faced with parenthood at a young age, financial trouble, homelessness, or just life situations that the average student wouldn't traditionally see," he said.
The college's active educational approach also serves as a key differentiator for students. Rather than lean on internships for experiential learning, BFIT provides students with laboratory experiences throughout its curriculums.
"Here at Franklin, students are doing hands-on work by the first semester within their major," Calvin said. "That's completely different compared to internships where you're really just picking up coffee and donuts, and then you're thrown out into the workforce and forced to learn on the fly."
For example, BFIT's Computer Technology program provides students with the practical knowledge and skills they need to excel as computer support specialists. The program focuses on basic electronic building blocks, management, maintenance, and software to suit a variety of career paths. With the top 10% of network and computer system administrator opportunities paying $99,000 per year, BFIT is preparing graduates for lucrative careers.
Calvin said the school isn't afraid to nix a program when it expects salaries or opportunities in that field to drop. "Three years ago, right before I came on board, BFIT had a Building Design and Technology program that our president dropped based on research," he said. "He doesn't want people graduating in fields that lack ample opportunity."
Ensuring Underserved Populations Have Tremendous Earning Potential
Calvin, who has previous experience in administrative roles at two four-year colleges, said BFIT's approach is unlike any he's seen in higher ed. "Our mission is completely different in terms of providing lifelong career opportunities," he said. "We're just trying to make sure that our programs are strong and our graduates leave with everything they could possibly need for success in their industry."
Moving forward, BFIT will continue to monitor the industry for promising career opportunities. Calvin said the school recently added a Construction Management major in which students learn about the techniques and technologies needed to overcome common industry challenges.
"In Massachusetts, jobs in Construction Management will increase by 23% over the next 10 to 15 years, just like we're seeing in every major city," he said. "Every year, we will continue to expand by exploring the next big thing that will give students a competitive edge."