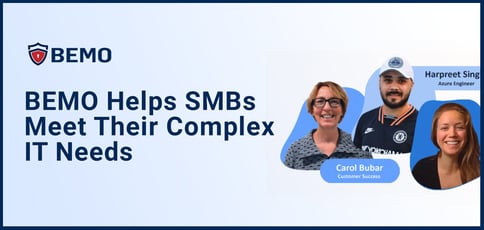 TL; DR: BEMO is a cloud-based IT managed services provider (MSP) that caters to small businesses running Microsoft productivity applications and cloud-based services. The company provides expertise in cybersecurity, managed IT, and migrations from other productivity platforms. BEMO has been a Microsoft Certified Partner for more than a decade and recently received the software giant's Gold level security certification.
SMBs have been described as the lifeblood of the US economy. According to 2019 figures from The Office of Advocacy of the US Small Business Administration, SMBs create 66% of net new jobs and drive innovation and competition. Overall, SMBs account for about 44% of total US economic activity.
Yet as operational entities, SMBs have to grapple with large-scale challenges in provisioning IT requirements. And they often need high-grade IT to function and thrive.
SMBs have long faced a dilemma on the technology front because they typically can't afford a full-time in-house IT team. The traditional approach to this has been to either recruit a worker who also possesses IT skills and can deal with system administration or outsource standard applications to service solutions providers.


Those approaches have become unwieldy and inadequate as IT requirements have gained importance and increased complexity. Meanwhile, taking their wares to digital markets gets more demanding by the week.
BEMO is a cloud-based managed IT MSP that caters to the needs of US SMBs. It bases its offerings around Microsoft productivity solutions and offers a focused range of services, including managed IT, cybersecurity, and migrations from other platforms (GoDaddy, Google Workspace) to Office 365.
It also provides value-added resale and support for Microsoft solutions, including Office 365, Azure, and Microsoft Managed Desktop. BEMO also runs cybersecurity training packages.
"BEMO can serve as, or augment, an SMB's IT team," said VP of Marketing, Steve Gershik. "We believe that our SMB customers deserve the same high level of IT services and support, security, and availability as larger enterprises enjoy. And that's what BEMO gives them."
SMBs are also increasingly subject to a succession of new regulatory burdens that add to their overhead. That requires special knowledge beyond the expertise of most C-level executives.
Requirements may be too demanding for in-house resources to run. That leaves up-market, multivendor MSPs that may prefer to focus on large enterprises with big IT outsourcing budgets rather than on serving SMBs.
BEMO brings those capabilities to small businesses to help them grow and keep capital to invest in their operations.
Filling the IT Services Gap for SMBs Overlooked by Other MSPs
Business IT strategies typically scaled no further than their employee head count until about a decade ago. Small and medium-sized businesses operate with appropriate systems and applications. That model has changed, and BEMO's recent experience indicates that SMB IT requirements have undergone a significant shift since 2018. And the COVID-19 pandemic has compounded and accelerated that shift.
"It starts with heightened expectations in regard to what IT must deliver," Steve said. "The diversity and complexity of IT has scaled up. There are now more companies out there, and they are mostly SMBs rather than larger enterprises. These factors combined have rapidly outgrown old notions of having in-house IT skills."
Having an IT generalist look after SMB operations full time was once common. But today's constrained resources can't cover all the technological bases, especially when companies use as-a-service hosting and applications.


Steve also told us how user organizations and SMBs have become more demanding.
"They have informed expectations and want IT to deliver more — and better."
That trend creates an expectation gap, but it has also opened a market opportunity for BEMO to fashion its value proposition.
"BEMO aims to mend that expectation gap," Steve said. "Cybersecurity is a good example. SMBs are never going to have the budgets to have their own security operations center."
But they may need one, Steve added, because SMBs are now subject to the same damaging cyberattacks as are large enterprises.
Customers Benefit from Deep Knowledge and Microsoft Solutions
BEMO's value proposition is based on its deep technical competence in the Microsoft solutions suite. The company is a Microsoft Gold Partner and a Microsoft Direct Cloud Solution Provider with an online store where customers can purchase Office 365 and other Microsoft products.
The company is also an accredited Microsoft US Government Cloud Authorized Reseller and a Microsoft Enterprise Mobility Security Elite Partner.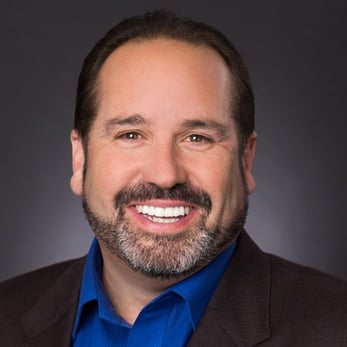 "We are Microsoft Licensing-ready with options for Enterprise Agreement, Cloud Solution Provider, Services Provider License Agreement, and Volume Licensing," said Steve. "Furthermore, we have unfettered access to Microsoft with Advanced Support for Partner, Partner Technical Services, and Advisory Services status. So our Microsoft expertise is ultimately assured."
Microsoft has two main selling points from BEMO's perspective. The first is that the range of Microsoft solutions — from productivity tools and applications to Azure cloud services — covers all of a typical SMB's IT requirements.
"We often find with customers that they are not aware of just how extensive Microsoft's range of solutions and services are," Steve said, "and they get more extensive all the time."
Another aspect SMBs enjoy is the reduced complexity that single-vendor IT sourcing brings.
"Of course, there are alternatives to Microsoft out there, but you are not necessarily improving your IT by working with multiple different vendors. You're introducing unnecessary diversity and added complication, not added value," said Steve.
"At BEMO, we prefer to know one vendor's offerings extremely well, rather than a dozen different vendors not very well."
Helping Customers Adjust to Post-Pandemic Business Models
The COVID-19 pandemic increased market opportunities for the Washington-based company, which has resulted in a near-doubling in revenue for the past two years.
"BEMO ended 2019 with revenues of about $1.1 million, and by the end of 2020 we'd reached $2.4 million in revenues. And last year, 2021, we reached $4.5 million," Steve said, "This year, we think we'll reach revenues of $7 million."
Much of that exponential growth is due to the additional support SMBs needed to adjust operations because of the pandemic.
"The revenue increases are also a reflection of the fact that BEMO is increasingly being called on to supply consultancy services on top of our standard MSP model," added Steve.
Many SMEs have not had to deal with those types of challenges before — at least, not at scale across a rapid timetable.
"So for BEMO, it's a whole new business consulting approach, as opposed to the technological competencies and support that we have been used to providing."
Massive technology shifts have made the digital environment more complex for the SMBs that drive the American economy. And BEMO is well-positioned to help them meet those challenges and continue growing.