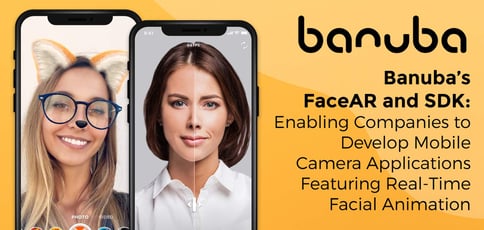 TL; DR: Banuba, a Belarus-based computer vision lab founded in 2016, is removing barriers to entry in the facial augmented reality space through its FaceAR platform, which features an SDK developers can use to integrate facial animation into existing software. The company is essentially a one-stop shop for brands looking to enhance the customer experience through features like virtual try-on studios. By focusing on a blend of short-term improvements and long-term strategies, Banuba is poised to help customers worldwide realize the full potential of augmented reality.
Gone are the days of cold sales pitches and one-off campaigns — today, savvy marketers are focusing on driving results through engagement. The goal is to form relationships with customers through personalized communications that create and maintain brand loyalty.
Often, the most unbreakable connections are formed by companies that inject authenticity — and even a little fun — into their engagement strategies.
And, in a selfie-obsessed world, what better way to add a dash of playfulness and wit to the customer experience than with augmented reality (AR) camera apps? Using the technology, customers can transport themselves to exotic locations via background replacement technology, share kooky yet brand-specific face filters with friends, and virtually model clothes and accessories, among other creative activities.
Banuba, a forward-thinking computer vision lab focused on face-augmenting reality, makes it easier than ever for brands and developers to build these apps through its FaceAR software development kit (SDK).
"Banuba enables brands and developers to connect with clients and users through ultra-immersive augmented reality apps, either on the web or mobile devices," said Dmitry Ogievich, CEO at Banuba. "Our technology is much more than a simple SDK, giving developers access to innovative libraries and content creation tools, and letting them integrate AR into existing products."
The robust SDK allows developers to breathe life into their apps using face filters, beautification software, avatars, and facial analytic tools designed to create memorable customer interactions. As a one-stop shop for technology that bridges the gap between the digital and physical, Banuba aims to help brands worldwide realize AR's role in creating delightful customer experiences.
A One-Stop Shop for Brands Looking to Leverage Face AR Technology
Co-Founders Dmitry Ogievich, Vadim Nekhai, and Yury Hushchyn founded the Belarus-based company in 2016. The talented team of AI and computer vision engineers had a shared mission to develop mobile facial AR software for front-facing cameras. Today, that technology is known as FaceAR.
"Among other things, it can be used to add filters, masks, and digital overlays to the human face and its surroundings," Dmitry said. "It can identify happiness, anger, joy, sadness, and surprise in real time."
Since hitting the market almost four years ago, Banuba has differentiated itself from its competitors in several ways. For instance, Dmitry told us that the advanced face-tracking technology is fully optimized for mobile devices and includes multi-face tracking capabilities. It performs well in harsh environments, such as low lighting with extreme angles, and supports occlusion (the ability to hide virtual objects behind physical ones).
Banuba also offers broad coverage in terms of devices and platforms. As of now, Dmitry said Banuba's face filters work on 97% of iOS devices and 80% of Android devices. The software also features powerful 3D rendering technology that allows users to create complex, high-quality effects that look realistic and vivid in terms of color, texture, shape, and behavior.
Finally, the company's extensive filter library, which includes more than 1,000 AR filters, allows developers to quickly add content to their app even if they have no other design resources. All filters have been tested on real users, ensuring their efficacy.
A Responsive and Accurate UX — Even on Low-End Devices
In recent years, the public perception of AR has shifted rapidly. While people used to consider the technology as a novelty, limited to childish games such as Pokémon Go, it's now valued for its ability to enhance the lives of real people.
"A number of tech goliaths are investing heavily in the space, with Apple allocating resources toward creating AR headsets, Snapchat and Instagram introducing studios with AR effects, and Google upgrading its ARCore augmented reality platform," Dmitry said.
Banuba has overcome challenges forging its own space in this ecosystem through in-depth knowledge and specialization in facial expression and emotion. The company also has 36 patents granted and published, as well as 12 additional applications in the area of computer vision that provide a further competitive advantage. But the underlying tenet connecting all of Banuba's services is their ability to foster responsive and precise user experiences, even on lower-end devices.
"This is a more difficult task than it may seem, as the more powerful and complicated the AR tool, the more battery and CPU the app uses up," Dmitry said. "Banuba takes great pride in ensuring performance on a range of phones, from the iPhone 11 to inexpensive Android devices. This widens the pool of potential users the app can attract and ensures anyone can take advantage of the experience."
The FaceAR SDK is also optimized for minimal power consumption and battery drain. Ultimately, though, Banuba's long-term goal is to pave the way for mass-market AR-focused devices and the next generation of smart technology beyond mobile phones.
"Looking into the future, beyond smart device-limited hardware to a time when glasses and contact lenses overlay digital elements on people's vision, we believe that AR could make television sets and other screens — as well as measuring tapes, rulers, guidebooks, and maps — obsolete," Dmitry said.
Virtual Try-Ons Empower Customers to Make Informed Decisions
Banuba's Virtual Try-On, Skin Analyzer, and In-Store AR Mirror technologies empower ecommerce companies of all shapes and sizes to create immersive visual experiences without building an app from scratch.
"The ecommerce industry has been one of the fastest adopters of AR technology, as interactive product visualizations, also known as virtual try-on solutions, represent one of the biggest trends in recent years," Dmitry said. "The technology gives customers the ability to engage with products without having to physically enter a store."
Dmitry told us that prime examples of this use case include IKEA Place and Amazon AR View, two apps that allow customers to virtually position furnishings in their spaces, helping them select furniture that fits their existing interior both in terms of dimension and style. By empowering customers to make more informed shopping decisions, companies are reaping the benefits of increased customer loyalty and, ultimately, online sales.
Brick and mortar retailers are also using AR to enhance the in-store experience by visualizing products directly on consumers in their stores.
"L'Oréal Paris has been making waves with their in-store virtual makeover tool, enabling users to test-drive various products, from lipstick to hair color, before making the decision to buy," Dmitry said. "The feature works with still images or in real time for those who want to appreciate their new look in motion."
Dmitry said fashion retailer Zara recently launched an augmented reality store app in which virtual models demonstrate the latest styles as customers point their phones at specific spots within the store. He said the main reason brands are implementing this technology is to offer an enhanced and unique customer experience.
"However, using AR only for the sake of using AR won't result in sales growth," he added. "It's important to consider the entire consumer journey and think of how it can empower the most crucial business goals."
Ongoing Product Development and Visions for the Future
Banuba takes pride in providing first-class technical support to its customers, ensuring they get the most out of its technologies. A significant part of this effort entails collecting feedback from end-users, developers, and businesses to ensure the company's development team is always keeping up with their latest needs.
"This year promises to be a landmark year for Banuba," Dmitry said. "We are set to announce a number of high-profile partnerships in the coming months, and it is exciting to show the world what our technology can achieve."
Dmitry told us that Banuba remains laser-focused on reducing system requirements for its SDK so that older devices can use its capabilities. "Banuba's technology already runs on 98% of all smartphone devices, meaning there are huge opportunities for developers to reach millions of end users, with that scope only set to grow," he said.
The company is also developing new types of segmentation, enabling objects to be digitally separated; introducing new augmentation features, such as hand-augmented reality; working to track additional objects beyond the human face; focusing on easier integration of its SDK, especially in the mobile gaming space; and working to provide the capability to provision AR advertisements.
"Banuba will continue to develop new technologies that enable mobile developers to enhance the capabilities of cameras on smart devices, opening up new opportunities for companies wishing to launch AR-based apps, as well as end users," Dmitry said. "Long term, Banuba's vision is to become one of the largest AR advertising networks, giving mobile developers a way to monetize camera-centric applications and empowering brands to reach younger audiences with interactive, immersive, and personal experiences."