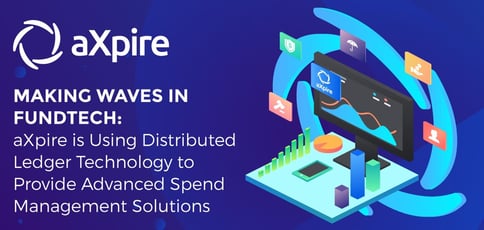 TL; DR: As a provider of blockchain-based spend management software, aXpire is enhancing efficiencies for asset managers with hedge funds, private equity firms, and property and casualty insurance businesses. The software company's flagship product, Resolvr, optimizes expense allocation, streamlines communication, and eliminates manual processes. Stay tuned for the release of Resolvr 2.0, which will introduce even more powerful compliance reporting and analytics.
If you think that rubber-stamping is just a figure of speech for approving something, you're ahead of the times. As archaic as it may seem, some financial authority figures still turn to physical stamps and seals when authorizing documents.
In an era that's as ripe with technical advancement as it is with regulations, that's not a particularly prudent approach — especially when companies such as aXpire are offering software solutions to eliminate such processes, while also optimizing expense allocation and streamlining communication.
"We see this in a lot of companies, where people are literally using rubber stamps or putting pen to paper and signing off," said Gary R. Markham, CEO of aXpire. "Our software replaces all of that with digital signatures and ensures that documents are no longer sent via hard copy or even email. Instead, they are in a work queue in an application called Resolvr, where you can see the entire audit trail and have the comfort of knowing everything's perfect in a fiduciary sense."
This use case is just one example of the power aXpire's software. Resolvr is aXpire's flagship expense allocation software, which leverages automation to provide a more effective approach to spend management — the process of identifying and optimizing every dollar spent. But the company offers an entire suite of products that leverage blockchain infrastructure to the benefit of funds, businesses, and entrepreneurs across a range of industries.
The Manhattan-based company's overarching goal is to use distributed ledger technology to further enhance both the functionality and security of its software. In the meantime, keep an eye out for Resolvr 2.0, which will introduce additional compliance functionality to the already robust solution.
Resolvr: aXpire's Flagship Expense Allocation Software
Gary told us that aXpire was born out of a client need at LSG, a legal tech company that he also spearheads. The client had a $40 billion AUM hedge fund but couldn't find an appropriate solution in the FinTech space to effectively manage the complex process of allocating and apportioning vendor costs.
"There have been quite a few risks slaps by the SEC and FINRA over noncompliance in this particular area — we've heard of firms misapportioning $30 million in funds and being whacked with a $300 million fine," he said. "So, it's not to be taken lightly."
The fund manager also wanted to overcome complexity from a digital transformation perspective. A project scoping exercise and build-out phase then led the company to develop Resolvr, the blockchain-based enterprise resource planning (ERP) and spend management technology aXpire delivers to this day.
The multifaceted technology digitally connects several task areas, including compliance, finance, mid- and back-office processes, legal functions, and management in a secure environment. This creates full transparency in terms of information exchange across departments and individuals, which boosts accountability and helps organizations ensure compliance with regulatory requirements such as the Dodd-Frank Act.
The software also optimizes operations through features such as digital handshakes, which eliminate labor-intensive manual processes and streamline communication. Ultimately, Resolvr saves funds hundreds of thousands of dollars by cutting down on compliance staff, avoiding misapportionment fees from the SEC, and optimizing operations.
Gary said that the intention behind Resolvr isn't to compete with fund administrators or cut them out of the loop — rather, it's the exact opposite. "Most companies have some very clever people on staff with high-level degrees handling mundane duties," he said. "Resolvr allows them to focus on more important tasks."
Solutions for Asset Managers, Businesses, and Entrepreneurs Alike
In addition to Resolvr, the aXpire product suite offers an abundance of benefits to funds, businesses, and entrepreneurs spanning a range of industries. Bilr, for example, is an expense management tool that enables business vendors to create invoices using speech-to-text technology.
While a number of aXpire's solutions leverage blockchain's data storage capabilities, Gary said the company carefully considers whether it is appropriate to include the technology in any product.
"We don't just throw blockchain at something — we always consider whether it adds value in terms of security or additional benefits," he said. "Particularly in regards to functionality and applications or technology stacks, blockchain can be — depending on the protocol — deadly slow."
The same considerate approach applies to the company's use of artificial intelligence, which Bilr will soon employ via natural language processing. "You can't just jump straight to AI — you need a ton of data, you need to know how to structure, correlate, and treat that data. There are multiple steps; essentially, you can't jump straight to your Ph.D. You've got to get your bachelor's and your master's degrees first."
If you're looking for aXpire's view on the state of the industry as well as product development news, check out the company's in-depth weekly recap, available on YouTube.
Up Next: A Focus on Digital Securities and the Release of Resolvr 2.0
aXpire will achieve its next milestone with Resolvr 2.0, which Gary said will leverage Microsoft Power BI, a business analytics suite that makes it easy to visualize data and share insights with colleagues on any device. The release is slated for the final quarter of 2019.
"Microsoft Power BI will pull data not only from Resolvr, but from all the infrastructures and platforms that the client has, creating one aggregated dataset," he said. "We then pull the data over to our analytics platform, where it can be pushed out as a link to various departments and managers."
In addition, the company is planning to roll out the aforementioned natural language processing-based voice-to-text feature in Bilr. "It's mobile-app based, so you'll be able to use it on your smartphone, through Alexa, on your laptop, wherever, whenever you want," Gary said.
aXpire is also focusing on using smart contracts to create digital securities through Digital Shares, a new end-to-end trading platform that provides an alternative source of capital funding, competing directly with lenders and other capital providers. Grant told us that the company has invested heavily in the space, considering it to be the way of the future. The idea is to facilitate a space where these parties will interact to generate and trade new forms of liquidity from traditionally illiquid assets, including art, fine jewelry, high-end collectibles, and real estate.
"This is not an exchange, a custodian, or a bank," he said. "It's an eight-lane highway like they have in Miami with on-ramps, off-ramps, and electronic tolls — that's what we are building. It's basically eating into the fund space, but using blockchain technology. To me, that's one of the most exciting spaces to be in."