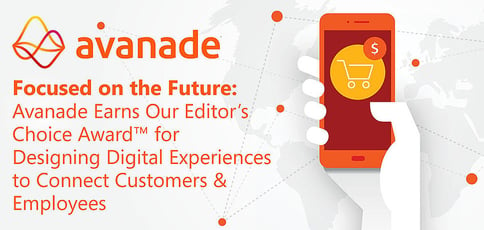 TL; DR: Creating the omnichannel shopping experience customers want will require evolving store formats and a greater reliance on technology, according to retail industry predictions. But, while brands are eager to address system improvements — including in workforce training, online order fulfillment, and better personalization — many retailers need guidance to identify the technology they need for digital transformation. Avanade, a joint venture of Microsoft and Accenture, helps companies develop the customized workforce and consumer-facing solutions enterprises need at a global scale. For its commitment to helping businesses evolve and thrive, Avanade earns our Editor's Choice Award™ for Designing Digital Experiences to Connect Customers and Employees.
In a global study by EKN Research and Avanade, 161 executives were asked how the face of the retail store will change by the year 2020. They predicted a movement away from traditional store models with 60% responding that they expected to see more themed stores, 56% anticipating stores serving as online fulfillment centers and 52% predicting a transition to seasonal or event-based pop-up concepts.
The anticipation of these new formats reflects the industry's pressing challenge of digital transformation: The need to merge the customer's in-store and online shopping experience in a way that provides fast, accurate order fulfillment and greater personalization.
Most retailers will turn to innovative technology — including deeper analytics, process automation, and even augmented reality — to accommodate these changes. But, in their eagerness to solve an immediate concern, many will employ a partial solution that fails to address business needs down the road.
Businesses need a partner with the experience and foresight to help them identify long-term needs and develop customized solutions that empower their workers to deliver satisfying customer experiences. Avanade shows business leaders how to realize their digital transformation visions by combining industry insights with proprietary Microsoft technology.
Avanade's expertise addresses the gap between retailers' vision of the future — as revealed by the study — and the operational level reality. Respondents expected little, if any, change to the allocation of time and personnel, even in growing areas such as online order fulfillment or customer-facing activities.
"We see the willingness to make investments, but one thing that's missing with a lot of retailers is the know-how and the ability to make strategic decisions," said Barry Givens, Avanade's Retail Division Leader, of his interactions with the company's enterprise clients.
And as store formats are changing, so is the workforce. At least 30% of retailer respondents expect to hire mostly temporary workers over the next few years — making training a significant concern. At the same time, employees face the increasing complexity of providing customer service for multiple sales channels such as online order fulfillment and in-store purchases.
Avanade helps retailers work on a path forward from the employee and customer level, customizing solutions that will foster their growth well into the future. For that dedication to helping retailers with personalized solutions, Avanade has earned our Choice Award™ for Designing Digital Experiences to Connect Customers and Employees.
A Joint Venture That Marries Accenture Strategy & Microsoft Tech
Global management consulting company Accenture and software giant Microsoft came together in 2000 on a joint venture to bring more Microsoft technology to enterprises. The result of the partnership was Avanade, a company that provides innovative services and solutions to enterprises worldwide using the Microsoft platform.
Today, Avanade employs 30,000 workers, spans 24 countries, and provides digital solutions across 19 industries. Its clients include Fortune 1000, Fortune 500, and smaller enterprises across the globe.
"We have a broad range of ways we help customers," Barry said. "Sometimes it's very reactive, such as when a customer comes to us and asks us to solve an issue. Increasingly, we'll have an ongoing relationship with a client where we'll provide advisory services to help address their business problems, in addition to the implementation of solutions."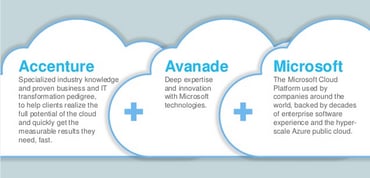 As the lead for Avanade's retail offerings in the United States, Barry focuses mostly on addressing what studies reveal as the two most prominent pain points for retailers approaching digital transformation: customer-facing solutions and workforce solutions.
Avanade begins by helping companies articulate their vision for the future and then identifies the right technology solution for those specific needs. In retail, many businesses already have an in-house incubation team to generate ideas.
"Those companies will come to us with an idea in mind for something they'd like to accomplish, and we can make that a reality. We also help bring new ideas and solutions to a problem — ones they may not have thought about," Barry said.
Empowering Retail Workforces with Digital Tools for Training & Inventory Management
In the traditional retail store, communicating with a manager might consist of writing on a clipboard in the storeroom. And the only access point for desktop-based training modules may be in that same back room or in a remote training center.
"All of these solutions are very analog — they're expensive, they're inefficient, and, once people have experience with digital in other ways in their personal lives, they expect things in their workplace to be better," Barry said.
Managers make employees feel trusted, engaged, and empowered by providing them with the digital tools to access business-critical information about their jobs in real time. That positive associate response fosters retention and spills over into the customer experience.
"Digital employee experience and engagement is what I currently talk the most about with our retail customers right now," Barry said. Avanade works with many retailers and grocery chains to provide digital solutions that help employees feel more connected. Among those solutions are mobile applications for training, schedule visibility and adjustment tools, and even direct-messaging apps to facilitate live communication between employees and managers.
Avanade stresses the importance of connection not only in the customer and employee experience but also in the store's inventory systems. "You can provide great digital customer or employee experiences, but if it's not all based on great inventory management on the back end, it can fall apart," Barry said. Inventory management systems must accurately bring everything together so employees can access what's in stock when a customer asks.
Many retailers still struggle to align legacy in-store systems with separate e-commerce solutions, a situation that reduces inventory accuracy and visibility.
"We've done some research on the impact of not tracking inventory correctly, and I was shocked at the huge impact on customer behavior," Barry said. "More than 70% of customers said they had not purchased something in a store because of incorrect inventory information."
Inventory accuracy is especially a concern as order-online, pick-up in-store transactions have become popular. In the case of one major grocery chain client, team members took 30 minutes to fill each online order, resulting in high error rates and many dissatisfied customers. With plans to double in size, the company needed to both drive down costs and improve customer satisfaction.
To address the chain's inefficient pick-and-pack process, Avanade and Accenture designed a custom Windows 8-based application that displays detailed, visual stock information, has self-learning technology, and allows managers oversight of each order fulfillment step.
Since switching to the new process, the company has reduced the time it takes to fulfill an order by 30%, dramatically improved order accuracy, and plans to launch the system in every new store as it expands.
Delivering Engaging Customer Experiences Through Personalization & Interactive Displays
Stocked shelves and accurate, timely order fulfillment improve the chance customers will continue to shop in-store. So does engaging with them on a personal level. Just as machine-learning tools help online retailers gather insights about customer shopping habits, digital technology integrated into customer service channels allows retailers to deliver the same personalization.
Avanade clients, among them Delta Air Lines, use software applications that give employees access to relevant order history, allowing them to deliver personalized recommendations and service. "Employees can get product recommendations tailored to a specific customer in the palm of their hand, so they don't have to be a salesperson or have a lot of training," Barry said.
The story of Italian grocery chain Coop Italia illustrates how Avanade partners with retailers to realize specific ideas about what the customer experience should entail.
In Italy, food quality and sourcing — down to the region and farmer — is important to consumers, and Coop Italia wanted to honor this. "They had the idea they wanted to have an interactive display, something that would help show their customers where products were coming from," Barry said. "We partnered with them to build technology for an expo that ran for several months, and then implemented it in their flagship Milan grocery store."
Now, when a consumer picks an item off a shelf connected to one of Coop Italia's interactive displays, the system recognizes the item and displays information about where it's sourced or videos demonstrating how it's made. "It's a pretty neat solution," he said. "The content and items displayed change regularly, so it gives customers a reason to come back and interact."
Avanade has designed similar, yet customized, digital omnichannel solutions so its client stores can give their customers a more personalized connection to their products and brands.
Innovating Digital Retail Solutions with a Focus on Emerging Trends
As retailers prepare for the digital transformation, they know significant changes are coming at the operational and experiential levels. While Avanade helps retailers catch up to the needs of a digital marketplace with Microsoft technology, it also looks ahead and shares its findings through different channels— from revealing innovations at the NRF Big Show to gathering data and identifying emerging trends.
In 2018, Avanade predicts that augmented reality, automation, and virtual assistants will become commonplace. The company also sees AI continuing its pattern of growth. "AI has taken off in a huge way this year," Barry said. "There's hardly a customer I've talked to who doesn't ask about how we can help them around some type of AI, whether it's chat box, vision intelligence, automated categorization, or data mining."
Predictive technology isn't new, but retailers haven't always had the means to use it. But over the last year, formats have become more accessible.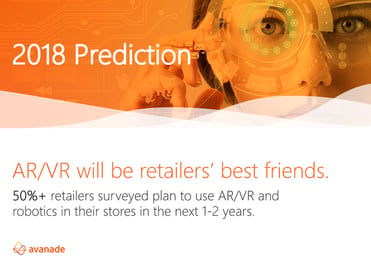 "The cost and skills for implementing them have come way down," Barry said. "We see a lot of applications across many industries, but especially in retail. There's so much data that predictive tools and machine learning are very robust."
Avanade helps retailers close the gap between their vision of the virtual and physical storefronts of the future with forward-thinking technologies and insights. Those solutions enable the changes in their operational, employee, and customer-facing technologies that will help them evolve.
For expertly fusing insights and solutions from Microsoft technology and the operational strategies of Accenture, Avanade receives our editor's Choice Award™ Designing Digital Experiences to Connect Customers and Employees.