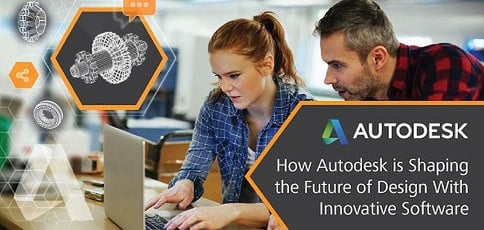 TL; DR: A longtime developer of innovative design programs that enable designers, engineers, and digital artists to do more, Autodesk software suites serve as the essential tools of professionals within the fields of architecture, engineering, construction, manufacturing, and media and entertainment. The company boasts a massive stable of more than 50 programs that help the world's designers and builders do their work creatively, efficiently, sustainably, and collaboratively. Programs like AutoCAD and BIM applications like Revit bring ideas into the realm of possibility — whether they be movies, games, buildings, or 3D-printed objects. Whatever the design, animation, planning, or construction need, Autodesk has the tools to ensure the job gets done.
Known for experience in the design field that began with 1980s game changer, AutoCAD, Autodesk has since crafted a line of products addressing the needs of diverse industries, including architecture, engineering, construction, manufacturing, digital animation, and game design.
Autodesk's design tools are used daily in major projects throughout the world and have helped engineers construct the New York Freedom Tower, the Shanghai Tower, and the San Francisco Bay Bridge. Manufacturing companies use Autodesk's products to streamline the development lifecycle and iterate on new designs faster.
The company's software is also a mainstay in media and entertainment industries. Programs, like 3ds Max, provide a platform for designers and animators to collaborate while creating richly detailed, realistic settings and environments. Its popular use is demonstrated in hit games such as "Assassin's Creed" and "The Elder Scrolls V: Skyrim." Autodesk 3ds Max has also been used in the making of a variety of stunning feature films such as "Mad Max: Fury Road" and "Hellboy."
With a focus on constant innovation and sustainability, Autodesk is clearly a future-oriented company. The impressive variety of software Autodesk brings to the table has been creating real and positive change in the world for more than 35 years.
Buildings and infrastructure are made safer and more cost-effective. Vehicle manufacturers can proactively advance modes of transportation. Alternative energy advocates can design the safest and most effective windmills and turbines. Animators and game designers can create inspiring worlds to which audiences can escape.
Autodesk's commitment to the future is apparent with the company's distribution of free academic versions of design software, enabling students to pursue their dreams, thus ushering in a new generation of future-oriented design. After all, everybody wins with better design.
BIM Connects Teams in Architecture, Engineering, and Construction
According to an e-book by Autodesk, 30% of construction cost is rework. The need for expensive redesign and reconstruction can be reduced or even eliminated completely with the aid of proactive design implementation.
BIM, or Building Information Modeling, provides professionals the ability to plan and design buildings and infrastructure. Designs can be updated according to shifting industry standards and regulations or revised for greater efficiency.
LMN Architects of Seattle uses BIM to design buildings faster and smarter. The architects collaborate with contractors and fabricators to come up with the best designs possible, utilizing the right materials and techniques.
BIM models and simulations make it possible for LMN Architects to evaluate prototype designs quickly without the need to construct physical test models. That equates to time savings but also deep discounts on maintenance and operational costs and smoother operations.
Better designs done faster gives AEC (architecture, engineering, and construction) companies, like LMN and partners, an edge over competitors that don't have technologies as advanced as Autodesk.
Inventor and AutoCAD Bring Products and Ideas to Life
With solutions like Inventor and AutoCAD, Autodesk helps bring ideas to life in physical products. Inventor lets the user pick between various modeling options and automated configurations and easily import and export data from any other 3D CAD program.
The Product Design Collection from Autodesk includes Inventor Professional, AutoCAD Electrical, AutoCAD Mechanical, Fusion 360, 3ds Max, and other design services. These 3D CAD programs, along with emerging generative design programs, create design variations within preset constraints through the use of algorithms. The resulting designs inspire users with ideas they may not have thought of on their own.
Not only are these ideas manifested in an artistic medium, but they can also be brought into the physical world through various forms of fabrication.
3D printing is generally cost effective, and a unique means of production. An infinite number of copies can be made from a model, and there is no need for molds and equipment to be updated or added for each new, slightly different design.
A digital mold can be made within a program and then printed from scratch. The suite known as Within Medical is especially helpful because of the potential to 3D print organ tissue and implants — literally bringing the Autodesk-designed product to life.
3D Animation Tools That Make Video Games and Movies Magical
Autodesk's products have been used in the production of many top games and movies. Programs like 3ds Max and Maya are responsible for the smooth animation and realistic textures found in hit games like "Uncharted" and "Grand Theft Auto."
One of the highest grossing films of all time, James Cameron's "Avatar," lauded most for its stunning visuals, was created with the help of 3ds Max.
3ds Max is so widely utilized due to its unique features and strengths. Game designers and cinematographers are drawn to its implementation of camera sequencing, voxel skinning, animation controllers, and crowd population, among numerous other features essential to professional film and game animation.
Point cloud data can be used to create models in 3D space, easily add shading and skin effects to objects, and help users tell a more convincing story by using animation and camera controls. Crowd propagation fills negative background space to make scenes look more realistic. This realism, in turn, brings movies and video games to life.
A Commitment to Innovation and Sustainability Drives Autodesk
Autodesk is committed to "the future of making things." Today's fast-paced, globally distributed workforce needs tools that are just as fast to innovate. Demands shift rapidly, and they must be met with new, streamlined designs. Designers can collaborate to find the best solutions with the help of Autodesk's software and frequent product enhancements.
And Autodesk takes "the future of making things" beyond constantly developing challenge-ready software. The company realizes the Earth's resources are limited and has adjusted business accordingly. Autodesk has achieved 100% renewable energy by reducing power consumption through the implementation of cloud services running on green hardware. Autodesk also provides tools and funding for green projects to help other businesses reach sustainability. In the company's own words, Autodesk "builds software that helps people imagine, design, and create a better world."