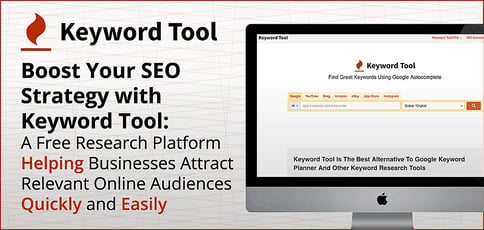 TL; DR: Keyword Tool, a free keyword research platform, is empowering businesses to enhance their SEO strategies by attracting relevant online audiences. The technology amplifies Google Autocomplete to generate thousands of long-tail keywords that can be used to inform content marketing strategies and pay-per-click ad campaigns. With extended capabilities for additional search engines and an ever-evolving platform, Keyword Tool is committed to helping businesses increase online presence.
In many ways, the internet resembles the pages of a Where's Waldo book, bustling with weird and wonderful activity from a seemingly endless cast of characters. If you want to stand out in such a crowded environment, you have to find a creative way to do it.
Waldo's solution was a bold, candy cane-inspired shirt and beanie, but online businesses have an arsenal of powerful SEO strategies at their disposal. Today, marketing experts are increasingly turning to long-tail keywords, or phrases that include three words or more, to target specific audiences. And platforms like Keyword Tool are helping them determine what words potential buyers are likely to use.
Keyword Tool first launched in 2014. "At that time, there was no single reliable way to get long-tail keywords effectively," said Khai Yong, Head of Growth at Keyword Tool. "Google Keyword Planner was the go-to solution, but we found the keyword results tended to be skewed toward advertisers, making it difficult to find long-tail keywords."
The team behind Keyword Tool soon discovered Google Autocomplete — a feature that suggests popular keyword suggestions related to the words you're typing — which inspired them to build a free tool that would help users access those suggestions quickly and easily.
Since then, Khai told us the company has expanded to help users find relevant long-tail keywords on a number of search engines. Marketers can use the long-tail keyword suggestions the platform produces to create relevant content, develop international SEO strategies, and run pay-per-click ad campaigns, among other uses. Now with Keyword Tool Pro, the company is helping industry giants like Amazon, Disney, and eBay discover even more valuable, high-search volume keywords.
An Effective Alternative for Finding Long-Tail Keywords
Google processes 3.5 billion searches daily, all of which are made using keywords. According to Keyword Tool, Google doesn't always make it easy to find those words. The search engine hides specific keywords from analytic tools, protects volume data, and limits the number of terms accessible through Google Keyword Planner.
That's why Keyword Tool focuses on capturing keyword suggestions from Google Autocomplete. When you search for something on Google, you usually see a maximum of five autocomplete suggestions. Keyword Tool can go much further by taking your keyword, putting it in the Google search box, and adding different letters and numbers to produce hundreds of useful keywords in just seconds.
The free version of the platform generates an estimated 750 long-tail keyword suggestions from Google Autocomplete — and you don't even have to create an account. It also enables users to choose from 83 languages when producing keyword suggestions, which is useful for companies that wish to develop an international SEO strategy.
Aside from Google, Keyword Tool allows users to generate keywords using autocomplete suggestions from Amazon, Bing, eBay, YouTube, and the App Store, as well as popular hashtags and post-count data on Instagram. Khai told us the tool produces reliable, estimated search volume data for Amazon, YouTube, and eBay as well as 100% accurate data for Google and Bing. In addition, Keyword Tool Pro users can check search volume in bulk up to 7,000 keywords a day.
An Informed Content Creation Strategy to Serve Customers' Needs
Khai told us Keyword Tool primarily serves digital marketing professionals who work on SEO and SEM campaigns. They come from companies of different sizes and include a mix of freelancers, startups, advertising agencies, small and medium-sized enterprises, and multinational corporations.
As most marketers know, content is king when it comes to today's digital marketing strategies. According to research by Meaningful Brands, 84% of consumers expect companies to provide content that entertains, tells stories, offers solutions, and fosters experiences. In addition, 70% of internet users prefer content over traditional advertisements when it comes to learning about products.
To serve that need and also attract traffic from search engines, marketers need to create content around keywords their audiences care about. According to the Keyword Tool website, one of the best ways to discover those words is to obtain them through Google's search suggestions. This helps ensure your site will get traffic from Google.
"By creating content around the popular keywords that your audience is using to find information online, you are already giving great value to your website visitors," the site states. "In return, Google will reward your web property with higher rankings, which increases traffic."
In addition to content marketing, Keyword Tool is useful for increasing ROI on pay-per-click advertising campaigns. Marketers can create targeted ads based on the keywords customers use in their Google searches, resulting in higher click-through and conversion rates at a lower cost per click.
Get Two Times More Keyword Suggestions with Keyword Tool Pro
Those who enjoy the free version of Keyword Tool can take things to the next level with Keyword Tool Pro, a paid plan that produces, on average, double the keywords generated through the free plan. "Using Keyword Tool Pro, you will be able to get up to 1,400 Google keyword suggestions in a single search query with almost no limits to the number of times you can search," Khai said.
Crawling one search engine at a time, the pro plan also generates an estimated 1,900 keywords from Bing, 760 from Amazon, 760 from eBay, and 3,800 from the App Store. And users can search as many times as they desire — there's no hard limit. Khai told us that also includes 100% accurate search volume data for all 192 countries, 45,550 individual locations, and 43 languages supported by Google. The paid plan also unlocks the ability to sort and filter keywords by any parameter and export all data into a spreadsheet.
The tool is proving popular with customers, who often provide positive reviews. "In the last three years, Keyword Tool Pro has become a crucial part of my content marketing and SEO toolkit," verified buyer Francois Lanthier Nadeau stated in a recent review. "I use it to refine my posts' angles to match relevant search intent, discover mid- to long-tail KW opportunities, and do effective search volume data crunching when I handle bigger lists of keywords."
For those who are unsure about making any commitments, the company offers a money-back guarantee for the first month of use, refundable within 30 days through email request.
An Evolving Platform Based on Emerging SEO Trends and Techniques
By now, you've probably heard that modern technology has accelerated the pace of change exponentially — which keeps tech providers like Keyword Tool on their toes.
"From our research, we found that search terms people use have evolved a lot over the years," Khai said. "For example, nowadays people tend to use 'question phrases' when finding information."
Based on these trends, Keyword Tool has evolved its product to help users identify the most valuable keyword phrases. In addition, Khai said the company never discounts the importance of customer feedback when it comes to product development.
"On the SEO side of things, we found that it is crucial to always listen to your customers and prospects," he said.
Looking forward, Khai told us Keyword Tool plans to introduce additional features that will let users share keyword data with colleagues and leverage existing search tools for Instagram.
As the web becomes more and more Where's Waldo-esque, these tools will help sites stand out. Khai sums up the company's mission succinctly: "We are a customer-centric, technology-focused, data-driven company," he said.