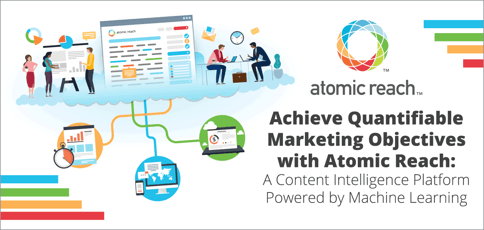 TL; DR: Atomic Reach's content intelligence platform arms marketers with the insights they need to make data-driven decisions. The technology, designed for seamless integration within existing workflows, helps drive leads, conversions, and audience engagement through the personalization of marketing copy using the power of artificial intelligence. Through extensive research and ongoing development based on customer feedback, Atomic Reach aims to provide the language optimization tools marketers need to create high-performing content.
When CEO Bradley Silver set out in 2012 to help enterprises strengthen their marketing campaigns through his content strategy platform, he focused on curating compelling, relevant pieces composed by talented writers. As he worked to grow his company, Bradley noticed a recurring predicament: Seemingly equivalent content would often elicit wildly different results with audiences in terms of page views, open rates, click-through rates, and conversions.
Determined to take the guesswork out of creating consistently high-performing content, Bradley and his team turned to artificial intelligence and machine learning to pinpoint the patterns and language that correspond with customer engagement.
The result was Atomic Reach, a content intelligence platform founded on the belief that AI can uncover the insights necessary to generate maximum ROI from written content.
"Our AI algorithm analyzes a company's historical content and associated engagement metrics to create a content profile," said Paul Roscoe, VP of Partnerships & Strategy at Atomic Reach. "Then, with the click of a button, the content profile will optimize the content copy, automating the task of editing based on recommendations around readability, length, language complexity, vocabulary, and emotional tone."
Today, the company continues to focus on developing technologies that help marketers create profitable content through automation and intelligence. Designed to ensure seamless integration within existing workflows, the software as a service platform both reduces time spent on content creation and produces consistent outcomes. With a focus on continual development based on in-depth research and user feedback, Atomic Reach strives to deliver personalized content insights that generate real results.
Leverage AI to Derive Personalized Insights
Whether you're writing blogs, emails, ad copy, or product descriptions, Atomic Reach's goal is to ensure content will encourage readers to take the next step in their customer journey — whatever that step might be. "It could be downloading another piece of content, booking a meeting with a sales rep, securing a product demo, or making a purchase," Paul said. "We aim to help you get the results you need — that's really the value proposition that we bring to market."
The company typically serves midmarket to enterprise-level businesses looking to take advantage of big data by incorporating innovative technologies into their marketing stacks. Paul said the platform has the greatest impact on companies that generate a consistent amount of content from month to month. These customers often enjoy an 83% increase in page views and a 108% increase in conversion rates.
The company's predictive performance tools offer insight into how the platform will help individual customers achieve their performance goals.
"Within your content profile, we specify the predicted increase in customer engagement that you're going to drive," Paul said. "Depending on the marketing objective and content assets, those objectives will vary — so if you're working on an email marketing campaign, for example, we'll be able to predict the increase in open rates and click-through rates you'll get."
The platform also leverages AI to help users tailor their messaging to specific audience segments, whether they're directing it to senior executives, decision-makers, or any customer persona. "Marketers can use our platform to be able to optimize content based on who their target market is and what they are trying to achieve."
Designed for Consistency and Seamless Workflow Integration
The last thing busy marketing teams and agencies need is a disjointed and confusing operational procedure, and that's why Atomic Reach takes an API-based approach to integration.
"Forcing marketers to move content from one platform to another to complete the analysis and optimization process, and then push it back before publishing and distributing that content just creates more work," Paul said. "Our API ensures a seamless workflow that won't interrupt the way a team creates content."
The platform also integrates seamlessly with a number of popular marketing applications. Linking Atomic Reach with your Google AdWords account, for example, allows users to gain a deeper understanding of what makes for a successful conversion. The platform's integration with WordPress provides an understanding of what prompts a call to action, and its integration with Marketo helps streamline workflows and identify effective language.
Atomic Reach helps users ensure consistency across various content assets associated with a marketing campaign. Paul said marketing departments often operate in departmental silos, making it difficult to guarantee uniform messaging.
For example, imagine a company runs a Google ad that directs a visitor to a site with the promise of specific content. If there's a disconnect between the two, and the landing page is different than what the ad depicts, the user will likely abandon the site.
"Being able to use our content profiles for different asset types ensures that you've got consistency from a language perspective," Paul said. "If you have that harmony across all of your marketing campaigns, those campaigns will perform at a much higher level."
Reduce Content Creation Time in a Range of Use Cases
Paul said Atomic Reach also drives cost efficiencies in the content creation process. "Using our authorization platform and trusting the recommendations it delivers to you significantly shortens your content creation timeline," Paul said. "It eliminates the need to create a draft, solicit feedback, and rewrite it until you're confident that it's ready for publication."
It can also be used to replace randomized controlled experiments like A/B testing. With Atomic Reach, AI determines which language patterns perform better than others to achieve specific goals. "The machine has done the analysis, and it's done at scale, looking at tens of millions of pieces of content," Paul said.
Clients use Atomic Reach to reach a number of goals, from lead generation to increasing conversions and improving customer relationships. Some use cases are not so typical, such as that of a large professional services organization that uses the platform to improve outreach to potential hires.
"They came to us and said, 'We struggle to fill job positions in a timely manner with the right candidate and feel that we need to establish a relationship with job hunters far in advance,'" Paul said.
The process was similar to a lead generation campaign, just with a different target: a new hire. Atomic Reach worked with the client to optimize its careers newsletter, and within 30 days boosted the subscriber rate from 40,000 to 80,000 recipients.
"We also worked with them on their careers blog, and by doing that, we've increased traffic by 99% month over month for the first five months that we've been working with them," Paul said.
Using Customer Feedback to Develop a Product Road Map
The future of Atomic Reach will be dictated by a mix of customer expectations and partnerships with leading marketing technology vendors. Paul said the company is laser-focused on developing features based on customer feedback.
"It's all about the voice of the customer," he said. "If you think you're solving a problem, but you haven't actually spoken to those customers, your assumption may be incorrect. Then you've developed a feature no one uses."
The company is also interested in partnering with vendors to bring joint value propositions to market. To that end, integrations with Mailchimp, Salesforce, Google Docs, Adobe, and Oracle are all on the agenda.
For Atomic Reach, the holy grail of automation lies in content generation. Paul said automating short-form content around a specific market objective is an exciting prospect — and also one that isn't intended to replace human writers.
"I've never met a copywriter who likes writing Google ads or product descriptions," he said. "They like to write longer-form content that they can sink their teeth into."