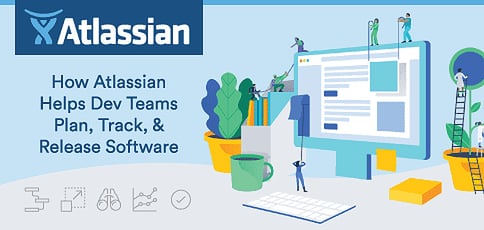 TL; DR: It's no secret walled environments create communication breakdowns that can cripple a company's ability to operate efficiently. For more than 15 years, Atlassian has been working to knock down these walls to cultivate collaboration across departments. The company's flagship product, JIRA, is a software solution built to help teams share ideas and work together to efficiently plan and release software. Initially created for software development teams, JIRA is now available to customer-facing IT and non-technical teams to streamline workflows, track projects, and measure performance. Because of the multiple integrations available within the JIRA suite and a dedication to continually adapting and evolving products based on user demand, more than 68,000 companies worldwide are employing Atlassian's collaborative organizational tools.
Merriam-Webster defines the term agile as having "the ability to move with quick ease and grace," or as "having a resourceful and adaptable character." With the high demand placed on developers to quickly produce software solutions in the late 1990s, it's no wonder the term was adopted by the growing DevOps movement of the time.
Agile Software Development philosophy was founded on principles promoting joint efforts between all facets of an organization to efficiently develop software valuable for intended customers and end-users. Agile DevOps is all about creating methodologies that break down walled environments and employ shared ideas, effective organizational structures, and adaptability throughout the development process.
It's incredibly important for companies to create seamless collaboration between departments and connect lines of communication between dev teams, project management, customer service, and support. To separate these departments into silos throughout the stages of the software lifecycle can result in a loss of time and resources and make a business less competitive in the marketplace.
Atlassian's team planning and project management solution, JIRA, provides a means to break through walled environments, solving connectivity problems to develop and release products in the most efficient manner. Their software suite includes several noteworthy collaboration products, including Bitbucket, Confluence, and HipChat.
"Connectivity is absolutely something all software teams struggle with at some point or another," said Jake Brereton, Head of Product Marketing for JIRA Software at Atlassian. "Keeping teams aligned, lines of communication open, and people talking together in real-time is essential to building and releasing great software and staying competitive in today's crowded and fast-moving software industry."
Whether it's customer service, project and issue tracking, or business management, Atlassian has developed a JIRA solution to help streamline operations and cross-departmental communication.
Why Walled Dev Strategies Obstruct Successful Software Development
Jake illustrated the dangers of creating siloed departments within organizations by using an analogy of walled gardens.
"Imagine a street of houses all lined up next to one another, and each of these houses has a large backyard garden with a tall fence all the way around it," he said. "Now imagine each of these houses represents a different team and step in your software development lifecycle. The planning process is going on in one backyard, software is being developed in another, things are being tested in a third, and so on."
In this analogy, software is still being developed, and planning and testing are happening. However, as Jake noted, the fences create a lack of transparency and communication between the teams. No one is aware of what is going on behind the fences or when and in what form to expect something to come into their yard.
"A regularly scheduled work item could come at noon on a Monday. A Severity 1 bug fix could come at midnight on a Saturday," Jake said. "How big items are going to be, what shape they're going to take, and where they're coming from are unknown in this type of environment."
The issues stemming from walled systems are apparent and can have lasting effects on how an organization and their products are viewed. Jake told us seemingly minor communication breakdowns can lead to blocked pipelines, buggy software shipped to customers behind schedule, frustrated Ops teams, and even more frustrated end-users.
"These problems are only exacerbated in today's world of cloud development," Jake said. "If the software teams of today build walls among team members or across functions, it very quickly becomes a crippling problem that will threaten the team's ability to do their work and create show-stopping issues that cannot be ignored."
Atlassian's JIRA: From Project & Issue Tracking to 3 Purpose-Built Tools
Atlassian released the first version of JIRA in 2002 as a response to the problems that arise when working within walled environments. At a time when dev teams were still using flip phones and Excel spreadsheets to plan, track, and organize workflows, JIRA was revolutionary.
"JIRA entered the market and introduced a single, affordable, out-of-the-box solution where all of a software team's project and issue tracking could be done in one place," Jake said. "It was the right tool in the right space at the time and has been the defacto project and issue tracking tool for software teams ever since."
Jake noted making the shift from a siloed organization to one promoting collaboration and transparency across departments and teams relies both on changing a company's culture and the tools used to manage and encourage collaboration.
"Encouraging teams to share information and evaluate how the team is developing and releasing software are mindsets that need to be ingrained into the thinking of any successful team," Jake said. "JIRA raises the visibility of all work across the entire team and allows everyone to stay on the same page, thus breaking down any walls that may exist."
According to Jake, the story of JIRA can be told around how it was built as one monolithic product to knock down walls and evolved into three purpose-driven tools for different teams. Because of this evolution, the software is now helping tens of thousands of organizations streamline communications, manage projects, and efficiently release products.
JIRA Software continues the goal of Atlassian's initial release to help software development teams with planning and issue tracking. The tool gives dev teams the ability to stay in constant contact to produce quality software with agility. Adding to the tool's value, integrations are now possible with solutions like HipChat, Bitbucket, Confluence, and the entire Atlassian suite.
JIRA Service Desk was launched in 2013 as a standalone offering specifically designed to serve the needs of IT teams who were asking for more specialized functionalities. Atlassian recognized IT and customer-facing departments needed different solutions than development teams and added features such as SLAs, custom queues, and real-time reports. JIRA Service Desk carries with it the same collaborative benefits as the original software but also streamlines support, making it easier to quickly resolve customer bugs or other service-related issues.
JIRA Core was developed after receiving requests from non-technical teams, such as marketing and human resources, for a collaborative software solution. The tool provides seamless business and operational management that helps track tasks, monitor projects, and measure performance.
Use-Driven Product Development Syncs Teams & Streamlines Workflows
The three purpose-built JIRA tools are a testament to Atlassian's dedication to innovate and evolve products and solutions based on user need. In 2016, Atlassian continued this use-based product development with the release of new tools and integrations.
Atlassian recognized the demand for a portable version of their product and recently made JIRA Mobile available for download on both iPhone and Android platforms. The mobile tool allows some of the same functionalities as other JIRA products, such as the ability to create issues, transition work, and comment to and tag other team members, but houses them on a portable platform.
Kanban has been a popular framework used by agile software developers for years. The platform's boards allow easy visualization of workflows among team members, and Jake noted the number of Kanban teams using JIRA Software has been steadily growing. In response, Atlassian released Kanban backlogs that allow teams to better organize and prioritize their work.
"Our users have been calling it 'kanplan,'" Jake said. "The new functionality ensures a team's most important work items are always at the top of the list, and that there's never any confusion about what's on deck and who is going to jump on what item next."
The Road Ahead: Continued Investment in Dev Solutions & Integrations
According to Jake, Atlassian plans to maintain their investments in the solutions they've built over the past 15 years. The positive response they've received from their mobile release has encouraged the company to continue to allocate resources toward JIRA Mobile to ensure users are able to stay up to speed on projects while on the go.
Atlassian also aims to tighten developer tool integrations so software solutions can talk to one another, share information, and provide real-time data and analytics.
"This is something JIRA users have always loved about the product and have come to expect from it," Jake said. "As the DevOps movement takes shape, these integrations are now more important than ever."
One thing's certain, Atlassian has remained agile throughout their history, developing products and adapting them along the way to help teams stay connected. Their track record of commitment to fostering a culture of collaboration and breaking down walls is evident in the solutions they provide. And there is no sign of slowing down these efforts.
"We've been doing some new thinking and testing around a UI that will better serve the way software teams today are structured and working," Jake said. "We're excited for the year ahead!"