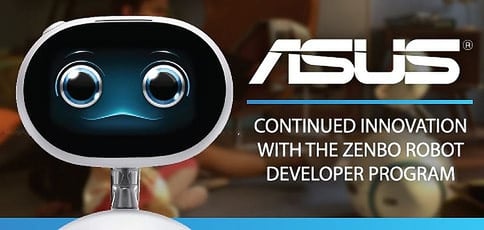 TL; DR: Since 1989, ASUS has been innovating the computer hardware space, manufacturing products ranging from motherboards to notebooks and mobile phones. Throughout its nearly 30-year history, ASUS has been recognized as an industry leader in design and engineering, consistently earning awards across product lines. As with most innovators, ASUS has no plans of slowing down. The company's latest launch, the Zenbo robot, is set to change how people work and interact with their surroundings. Zenbo acts as a personal assistant and companion and serves as another example of how ASUS's products are revolutionizing how our lives intersect with technology.
Nearly 30 years ago, a group of engineers effectively pioneered the Taiwanese computer hardware industry after creating their first motherboard prototype. With their product, the engineers would go on to found ASUS, which today is one of the largest brands in the global consumer electronics space.
Throughout the company's three-decade history, ASUS has consistently earned awards for design and engineering innovation. In fact, this year, ASUS took home a record-breaking 15 wins at the 2017 iF Design Awards. Not one to tap the brakes on success, ASUS has launched a new product that's sure to turn heads — Zenbo.
Zenbo was designed to provide busy people assistance around the home, entertainment, and — in the best way a robot can — friendship.
"For decades, humans have dreamed of owning such a companion: one that is smart, dear to our hearts, and always at our disposal," said ASUS Chairman Jonney Shih. "Our ambition is to enable robotic computing for every household."
Zenbo is capable of carrying out a host of helpful duties, including setting job reminders and monitoring home security. The robot creates a smart home environment where household tasks, such as turning lights and appliances on and off, can be conveniently automated.
Among its many talents and assets are facial and voice recognition and the ability to play music, manage smart home devices, and alert users when there are open windows and doors. This charming assistant will even allow users to monitor their personal health, and it doubles as a playmate and companion. Zenbo's AI can also adapt to user preferences for a more personalized experience.
Zenbo officially hit the market in January 2017. However, development is still underway to improve the bot through the Zenbo Developer Program. The tutorial program allows coders to learn how to use tools to create applications that add to the Zenbo robotic ecosystem.
Developers Helping to Make Zenbo a Smarter Home Companion
Zenbo's software development kits contain Java classes to create apps that customize face/person detections, facial expressions, callbacks, motion controls, and spoken dialogue. These classes can be used to control the robot abilities in a variety of ways. For example, the DialogSystem class lets developers match expressions with dialogue to make Zenbo emote more humanly during conversation.
Developer tools also include the Zenbo APP Builder, Zenbo Story Editor, and the DDE Editor. Zenbo APP Builder is an easy-to-use programming tool similar to Google Blocky.
Graphical blocks of commands can be dragged and dropped to control Zenbo's movements, expressions, and use of sensors. The APP Builder contains a simulator through which developers can preview their programming and facilitate editing.
The Zenbo Story Editor lets developers program Zenbo to create interactive stories with an easy-to-use interface and simplified process. The functionality is similar to audiobooks and can be used to read stories to children or as background noise for relaxation or work concentration.
The Zenbo Story Editor makes it easy to import media files across platforms and edit timelines. The DDE (Dialogue Development Environment) Editor is used to design and test Zenbo's conversation scripts.
Classes, or categories, can be set to "teach" Zenbo vocabulary, and developers must take into account intent when programming Zenbo to recognize spoken dialogue. Because human language has many ways of saying essentially the same thing, several sentences with the same meaning may be necessary for Zenbo to "get" what is being said.
These developer tools help make Zenbo more intelligent, useful, and pleasant when it comes to having it in the home as a virtual assistant. The goal is to make personalized interactions among users and Zenbo possible, and the developer program is helping ASUS realize that aim.
Breaking Records With a Wide Range of Award-Winning Products
Ever the innovators, ASUS provides a wide range of unique products. The company is probably most famous for laptops, graphics cards, and smartphones.
LaptopMag recognized ASUS as the producer of the second-best laptop brand on the market, with its UltraBook UX305 leading the way. With the advent of Zenbo, ASUS innovators continue their aim to revolutionize electronics, with both brand-new and existing consumer products.
ASUS has recently received top-billing in numerous categories at the 2017 iF Design Awards. At the top of the pack are ASUS's Zenbook 3 and Zenbook 3 Deluxe laptops. ASUS also won the award for the ZenFone 3, ZenFone 3 Deluxe, and ZenFone 3 Ultra, all released in 2016.
ASUS broke a record by scoring an astounding 15 wins at the Design Awards, higher than any other brand. Now, with Zenbo and other products emerging onto the market, ASUS is sure to be recognized at future ceremonies because of the team's award-winning designs.
Still Going Strong After Nearly Three Decades in Electronics
Since ASUS opened up shop 30 years ago, the company has made a name for itself as a pioneer and innovator in the consumer electronics space. The UltraBook line, in particular, has gained significant popularity as a low-priced, power-on-a-budget laptop line. Over the years, the company has dabbled in building smartphones, tablets, and all-in-one desktop computers as well as sound and graphics cards.
Over the past decade, ASUS has also found the time to zero in on gamers and overclocking enthusiasts with the Republic of Gamers (ROG), a sub-brand dedicated to "creating the world's best gaming hardware and software," according to Bryce Jones, Global PR Manager for ASUS.
Formed in 2006, ROG offers a complete line of innovative products known for performance and quality, including motherboards, graphics cards, laptops, desktops, monitors, audio equipment, routers, and peripherals. ROG participates in and sponsors major international gaming events, and ROG gear has been used to set hundreds of overclocking records as the sub-brand continues to be "the preferred choice of gamers and enthusiasts around the world."
ASUS continues the company's long tradition of providing the world with top of the line innovative products. Zenbo will be the first of its kind, a family robot that costs about as much as a new smartphone but can do so much more.
The concept of a family robot has been the daydream of futurists since the 1940s and is just now becoming a reality. For decades, people have envisioned the possible inner workings of smart homes, from the classic Rube Goldberg Machine concept and now to Zenbo. Through years of engineering, ASUS is helping make the house of tomorrow the house of today.