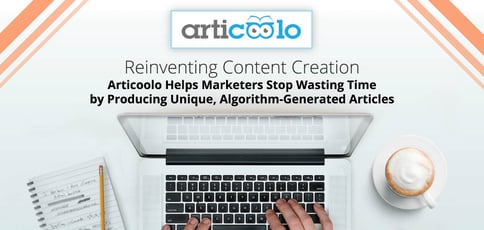 TL; DR: Instead of handing writing prompts over to a team of writers, Articoolo users engage the app's artificial intelligence to generate unique content under tight deadlines. Design agencies, marketers, and others can produce cost-efficient, custom-tailored articles in a fraction of the time commonly associated with content creation. Articoolo's team of mathematicians, computer scientists, and writing experts combine time-saving automation with the contextual nuance, creativity, and human touch required to produce meaningful phrases that illustrate and enhance the branding messages of its customers.
What makes a good writer? According to the algorithm behind Articoolo's content generator, "A great writer is remarkable."
Still in a beta release, Articoolo aims to help entrepreneurs, design agencies, and marketers speed up the time to market by providing custom content created in response to specific keywords. Instead of investing ample time and money on editorial teams and processes, Articoolo customers can receive a 500-word article in just a minute or two.
"A lot of writers are hitting publish… but a few dominate all the attention," Articoolo's 569-word article for us continues. "There's just something about them that's unique. Their voice and style are impossible to replicate. They're prolific and seem to pop up on your feed everywhere, all the time."
Articoolo combines artificial intelligence and automation with the human touch needed for creativity and detecting nuance, identifying subtle context and sentiment alongside important keywords when searching for related resources on which to reconstruct messages for customers.
"To achieve success, you've got to be worth speaking about," Articoolo's artificial intelligence wrote. "You've got to be visible. You've got to be remarkable."
Balancing Automation and Efficiency With Human Touch and Creativity
Articoolo executives have cultivated a diverse team of computer scientists, mathematicians, writers, and marketing experts to create an automated application for the high-touch writing process, according to Chief Marketing Officer Ben Green.
"Although each one of us has a different background, we all understand that automation is taking over content creation, as it has done in so many other fields," he said. "We couldn't find a decent solution, so we decided to develop one."
After two years of development on the service's core algorithms, the Israeli startup debuted to the masses in mid-2016. Articoolo uses keyword-driven research to focus on content marketing and search engine optimization. This approach sets it apart from other text generators that employ automation and artificial intelligence platforms to develop news stories.
Articoolo aims to replace the initial text creation process by supplying admittedly rough content that typically requires editing. The team developed its algorithms to detect context and sentiment but leaves it to users to solidify their messaging.
"We understand the importance of human touch," Ben said. "We make sure our users understand we provide them only a starting point. They can save most of the creation time but are expected to go over the article in order to proofread it and add their own point of view."
From Title to Text: Articoolo Addresses Each Part of Content Creation
Although Articoolo's service portfolio has expanded throughout the past few years to include title generation, summaries, and rewrites, the company focuses its efforts on pure content creation.
"We tried to analyze what is the entire set of needs of content creators and provide them with a full solution backed by a variety of tools," Ben said. "I still believe our main tool, the article writer, is the most powerful and useable one."
In addition to a WordPress plugin and API services that repackage the company's core services, other Articoolo deliverables include:
Article rewrites where customers can enter up to 500 words.
Title generation from either a user-submitted URL or text.
Article summaries that distill content to 20 sentences or less.
Image searches that suggest related pictures based on a URL or content.
Writer's Little Helper offers ideas and images related to user-submitted keywords.
Quote searches identify the source of the quotes used in customer articles.
With the article creator, users simply enter two to five words about a topic and can then choose from a variety of suggested topics, decide the rough length of the article, and toggle between options for "better readability" or "enhanced uniqueness."
After a minute or two, Articoolo provides a preview of the article with all but a few sentences blurred out. Users can then choose to purchase the full text for $1 or so. Subscription packages and bulk rates enable customers to receive up to 250 articles per month.
Teaching Artificial Intelligence Algorithms About Context and Nuance
By introducing artificial intelligence into the writing and editorial processes, Ben said the chief advantage Articoolo offers customers is to dramatically reduce the time required to produce engaging and informative content.
"When you write an article, you spend most of your time coming up with ideas, finding related information, and generating your story," Ben said. "Our algorithm does all that in seconds, so you are left with only proofreading and finalizing your article."
When a user enters his or her topic for article generation, the Articoolo algorithm works to analyze and understand the context of those keywords. For instance, Articoolo detects the difference between Apple, the global technology company, and apple, the fruit.
Once the algorithm establishes a frame of reference around a given subject, it searches for related resources and content surrounding the keywords. Sharp-eyed skeptics can often find the original sources with a quick Google search, though the company promises unique articles sans plagiarism. Articoolo then reconstructs the various information and sentiments into one coherent piece of text that is rewritten and analyzed for readability through a natural language processing engine.
"Our algorithm emulated the human brain when asked to write an article," Ben said. "Using keyword identification, it understands the context of the topic and finds resources. And, by doing semantic analysis, it constructs a new article. Then, with the help of natural language processing, it rewrites the text to make it unique. The whole process takes only about one minute."
Customer Locales and Feedback Drive Articoolo Improvements
As with platforms that rely heavily on artificial intelligence and automation, Articoolo's algorithm is constantly being tweaked and updated to adapt to customer needs and improve its language skills, Ben said.
"AI technology can't completely replace human writing skills, and it probably never will, but we want to help writers do their job quicker and more efficiently by providing a great solution," Ben said.
The team recently launched Articoolo in Spanish, French, and German, along with Chinese and Japanese. Seventy percent of the company's customers are from Asia, Ben said, adding that the company believes China holds the company's biggest growth potential.
"It is well-known that most of the English content posted on the web today is created in places like India and Pakistan by self-employed content writers," he said. "We want to empower those people by providing them with great content creation tools for a very low cost."
In addition to refining the technology as the AI sector evolves, Articoolo regularly seeks input from various customers on how it can improve its operations. The company is currently running a few pilot tests with business customers to gain their input.
"We get a lot of valuable feedback from our customers, and we try to plan our solutions according to their needs," Ben said. "Our product team includes content experts, so we understand this industry and know what it needs."