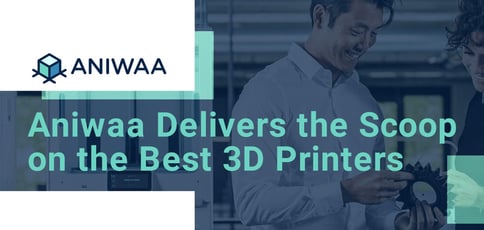 TL; DR: 3D printer technology has come a long way in recent years in terms of accuracy and power, moving from experimental environments to the industrial server networks of manufacturers far and wide. Through in-depth content and comparison tools, Aniwaa helps professionals research, evaluate, and purchase 3D printers and scanners. Visitors can expect the platform to evolve into a full-fledged hardware management platform powered by supplier involvement in the future.
3D printers and scanners may not be regular fixtures in our homes, but they are making their way into the server networks of original equipment manufacturers (OEMs) across the globe.
The automotive and aerospace industries both use 3D printers for tooling, functional prototypes, and end parts. The medical and dental fields use them to provide patient-specific implants and prosthetics. The technology, also known as additive manufacturing, is even used in the consumer goods sector. There, it is used to expedite the production of everything from midsoles in athletic shoes to the tips of mascara brushes.
Another clue that 3D printer and scanner technology is revolutionizing manufacturing lies in the sheer number of 3D printer and scanner software packages on the market. Between OctoPrint, AstroPrint, Repetier-Server, and other prominent names, OEMs have a wide variety of options when choosing proper server support for getting the most out of these new technologies.
What's far more daunting, though, is finding the right industrial 3D printer in what has become a sea of suppliers. To cut through the clutter, many manufacturers are turning to Aniwaa, an independent 3D printing hardware comparison company known for reliable, in-depth content and best-in-class comparison tools.
"I think we bring a lot of value in terms of 3D printing because the market is super fragmented," said Martin Lansard, CEO and Co-Founder of Aniwaa. "There are hundreds of manufacturers and new ones popping up every day. It's very challenging as a potential buyer to navigate the landscape. You have to research what's available, determine your price range, and understand your technical requirements."
Through comprehensive guides and comparison tools, Aniwaa facilitates the research and purchase of printers and scanners (also known as additive manufacturing equipment) for professionals worldwide.
The platform also connects potential buyers with a qualified network of worldwide suppliers, where they can access the information, samples, and quotes they need to finalize their decisions.
Additive Manufacturing Equipment Content and Comparison Tools
Martin and his best childhood friend, Co-Founder Pierre-Antoine Arrighi, launched Aniwaa in 2013 as a simple blog dedicated to 3D printing.
"We didn't really think about it as a business — it was more of a passion project," Martin told us. "I was in the U.S. working at Google, on the business side of things, and Martin, who has an engineering background, was working in France."
At the time, information on 3D printing and scanning was available online, but it was scattered across the web and difficult to access. Martin and Pierre-Antoine compiled information, wrote informative yet digestible content and reviews, and built handy comparison tools. Martin said the goal was to produce a blog that someone like his mother could reference for easy-to-understand information on 3D printing hardware.
By 2014, the site took off, and both Martin and Pierre-Antoine left their jobs to devote their time to Aniwaa.
"My partner was interested in technical testing and manipulating the machines, which is how we build one of our main assets: our database with comparison tools for thousands of printers and scanners," Martin said. "We got a lot of early traction because of those resources, and we started to receive emails from visitors with questions about what to buy."
At first, Martin and Pierre-Antoine answered emails one by one, directing users to suppliers as needed. But the pair knew that their model wasn't sustainable. "It wasn't manageable or scalable," Martin said. "We needed a more actionable tool and resources — and that's why we evolved the platform into what it is today."
In 2015, the team released a new version of the site with revamped comparison engines and updated product databases. Over the years, Aniwaa strengthened its position as a comprehensive source of additive manufacturing and 3D capture hardware. The company's core team of four currently operates out of Cambodia with remote team members located in France.
A Global Network of 3D Capture Buyers and Suppliers
The Aniwaa platform features thousands of advanced, industrial-grade machines intended for professional use — some of which cost $1 million or more. When Aniwaa team members don't have the capacity to review a machine themselves, they compile information from their qualified network of worldwide suppliers and end users.
"The goal is really to provide a fair overview of a given product that's transparent and straightforward," Martin said. "When we do reviews, we detail the experience from the packing until we're actually printing or scanning. We always try to provide perspective on the circumstances under which we are testing those products and the limitation of our tests."
Martin told us the 3D printers and scanners aren't yet standardized. The final product of a 3D printer located in a hot and humid setting such as Cambodia will often be different from that of the same machine situated in France's dry regions.
"We also try to provide a very clear overview of the conditions under which we receive a machine," he said. "If we have a loaner machine from a manufacturer, we explain that."
The B2B additive manufacturing market is booming amid the current global pandemic as businesses add 3D printing to their server networks, allowing them to create on-demand personal protection equipment, medical devices, and other supplies.
"The COVID crisis has highlighted beneficial aspects of additive manufacturing and, in many ways, accelerated its adoption in production chains," Martin said. "Large companies, and even SMBs that wouldn't have contemplated buying a printer, began turning to us to identify the right product and partners to buy from. That's really where we want to be helpful today."
Moving from a Website to a Full-Fledged Management Platform
As part of its mission to help satisfy increased industry demand for 3D printers and scanners, Aniwaa is working to evolve its website into an interactive platform that will allow suppliers to manage their offerings. Currently, the Aniwaa team is in charge of keeping up with all content on product launches and updates.
"A big step for us will be transforming the website into a platform where brands can create accounts and manage their products," Martin said. "We want to empower them to keep the platform up-to-date as needed."
The move will free up Aniwaa's time, allowing the team to focus on reviews and general content rather than making changes requested by manufacturers.
"Every day, we have manufacturers contacting us with requests to add products, replace images, and so on.," he said. "With the new platform, which we plan to release early next year, everything will run more smoothly."