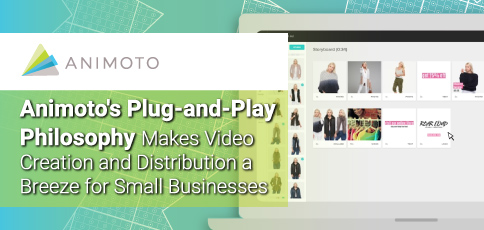 TL; DR: Given the fast-forward pace of technology, it's not difficult to remember a time not long ago when video was a medium accessible only to Adobe Premiere pros and those who possessed Final Cut finesse. Since launching in 2007, however, Animoto has revolutionized the digital video sphere by offering opportunities for anyone to create videos that stand out on social media — no editing experience required. Drawing inspiration from drag-and-drop website builders, Animoto puts the power of video creation in small business owners' hands.
Until a handful of years ago, launching a website typically required the help of an HTML guru — an expensive venture that made getting online difficult for the masses.
The same type of barriers have long been at play for those who want to produce snappy digital video content without professional editing skills, according to Animoto President and Co-Founder Jason Hsiao.
"It wasn't that long ago that not everyone had their own websites," he said. "You'd have to spend $10,000 or $15,000 to hire someone to create your site, or you had to know HTML editors, or how to code that up on your own."
With the advent of drag-and-drop website builders like Squarespace and Wix, however, anyone can now easily make a website. Animoto's plug-and-play video creation tools follow a similar path, enabling anyone to make engaging video content and share on their website or social media.
"If you're working with a video editor, your video is in a failed state to the very end," Jason said of working in technical tools like Adobe Premiere or Final Cut Pro. "Drag-and-drop tools are like a toy, though: You can't make a bad video. Anyone without any video expertise can create great videos."
Video for Everyone: TV Production Backgrounds Fuel Founders' Vision
As the Animoto Founders prepared to launch a tool that would put video creation in the hands of everyday folks, they relied on their experiences as television producers and editors at networks such as ABC, Comedy Central, and MTV.
"From our backgrounds working in TV and film, the starting point for us was the genuine belief that video was the most compelling and effective way to communicate a point," Jason said. "As we saw everything evolving online with Myspace, Facebook, and the birth of iPhones and the cloud, we wanted to be part of the evolution of making sure video got into the hands of more than just the big TV networks."
Modeling the concept after drag-and-drop website builders like Wix and Squarespace, the Animoto team launched its platform in 2007, receiving almost immediate acclaim from an influx of new users. With the success, however, came new challenges.
"It was exciting, at first, because a lot more people than we could have ever thought started using it," Jason said. "We focused on anyone with photos and music, but we realized that when you're good for a lot of people, you're not really great for anyone. We wanted to be the best in the world at one thing instead of being kind of good at a lot of things."
By the company's 10-year anniversary in 2017, Animoto refocused on empowering small businesses to communicate with video. The company now boasts more than 20 million registered users, with customers in 175 countries across the globe.
Optimizing Video as a Top Tool for Messaging in the Social Media Age
In the decade since Animoto's launch, the ascendancy of video content has been consistent across the web. The company continuously adapts its stride to stay ahead of the curve.
"We've spent our entire careers here really studying and learning about what works and what doesn't work with video, especially with marketing videos on websites and social media," Jason said.
For entrepreneurs and small businesses seeking to expand their audience or consumer base, video is a powerful outreach tool — but, as Jason advises, it should be used consistently to be the most effective.
"People tend to think of video as this one-off on your marketing to-do list," he said. "Video has become a form of communication. You have to create it regularly to communicate with your audience."
In addition, Jason recommends Animoto users look beyond their website for opportunities to publish and share videos. Distributing video content on social media, for example, takes a more active approach to engaging new audiences.
"What people are realizing is that video is a great way to get people to your site," he said. Instead of waiting for people to discover your website, you can take your message to where the conversation is already happening, and that's on social."
Animoto 101: Avoid Common Hangups When Getting Started
Despite how easy Animoto makes the video creation and editing process, Jason said he understands that many still find videos intimidating. Small business owners and marketers frequently specialize in something other than video production, so getting started can be the hardest step.
"Tools like Animoto are helping people save time and money, but there's still this creative anxiety," he said. "Once people make their first video, their confidence goes from one to 10, and they realize this is actually pretty easy. They can do this."
Jason said folks who already have a website, blog, or social media presence may have an easier time getting started on video creation than they realize. Pre-existing content can easily be reused to make dynamic, engaging videos.
"The great thing about your blog is you can see which posts are the best performing and resonating with your audience the most," he said. "If you can translate the content of those blog posts in a video, you can have a pretty high confidence that the video will be something your audience cares about."
Jason's final tip? Keep it simple.
"I think sometimes people feel like videos are these two- to three-minute masterpieces," he said. "Increasingly, videos are getting shorter and shorter. You just have to capture one idea."
Press Fast Forward: Animoto Looks Toward the Future of Video Content
The team behind Animoto strives to stay one step ahead of trends in video and content production, often planning several years ahead.
"We decided about four years ago to start from scratch," Jason said. "We asked ourselves, 'If we were to imagine the product of the future that would disrupt Animoto, what would that perfect product be?' We started building that about a year and a half ago."
That drag-and-drop platform for video creation features a storyboard approach that relies on templates — just like those popular site builders. Animoto releases an average of four new templates per month based on current best practices observed in the industry.
As square (1:1) video formats become increasingly popular and useful across social media, Animoto added a square option to its pre-existing landscape (16:9) format last year.
"Because most video is now consumed on social and mobile devices, square takes up 78% more visual space in your newsfeed, whether on your phone or computer," Jason said.
Next up in the queue is likely working on other video formats, Jason said, opting to keep some of the company's big plans under wraps as it looks toward the future.
"We're thinking about where are things going," he said. "We're staying on top of trends and trying to lead and show people where we think things should go."