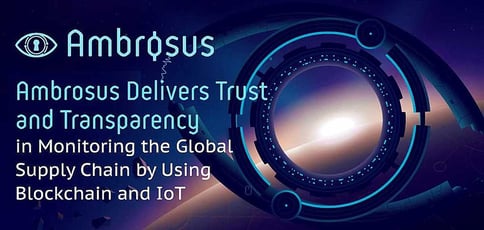 TL; DR: Ambrosus recognized that many companies didn't have the sophisticated tools to prepare for the coming Fourth Industrial Revolution, a key component of which will be IoT. So the company developed a blockchain-powered, decentralized IoT network that offers supply chain tracking, secure data storage and sharing, and applications that connect the physical and virtual worlds. The technology is relevant for supply chains in many industries, but, as the company looks ahead, it envisions that its smart network will also power the cities of the future.
Blockchain and the Internet of Things (IoT) can be a perfect pairing for businesses. The blockchain provides transparent data storage and sharing while IoT collects data from the physical world and can communicate that information to other sources.
This connection can be particularly useful in the supply chain to ensure integrity during a product's journey from warehouse to consumer. Realizing the incredible potential of combining blockchain and IoT technology to help streamline those processes, Ambrosus launched in 2017 with the goal of developing an innovative network.
The company, which takes its name from the word "ambrosia" — meaning food of the gods — began by applying its technology to food and pharmaceutical supply chains, providing a practical, actionable version of blockchain during the early days of cryptocurrency.
As the company continued to create a unique value proposition in the tech space, it expanded the industries it served. Ambrosus recognized its proposal of IoT data integrity could be useful in other sectors — including clean energy production, luxury products, electronics, and commodities.
"Our mission is to provide data integrity, trust in products, quality assurance, and transparency to the supply chains and industrial processes that improve human health and well-being," said Angel Versetti, CEO of Ambrosus.
That's why Ambrosus offers secure product tracking, which allows companies to monitor logistics and share data with other stakeholders in their supply chains. This feature adds value for exporting products and regulatory compliance.
The data sharing and storage is also transparent. The company integrates IoT device data and IT systems to create a single unified network using the blockchain.
"This is widely applicable to clean energy, health records, traceability of health devices and equipment, as well as in industrial manufacturing and large-scale production processes," Angel said.
By securely connecting industries' virtual data to their real-world business process, Ambrosus enables all of the stakeholders to trade information efficiently. And leading into the next era of global business, that proposition could be more valuable than ever.
Preparing for a Fourth Industrial Revolution Fueled by IoT Technology
According to the World Economic Forum, the IoT will be an integral component of what it calls the Fourth Industrial Revolution.
But in the meantime, there are many issues concerning IoT that need to be addressed before the technology can reach its full potential. For one, digitally connected devices can raise data security red flags. Companies are also concerned about connecting to integrated networks that don't direct data flows appropriately.
Ambrosus addressed these concerns by hiring a team with experience across various industries, including digital currencies, business development, and computer science. That diverse background helps the team develop multifaceted solutions.
The company's innovations include AMB-NET, the blockchain network that offers improved connectivity within a company's data management system and the data transmitted by IoT devices. The Ambrosus Team meets at its Innovation Laboratory, a space where it can design and prototype encrypted IoT devices for securely managing data integrity.
"We have a huge differentiator in that Ambrosus takes IoT to the next level," said Angel. "Currently this kind of security-based device creation does not exist on an industrial scale."
As Ambrosus continues its growth trajectory, it plans to connect with more businesses and industries that could benefit from its products. It also wants to connect with startups that may not otherwise have access to Ambrosus' blockchain.
"This is an important priority because it democratizes access to the Ambrosus blockchain while increasing traction and visibility of the network," Angel said. "In this sense, 2019 will likely see many startups begin to leverage AMB-NET and other data-based solutions in industry-specific verticals."
Smart Cities to Pharmaceuticals: Serving a Wide Range of Customers
Ambrosus can be useful for any company — B2B, B2C, or B2B2C — that wants to digitize its processes and foster connections with its infrastructure. The network provides value to these companies in a variety of ways, from quantifying the production of clean energy and ensuring it can be traded to tracing the quality of honey made in the European Union.
"One of our clients is a vanilla exporter and trading company called PREMIUM Goods," Angel said. "Ambrosus worked to digitize the supply chain of the expensive and high-quality vanilla beans from regional collectors all the way through the product being exported across the globe."
Companies can also use Ambrosus technology to create their own solutions, which allows for even more flexibility. The company itself also works to create holistic solutions for its clients to implement. For example, Ambrosus developed a digital traceability system for Madagascar Bourbon Vanilla; using its public ledger, such a system is applicable to vanilla exporters from across the region, and allows them to customize and share information (such as quality or proof of origin) with an assortment of clients down the supply chain.
"Ambrosus is an ecosystem that applies readily across industries, in cities, and within supply chains," Angel said. "Our customers are, generally, those in need of holistic and secure data management and sharing capabilities across physical processes."
The company has even more ambitious plans for its technology in the future: to power the smart cities of tomorrow. Ambrosus aims to develop a digital network that will integrate the virtual and physical components of a city, including cloud data management, blockchain data sharing, and physical sensors.
"This potential is mainly due to our joint expertise in IoT and blockchain," Angel said. "Therefore, it can connect devices to cities, and we can build the applications and solutions that citizens, police departments, or health inspectors — among others — can use to ensure safety and efficiency.".
Ambrosus is Ushering in the Supply Chain of the 21st Century
Ambrosus recently partnered with Korean company Nongshim Data Systems (NDS) to ensure the quality of beef sold at MegaMart supermarkets. The Ambrosus and NDS solution included information on veterinarian checks of the cattle, temperature controls, and supply chain data from the farm to the grocery store.
Though quality control processes surrounding beef being sold at grocery stores is nothing new, the Ambrosus and NDS solution introduces less tech-savvy businesses to the rapidly transforming digital economy. Many companies are still managing data in analog forms and using inefficient processes. According to Angel, some supply chains have limited access to physical processes and continue to deploy overly complicated legacy software.
"Ambrosus helps enterprises overhaul outdated management practices, and optimize their data structures to gain new insights, better interact with consumers, and demonstrate legal compliance, among other things," Angel said.
Thus, Ambrosus provides companies with options to digitize many processes. These more efficient workflows can help them demonstrate proof of quality using the blockchain, interact with customers more precisely, or deploy artificially intelligent applications on a single platform.
"The exact benefits depend on the industry and the needs of a particular enterprise," said Angel. "For companies that want to participate in the ecosystem fully, these solutions are incredibly cost-effective."
In the future, Ambrosus plans to extend the applications of its native cryptocurrency Amber (AMB), into the wider fabrics of its blockchain ecosystem at large.
"We want to integrate AMB into the wider digital economy, not merely as a token limited to the platform but as a widely recognized, trusted, and decentralized cryptocurrency," said Angel. "We plan to extend the application of AMB in 2019, beyond managing enterprise data, into a multipurpose cryptocurrency for the IoT economy and beyond."