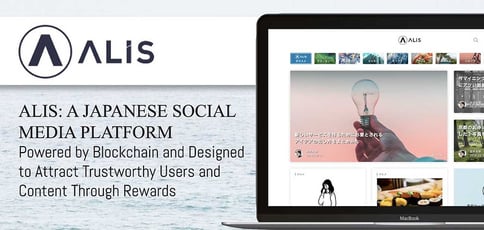 TL; DR: ALIS, a blockchain-based social media platform that uses a rewards system to distinguish credible articles and people from those that are untrustworthy, is creating a decentralized alternative to our current social networking system. The autonomously developing platform will make ad-free content possible through token-based incentives. With initiatives like the ALIS Ambassador Program working to accelerate growth, the platform is poised for continuous development based on user feedback.
We can learn a lot about risk-taking from the bravery of penguins, a species that is forced to grapple with uncertainty on a daily basis. The flightless birds frequently gather on ice shelves when hungry, debating whether a dive into the waters below will result in a fish buffet or an untimely death in the face of a hidden predator.
Inevitably, one bold penguin makes the first move — and often, that penguin is the one to receive the most bounty. The team behind ALIS, a groundbreaking, decentralized social media platform powered by blockchain, has embraced the risk-taking nature of the penguin as part of its value proposition.
For ALIS team members, entering unknown waters is a small price to pay when attempting to find an alternative to our centralized media system, which is fraught with data privacy violations, misleading news, and invasive advertising.
"I would like people to know that the current social media approach is not the right one," said Masahiro Yasu, Co-Founder and CEO of ALIS. "You shouldn't have to give out your personal or private information if you want to use an application. We truly want to create a decentralized future with a thriving application that is not only about transparency but also about helping local economies grow."
As a blockchain-based platform that swaps advertising for token-based incentives, ALIS has the potential to revolutionize social networking. The decentralized tool, now in open beta, is intended to fill the market demand for high-quality articles and trusted contributors. With initiatives like the ALIS Ambassador Program working to accelerate growth, the platform is poised to provide unique value and innovation.
An Ad-Free Platform Revolutionizing Social Media and News Feeds
Facebook has been in hot water for exposing the private data of its users since 2013 when the social networking company accidentally leaked the phone numbers and email addresses of 6 million users to unauthorized viewers. Since then, the situation has only gotten worse: In 2018, an attacker exposed the personal data of 50 million users in the most massive hacking incident in Facebook history.
If that's not enough to scare users away, Facebook has admitted selling ads based on the information users share on the network. Masahiro said this pervasive lack of trust is one of the reasons he wants ALIS to succeed. "We have to give the people their power back by moving away from a centralized platform," he said.
Part of the inspiration for ALIS came from Steemit, a social media platform founded in 2016 that leverages blockchain technology and cryptocurrency to reward users who contribute articles, images, and comments. Two years ago, Sota Ishii, Co-Founder and CTO at ALIS, posted photos of his tour of South America on the platform. The content earned him close to $30, with which he purchased the most expensive pizza Domino's had to offer.
Intrigued, Sota and the ALIS team researched the platform thoroughly. While tech giants like Google and Facebook rely primarily on advertising to bring in revenue, Steemit, valued at $378 million as of July 2017, uses an elaborate token scheme.
Though the ALIS team admired the Steemit platform, they observed two shortcomings: An overly complicated token economy and a lack of localization for Japanese audiences. ALIS, then, was developed to offer an easy-to-use, token-based social media platform designed specifically for the Japanese market.
Token-Based Incentives to Create and Find Reliable Content
ALIS incentivizes quality content by distributing tokens to authors who create high-ranked articles, as well as those who evaluate materials. While both creators and evaluators are essential to the social network, creators will receive a more substantial incentive based on the time they put in. Evaluators receive more tokens over time as they rank articles that receive a considerable number of likes.
Readers can then identify trustworthy content based on the number of likes and the number of tokens paid for each article. Both people and articles are rated based on reliability, and users can search for them using associated tags.
According to a whitepaper on the ALIS website, as the platform itself is deemed valuable by users, the value of the ALIS token will increase. Based on the success of both Steemit and Golos, a decentralized platform targeted at Russian speakers, the authors argue that the scheme has a high probability of success.
Masahiro said the platform's top benefit is its ability to monetize social engagement. "Right now, if you compose a tweet on Twitter, you don't get anything," he said. "If you monetize content, you'll get more users."
ALIS also features built-in mechanisms designed to prevent fraud. To prevent the creation of multiple dummy accounts, users must authenticate their profiles via SMS. The system will also nullify the actions of users who evaluate numerous articles within seconds — a statistically impossible feat.
An Autonomously Developing, Decentralized Approach
ALIS team has distributed 3.75 million tokens through ICO, and also will distribute additional tokens to creators and evaluators. Beyond initial implementation, the ALIS team recognizes that it's critical to keep users engaged and returning. Therefore, ALIS tokens will carry a 50% inflation rate.
Masahiro said ALIS will leverage blockchain technology to keep records of the contributions of evaluators and creators. Users with valid ALIS tokens in the ALIS wallet will have the power to distribute rewards to users, creating an autonomously developing system.
"At this point, we are planning to use blockchain technology for evaluations and rewards, but for other functionalities, we want to evaluate other technologies," the ALIS Co-Founders state in the whitepaper. "For example, posted articles should not be saved in the blockchain, because the data structure is not suitable for searching and deep learning."
Masahiro said the company is always open to suggestions, with a focus on actively listening to users and continually sharing information with them about the development process. "We are still creating and improving our service, little by little, every day," he said. "We also do surveys asking which features users like the most, which helps us prioritize development."
Through the process of crowdsourcing wisdom, the ALIS team hopes to gather sound and successful ideas that will lead to the development of a practical and useful platform. "User activity is what makes ALIS successful," Masahiro said.
The ALIS Ambassador Program: Accelerating Growth
To that end, the company's ALIS Ambassador Program, an initiative designed to empower users and investors to spread the word about the network, has been out for nearly a year, and many of the initial users are still passionately and voluntarily working with ALIS. Because the growth of the product and token value depends wholly on the expansion of the ALIS community, the ALIS team considers it essential to increase outreach both globally and within Japan.
ALIS Ambassadors are carefully selected by the ALIS team and tasked with acquiring new fans, disseminating information, promoting online and offline ALIS events, and providing perspective on regional markets. In return, they receive free entry to events, custom t-shirts, and an official ALIS Ambassador card.
The goal of the Ambassador Program is that, like penguins, these trailblazing ambassadors will continue to lead the ALIS family to feast on an abundance of online resources.