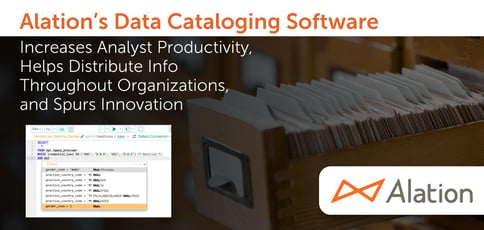 TL; DR: Alation provides data cataloging software that makes it easy for enterprises to find relevant datasets and interpret them to make informed business decisions. The solution uses machine learning to improve understanding while helping teams collaborate and improve productivity. Alation is shaping the future of big data with investments in research and development that continually bring new capabilities to market.
There's no doubt that big data has the potential for unlocking even bigger insights. The massive amounts of information businesses are currently collecting can be used to mitigate risk, optimize workflows, improve the customer experience, and, ultimately, boost ROI.
But realizing big data's promise isn't as easy as it seems.
Six years ago, when Satyen Sangani and Aaron Kalb founded Alation, they began to notice a troubling trend. While industry leaders were making investments in raw data storage and self-service analytics, there was little focus on the manual processing that humans have to go through to connect data with insights.
To fill that gap, the company introduced the Alation Data Catalog — the first collaborative solution of its kind designed for the enterprise.
"Prior to introducing that product to market just over four years ago, there really wasn't any software designed to help individuals solve the challenge of being more productive in reaching insights," said Stephanie McReynolds, SVP of Marketing at Alation. "We have been able to help over 100 enterprise customers increase the productivity of their analysts, on average, between 20% to 40%."
According to Stephanie, that equates to recouping about a day's worth of time for each data analyst a week. "We've also been able to help organizations increase the speed at which they're able to document data and make knowledge around data more easily distributable within the organization," she said.
Alation's secret to success lies in its ability to link data to business value by fostering a data culture where machine learning meets collaboration. The software, which is like a recommendation engine for data, both improves productivity and empowers leaders to make data-driven decisions. As Alation continues to invest in R&D to bring new capabilities to market, it is furthering its goal to change the way people find, understand, and use data.
Close the Gap Between Information and Insight
Alation has joined the ranks of mid-sized organizations after six years in the market and more than 100 deployments of the Alation Data Catalog — now the company's primary product. In June, the company was named the top-ranked data catalog in the Dresner Advisory Services Wisdom of the Crowds® Data Catalog Market Study for the third consecutive year.
As the Silicon Valley-based company continues to provide data cataloging solutions for enterprise organizations, such as GoDaddy, Munich Reinsurance Company, and Pfizer, it has observed some impressive results. Stephanie said many customers are now able to move their organizations through an adoption curve that starts with improving analyst productivity and continues with an investment in information stewardship (which helps distribute data knowledge through an organization).
"Then, the third stage of development that we're seeing with some of our early customers is that the data catalog helps them innovate more rapidly," she said. "They are creating a data culture that is a healthy foundation for investing in new business, data products, and innovations that they can bring to market and generate revenue."
At the enterprise level, analysts find it especially challenging to find the right data to answer specific business questions, understand the context of that data, and appropriately transform it into trusted insights. That's exactly where Alation shines — helping businesses reference, understand, and collaborate with data across the organization.
A Data Culture Where Machine Learning Meets Collaboration
Stephanie said Alation's investment in machine learning algorithms serves as a unique differentiator for analysts who are deeply engaged in discovery efforts.
"They're exploring data to try to find insights that support the business — and they often need a little bit of help understanding where to investigate next and how to structure data queries," she said. "Machine learning becomes really important in providing recommendations on how to more quickly discover what's relevant in that dataset."
The technology is refreshingly easy to implement. Stephanie, who spent a portion of her career in the enterprise software space and is accustomed to relatively long implementation cycles for on-premise software, is proud to say that organizations can get up and running with Alation in days — and sometimes, even hours.
"You just connect Alation to your source systems," she said. "Just like Google automatically crawls websites and starts making recommendations in search, we have similar algorithms that automatically crawl your sources of data and start making recommendations in Alation immediately upon implementation."
Stephanie told us that analytics teams running proof-of-concept demonstrations on Alation have seen up to a 20% improvement rate in productivity almost instantaneously. But the product's value also grows over time. "The more human effort you put into curating your datasets, in addition to the foundation that we create of data recommendations, the more value Alation will bring to the organization," she said.
For example, analysts can curate data for the organization simply by upvoting or downvoting assets, annotating filters, or adding additional nuance to a data definition.
Make Every Analyst as Smart as Your Best Analyst
From a technology perspective, Alation strives to continually improve the accuracy of the metadata that feeds into its recommendations. Staying ahead of the curve in that respect has helped the company automatically leverage user behavior as suggestions using a concept known as Behavior I/O.
"The notion of Behavior I/O is that, in addition to understanding the technical structure of data, we're also observing how end users leverage data in the organization as a way to infer additional knowledge," she said. "This can be automated using machine learning algorithms that package those patterns as proactive recommendations."
The approach allows organizations to capture the knowledge of its best data scientists by accessing their SQL log files, which provide a digital trail of their typical workflow. These patterns can then be used as a foundation for data-driven best practices or policy compliance, creating a competitive advantage.
"It also ensures collaboration because you have different perspectives that can be brought to the table regarding the actions you want to take on those insights, rather than all of the effort being spent in the organization toward finding insights," Stephanie said.
Alation's user interface also boosts efficiencies. The company's recommendation engine interface is, in some ways, as simple as the Amazon shopping experience. If you're interested in one type of data, the interface will suggest other data that may be of interest.
"Our recommendations won't show up as a product you put in your shopping cart, but as query recommendations: snippets of SQL or query language that you might want to execute for that data," Stephanie said.
The company packages its search and query recommendation interfaces within a library of catalog pages that provide a rich, descriptive understanding of data you might want to browse. Ultimately, the user interfaces represent what Alation has learned during the last decade in terms of improving the customer experience.
Investments in R&D Bring New Capabilities to Market
Alation is committed to further establishing its reputation as a customer-oriented organization. To that end, interactions with customers largely inform the company's product development and management process. "We're continuing to grow our offerings as the needs grow within our large enterprise accounts," Stephanie said.
The company is also building out a customer success and professional services organization to ensure it leverages best practices on how to adopt the technology in future deployments. This will be especially helpful as Alation moves from departmental to enterprise-wide implementation.
"It will become a feedback loop into our development organization as well as our direct customer interactions to determine how we support larger deployments more effectively as the market for data cataloging grows," Stephanie said.
Alation recently acquired venture capital funding that will be put toward R&D efforts so that the company can continue to innovate in the new and evolving space.
"It's a very exciting phase to be moving into as we continue to bring new capabilities to market about every three to four months," she said.