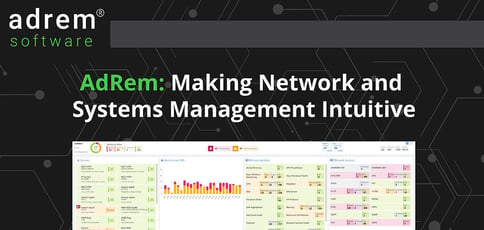 TL; DR: AdRem, a provider of network management software for businesses worldwide, delivers comprehensive, intelligent solutions that are both intuitive and affordable. The company's NetCrunch Monitoring Platform helps thousands of customers in more than 100 countries manage their networks using intelligent algorithms to gain automatic insights. With a reliable, scalable, software-driven approach, AdRem is on a mission to provide a complete monitoring tool that is customizable to individual client need.
If you could step back in time to explore the '80s and '90s tech scene, you'd likely come across Novell NetWare, the dominant operating system for personal computer networks at the time. The product, developed by Novell, Inc., did so well that the company essentially secured a monopoly on network operating systems.
By the mid-90s, Novell continued to command the market, and the company began a series of acquisitions intended to fend off up-and-coming competitors, such as Microsoft. In 1998, amid that growth, entrepreneur Tomasz Kunicki founded AdRem Software to develop products for Novell NetWare. "At the time, Novell was all the rage," said Michael Kulchisky, Sr. Systems Engineer, Solution Architect at AdRem. "No one could predict that the company would soon fall on its sword."
But fall, it did — and hard. By 2000, Microsoft's Active Directory and Exchange — both similar to Novell NetWare — began to gain popularity, forcing Novell to reluctantly surrender its market dominance.
Though Novell may have met its untimely death, AdRem certainly did not. "We went from being masters in the Novell space to applying all the lessons we learned about managing large corporate infrastructures into the evolving Microsoft space," Michael said. "And that's where we've been since."
Today, the privately-owned, self-financed company delivers network management software solutions to businesses worldwide. Its NetCrunch Monitoring Platform offers extensive, agent-less monitoring, policy-based configuration, and low overhead. As a provider of reliable, scalable, and customizable monitoring packages, AdRem's goal is to surpass customer expectations in network and systems management.
Scalable Solutions and Streamlined Configurations with Low Overhead
Michael said NetCrunch, which monitors elements of bandwidth, availability, performance, services, and traffic flow in real time, was designed to ensure an intelligent, simple operational process and easy configuration at an affordable price point, among other key benefits.
NetCrunch is easy to install, with no requirements beyond Windows X64, 3GB of RAM, and two cores. In addition, the product's Monitoring Packs — sets of rules for alerts that define metrics, triggers, and observed events — put an end to the tiresome configuration of individual nodes. Overall, the result is a fast, responsive, and scalable solution.
The operations team at JA Ishikawa Densan Center, a systems management company in Japan, learned of these benefits firsthand when it deployed NetCrunch to monitor its vast network. The company's previous network monitoring solution required the team to set up multiple local machines and navigate complex maintenance of monitored nodes. But with NetCrunch's intuitive graphical user interface, the team has been able to monitor nodes with ease. Ultimately, the platform provides a higher level of service plus additional features at a more attractive price when compared to the JA Ishikawa Densan Center's previous solution.
According to Michael, AdRem's flexibility, specifically in terms of product and pricing, is one of the company's top benefits. Users are free to start with any product in the NetCrunch family and add nodes or modules as needed. "The other thing that we've done is we've come up with some fairly permissive licensing — we don't sell donuts by the sprinkle," Michael said. "In other words, we're not nickel-and-diming you at all."
Delivering Agent-Less Monitoring and Automatic Insights
Prospective customers are invited to download and install the NetCrunch Platform Server to test NetCrunch products for 14 days after registering for a trial. During this time, users are free to switch between products and add modules.
In addition, AdRem provides live webinars that demonstrate how to get the most value out of NetCrunch. The sessions cover a wide range of technical and licensing questions, with a specific focus on rule-based configuration, managing hundreds of nodes with a few clicks, controlling multiple interfaces, and solving for particular needs.
The sessions also highlight the ways in which NetCrunch stands out compared with the multitude of network monitoring tools now on the market. For example, NetCrunch supports agent-less monitoring of most operating systems, including Windows, Mac OSX, and Linux, allowing customers to avoid using SNMP on those systems.
The platform, which runs on Windows, is also very stable. For example, one of AdRem's customers, a boot manufacturer in Texas, recently realized it had run the same NetCrunch software for three years without any problems. "That's what you want," Michael said. "No one wants a system they have to babysit."
Reviews from NetCrunch users support these statements. "The features that distinguish NetCrunch from other solutions are its agent-less capabilities and the powerful, customizable dashboard with real-time network views," said customer Amir Fishler, System Engineering Team Leader at Cellcom LTD.
Providing Advanced Network Visualization to Businesses Worldwide
NetCrunch also stands apart from its competition in its ability to visualize data and proactively keep the user aware of issues. Its intuitive dashboard, for example, is ideal for presenting live data, widgets, and custom views. Through tools like Trend Viewer, users can display multiple charts representing data accumulated by NetCrunch.
The Pending Alerts view also helps turn data into actionable insights, allowing users to monitor a network's current problems instead of sorting through a log of historical alerts. The Summary view, on the other hand, displays a quick overview of the types of alerts that occurred within a specific time range.
These advanced visualizations and alert capabilities reduce the time it takes to detect and mitigate problems. Just ask the folks at Caribou Coffee, the second largest non-franchised coffee house chain within the U.S., who turned to NetCrunch to ensure business continuity.
The company's infrastructure, which consists of a corporate headquarters and more than 300 field locations, is connected across a wide-area network (WAN) used to pull sales data and process customer transactions on remote sites. Before NetCrunch, employees would have to alert the Caribou IT team of downtime incidents via phone, often losing precious revenue in the process.
By deploying NetCrunch, the Caribou IT team significantly improved the monitoring strategy it used to determine the root cause of its hardware and software breakdowns. Instead of delayed phone calls, network administrators could depend on NetCrunch to monitor the WAN configuration for all 300 sites and automatically issue outage alerts. NetCrunch's powerful visualization tools also made it easier to identify problem areas that could impact business performance.
"One of our core values at Caribou is that 'The customer always comes first, everything else waits,'" said Scott Ficek, Director of Information Systems at Caribou Coffee. "NetCrunch has helped us make sure that our stores are serving customers first and not worrying about network outages."
A Software-Driven Approach with a Focus on Innovation
Michael told us AdRem is backed by a dedicated team of developers with a passion for progress. "One of the fortunate things about our development team is that they're wonderfully impatient — everything happens fast," he said.
And CEO Tomasz Kunicki is a continuous source of inspiration. "When you're led by a coding CEO who is one of the most gifted intellectuals you've ever met, there's always a Pandora's box of secret, unreleased innovations," Michael said.
That kind of resourcefulness is what carried AdRem through the '80s and '90s, past the demise of Novell, and into the Microsoft space — and it's undoubtedly what will propel the company to success for generations to come.