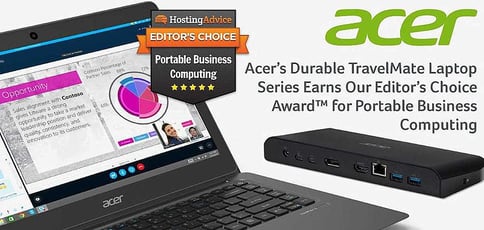 TL; DR: As more tasks become mobile, businesses — from SMBs to enterprise — are relying on portable technology to allow their workforces to keep up. Whether it entails traveling, meeting with potential clients, or just getting work done away from the office, Acer builds products to help companies run at maximum efficiency. With its TravelMate series of laptops, workers can bring powerful processing on the road. TravelMate products are built to withstand the rigors of travel and an on-the-go lifestyle. For its ability to give any size business a boost in productivity — especially away from the office — Acer's TravelMate series has earned our Editor's Choice Award™ for Portable Business Computing.
While the desk will always be associated with the workplace, it is no longer the only place we need to get work done. Whether it is in a conference room, on a plane, or at home, workers often need to perform high-level tasks that require more computing power and flexibility than many laptops provide.
That power is why desktop computers, despite their lack of portability, remain a staple for businesses. Acer, an advanced electronics company based in Taiwan, saw the increasing need for mobility in business, especially for SMBs, as an opportunity to build a solution for both professionals and individuals who need to be untethered from their desks.

Acer married the computing power and security of a desktop with the portability of a laptop in designing its TravelMate series. But the company also added durability and versatility to the line, building laptops to not only absorb shocks incurred while traveling but also to provide the battery life necessary for all-day productivity.
Because of Acer's commitment to technology that advances the efficiency of both businesses and workers from anywhere, its TravelMate series of laptops has earned our Editor's Choice Award for Portable Business Computing.
Advanced Solutions for Budget-Minded SMBs to Compete
Small businesses rely on technology to boost efficiency, perform high-level business tasks, and keep pace with customers. But the technology also needs to be cost-effective because most SMBs can't afford to spend money on solutions that aren't proven.
Acer has answered this need by innovating laptops that provide power and speed at a price point that is accessible to smaller retailers. Plus, robust security features have been included in Acer's TravelMate line because many small business users don't have the luxury of an IT department.
The TravelMate P2 series is built to provide budget-conscious companies with the computing capabilities and durability they need for everyday work. The notebooks contain Intel processors and up to 16 gigabytes of memory to accomplish tasks quickly. That speed can be a boon for business owners working from home who need to make adjustments to inventory, scheduling, or accounting promptly.
The notebook's processing capabilities and battery life are designed for travel, long meetings, and complex workloads. Security is also built into the P2 with a fingerprint scanner for signing in and the Acer ProShield portal to add an additional layer of protection for data stored on the notebook.
The TravelMate P4 laptop series takes the tech even further with a faster Intel processor, a higher resolution camera for video conferencing, easy memory upgrades, and more ports for quick integration with other devices. The P4 series also boasts a dedicated fingerprint scanner and a smart card reader that can be used for two-factor authentication or to authorize online payments with a credit card.
With the P2 and P4, SMBs can take advantage of high-level computing from anywhere and also be confident in the durability of their technology. And Acer has more advanced options for enterprise-level businesses or owners who need even more portable power.
Enterprise-Level Security and Productivity for a Mobile Workforce
Some of the biggest computing demands are seen at the enterprise level, as information moves quickly and needs to be evaluated and acted on just as fast. Those important decisions could involve senior management executives sitting in a boardroom or professionals frequently making trips across the country to close deals.
Acer's TravelMate P6 series is suited to thrive under those business conditions. Built to be lightweight for ease of travel and portability, they offer built-in, industry-leading wireless connectivity. The notebooks can be configured up to an Intel® Core™ i7 processor and 20GB of memory to give professionals plenty of computing power in a machine that weighs just 3.31 pounds.
The P6 line also has enhanced visuals and features for comfort, function, and security. The laptop has a full HD screen, HDR webcam, ergonomic backlit keyboard, USB 3.0 ports, and an eight-hour battery life. And it can be connected to a monitor through an Acer dock to provide a flexibile, rich desktop experience.
Acer's P6 series has also earned plenty of accolades, being honored with Red Dot Awards in both 2015 and 2014, as well as an International Forum (iF) product design award in 2014.
And as with the rest of the TravelMate series, the P6 has top-of-the-line security embedded. With its fingerprint scanner, log-ins become faster and more secure, and all of your files remain safe — even in the event the laptop is stolen.
The TravelMate X3 improves on some of the physical features in the P6 with all-aluminum casing, rounded edges and a slim design. But it also packs a punch with an Intel® Core™ i7 processor and a 10-hour battery life for even longer work sessions.
Helping Businesses Manage Robust Workloads from Anywhere
The 9-to-5 desk job just isn't the norm for most professionals today, and they need equipment that can keep up with a faster pace. That is why Acer developed its TravelMate series to pack processing power into durable yet portable hardware for on-the-go workers and business owners.
With many different models across the four series, TravelMate has become a trusted name in notebooks at every level of business. The P2 and P4 lines, for example, get small businesses the technology they need at the right price. Meanwhile, the P6 and X3 series offer more features and processing power to get work done faster — at better prices than many comparable laptops when outfitting a larger workforce.
Acer has pulled off the difficult feat of combining form, function, portability, and durability into one line of notebooks. That is why the TravelMate series has earned our Editor's Choice Award for Portable Business Computing.