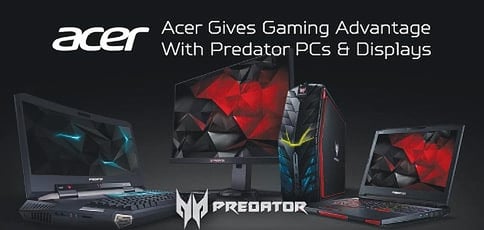 TL; DR: Expanding beyond mass-market home and business computers, Acer has made an impressive splash with high-powered gaming hardware. The industry-leading features included with the company's Predator desktops, laptops, displays, tablets, and accessories match the excitement of the games for which the products are designed. Curved screens, GPU syncing, and eye-tracking enable gamers to react faster and immerse themselves in new worlds. We got the inside scoop on the philosophy behind the innovative technologies powering the engaging gaming experience of our Developers' Choice™ award winner.
As a gamer, Eric Ackerson would build and tweak his own hardware systems to squeeze out extra performance. He didn't have much expendable income, so each component had to function at max capacity.
His friends would come over with their systems — including big, heavy CRT monitors — for weekend-long gaming marathons.
"Each of us did what we could to try to get an advantage over the next guy," he said. "Along the way, I learned about all the different components and how to optimize what little hardware I had to get the best performance."
Eric's passion for hardware resonates throughout Acer, where engineering and product teams worldwide are working to create cutting-edge desktops, laptops, displays, and more that meet the challenging demands of cutthroat gamers.
"We decided to jump in, do this, have some fun, and focus on making some of the world's best hardware products," said Eric, Acer's Senior Product Marketing and Brand Manager.
Why Gaming Matters to Acer
Stan Shih founded Acer in Taiwan in 1976 with his wife and five others. Originally producing and distributing microprocessors, the company found success with low-cost devices and is the sixth-largest personal computer vendor behind Lenovo, HP, Dell, Asus, and Apple.
"They're not representative of everything we can do, however," Eric said of the mass-market hardware. "The research, engineering, design, and materials in our high-end gaming laptops and desktops better show the quality we can bring to products."
Opportunity to Reach New Customers With High-End Equipment
By launching the Predator line of gaming equipment, Eric said Acer is seeking to appeal to upscale hardware enthusiasts — who have forced the company to adjust their normal practices.
"We can't market a $1,500 gaming laptop the same as we would an $800 business-oriented laptop," he said. "The way those users are gathering information, the way they process information, and the way they share information is very different."
Because Acer's entry into the gaming market was "significantly later" than that of competitors, as Eric put it, the company has had to go from crawling to running in a short period of time.
"These users engage a lot more, and they're more vocal online with each other and with other people," he said. "They're considered mavens, or people who others turn to for information. They're knowledgeable people, so we need to treat them that way and present information that's authentic and not pandering to them."
The Power to Pursue Passions of Pure Performance
The business and consumer products Acer is known for center on design, dimensions, and weight — as long as the main components are reliable, nuanced technical features aren't as important.
"They want something that's powerful, but they also want something that's quite portable," Eric said. "It needs to be able to go from the office, to the boardroom, to a meeting off-site, to the little tray on the plane while they're trying to get work done."
Gamers, however, are more interested in raw power. Eric compared the different customers and hardware configurations to classic car enthusiasts fixing up a '60s or '70s muscle car versus fine-tuning a modern import sedan.
6 Key Ingredients to Acer's Predator Line of Souped-Up Products
The standard computer attributes of CPU, storage, and memory all remain vitally important, but Eric listed several features that set Predator apart from competitors.
1. Curved Display Pulls You Into a Panoramic View
Acer became the first hardware vendor to bring the curved screen fad popular in televisions to monitors with the Predator X34, the industry's first curved display.
"With a 34- or 35-inch monitor, you have to either adjust your eyes or turn your head to see what's happening at the edge of a flat panel," Eric said. The curved screen puts that far left or far right of the screen visible at the same time as the center. It's an interesting way to present information and allow for a quicker response by the user."
2. Smooth Visuals Eliminate Screen Tearing and Stuttering
According to Eric, Acer's first Predator laptop was missing a vital component — NVIDIA G-Sync, which forces the monitor to match its refresh rate to the frame rate of the GPU. Without G-Sync, a monitor could display two or more frames, known as screen tearing.
All Predator models since, including the 35-inch Predator Z35 display, have included the G-Sync. "It produces a more seamless experience when fast action is happening," Eric said.
3. All-Around Sound Amplifies the Audio Adventure
To provide an even more riveting gaming experience, Acer complements the visual components with a sound card that supports 5.1-channel surround sound. The Predator G6 desktop comes with four audio jacks and a headset cradle.
4. Thermal Solutions Remove Excess Heat
Outside of gaming, Eric said most customers don't think about heat management. Particularly affecting laptops, overheating can cause the device to throttle or slow down performance.
"We don't want that," he said. "We've really worked hard to make sure we have a great thermal solution to power these products and make sure they're going to be very stable when a user is playing for extended periods of time."
The Predator 21 X laptop boasts a five-fan cooling system to rid the machine of excess heat. When the laptop is turned on, the fans will also spin backward to help clear away dust.
A good heat management system, according to Eric, extends the life of the computer. That's especially relevant for Predator 21 X owners, since the laptop comes with a $9,000 price tag.
5. Eye-Tracking Tech Moves Your Crosshairs Faster Than Your Mouse
Eric admitted he was skeptical about one of the Predator line's newest features: eye tracking. "Nothing is better than a keyboard and mouse, come on," he said. "I was blown away by it."
With a compatible game and monitor, such as the Predator Z1, users can move the cursor simply by looking at part of the screen. The game's camera follows your look toward the edge of the screen, panning to immerse users in the situation. The feature is especially useful in first-person shooter games.
"Without eye tracking, you're noticing the other character, seeing it, translating the information to your hand to move the mouse, and watching the cursor," Eric said. "With eye tracking, as soon as you see the movement, your eye is drawn to that character, and the cursor is right there."
6. Mechanical Laptop Keyboard Gives Same Tactile Desktop Experience
Gamers often spend between $100 and $300 for a durable external keyboard with premium switches, according to Eric. The mechanisms under the individual keys are quicker to respond and often come with added functionality such as customizable backlighting.
"There haven't been many laptops that have incorporated this because it's pretty difficult to do in such a confined space," Eric said, adding the Predator 21 X made the space sacrifice to include the special feature. "It's a tradeoff, but, without a doubt, gamers prefer the tactile feel, strength, and reliability of those individual switches behind the keys."
On the Horizon: HDR Displays and Reaching Mainstream Gamers
Following the success of curved-screen monitors, Acer is looking to incorporate another feature gaining traction in televisions. The company showcased an early prototype of an HDR — or high dynamic range — monitor at 2017's CES. HDR makes blacks darker and colors more vibrant and natural, said Eric, who has an HDR television at home.
"It makes the content seem more real and alive," he said. Acer showed CES attendees the same clip side by side on a standard monitor and the HDR prototype. "People thought the non-HDR monitor was one of the best on the market, and we couldn't do better than that. They saw the prototypes, and said, 'What were we thinking? This is incredible.'"
In addition to pushing forward on new innovations, Eric said the company is updating and reinvesting in its Aspire V Nitro line, which caters to customers seeking the performance of high-end Predator products at more affordable prices. The two new laptops and a desktop with top-notch graphics and processing chips, along with the same eye-tracking and cooling systems found in the Predator line, also debuted at CES. The devices will sell for between $800 and $1,400.
"We realize that not everybody is going to want to go out and buy a $9,000 laptop," Eric said. "We started high and we're working our way down as far as the gaming segment goes. By trying to really max out the specifications, features, and design on our products like the 21 X, we learn throughout the process and can apply those lessons learned to our more mainstream solutions."
Acer Team Excited to Continue Generating Predator Performance
For a gamer such as Eric, working at Acer "is like being a kid in a candy shop," he said. "I'm getting to work on the things I'm passionate about, and it's an absolute joy to go to work."
The Acer team is smaller than most major competitors, but Eric said that makes the company more nimble, flexible, and personal. He regularly connects with teams in San Jose, Europe, and Taiwan, and interacts with the company's relatively new audience. Acer gathers customer feedback through focus groups and by sponsoring events and gaming lounges at events.
"We've already made improvements based on our own team of people playing with our products and long-term user feedback," Eric said. "They have open minds, we share ideas, and we implement them."