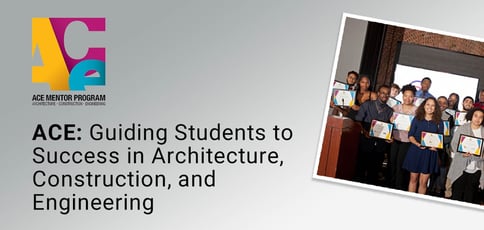 TL; DR: The ACE Mentor Program of America, founded in 1994, is an award-winning afterschool initiative established to increase diversity in the architecture, construction, and engineering industries. Today, the program's more than 4,000 volunteers mentor high school students in 70 chapters across 37 states. Thanks to an all-new virtual program, ACE is poised to help even more students achieve professional success via education they may not receive in their classrooms.
Youth who are interested in tech-related careers have more opportunities than ever before — and not just in programming or system administration.
Take the construction industry, for instance, where innovation has paved the way for worksite safety and efficiency. Today, drones equipped with high-resolution cameras are used for aerial mapping, artificial intelligence aids in monitoring site progress, and many professionals receive training via virtual reality.
Simply put, technology is now a tool of the trade — and people like Diana T. Eidenshink, President of the ACE Mentor Program of America, are helping spread the word to younger generations.
"Kids don't traditionally view construction as a flashy industry because they don't know how technical it is," Diana told us. "Once we teach them about tools such as simulators and drones, we quickly capture their attention."
Founded in 1994, ACE is bringing diversity to the architecture, construction, and engineering industries via an award-winning afterschool program aimed primarily at metropolitan areas across the country. Today, more than 4,000 volunteers work with high school students across 70 chapters in 37 states, helping guide them to professional success via industry-based education and mentorship.
Every year, over 10,000 students — 70% of whom are minorities and 40% of whom are women — participate in the afterschool program annually. In addition to mentoring student teams through a 35-hour simulation of project design and construction, ACE offers summer camp and internship opportunities. The program also awards up to $2.5 million in annual scholarships to high school seniors and alumni pursuing industry-related careers.
"Our mission is to enlighten and engage students, and then our goal is to get them into the workforce," Diana said.
Working to Increase Industry Diversity for Over 25 Years
ACE was launched 25 years ago by its founding affiliate, the ACE Mentor Program of New York City. Initially, the program focused only on bringing diversity to the engineering industry via schools in the city, including Manhattan College, a liberal arts school in the Bronx.
After testing out different mentoring models for a few years, the team realized that a focus on engineering alone would limit the program's reach. After adding architects and construction managers to the mix, they split into three groups designed to mirror traditional design and construction teams.
The teams then recruited students from local high schools, with whom they worked to solve real-world industry problems. With that, ACE was officially born.
"The mission was, and still is, to increase the diversity of the future construction workforce, both from the perspective of minorities and women," Diana said. "Most of our affiliates are in inner-city, metropolitan areas, where students might not have access to career exploration opportunities."
Today, the ACE Mentor Program can be found in more than 200 U.S. cities, including Chicago, Dallas, Los Angeles, Miami, New York, and Seattle. Thanks to the involvement of ACE volunteers and staff, as well as local schools, thousands of students from financially challenged backgrounds have been given a chance to explore building design and construction.
"We show the kids the ins and outs of the industry — highlighting its technical and green sides, as well as amazing career opportunities," Diana said. "We get them excited to pursue a related career, whether it's in architecture, engineering, construction management, or skilled crafts."
Offering Mentors an Opportunity to Give Back
The ACE program doesn't stop at helping students identify a career path. Mentors also support them along the way with internships, scholarships, and career guidance.
To that end, ACE students boast a high school graduation rate of nearly 99%, surpassing the national average of 85%, as reported by the National Center for Education Statistics. More than 70% of seniors affiliated with ACE enter a skilled trades program or pursue an industry-related college major.
These students often return to the program to serve as mentors themselves. "Of the 4,100 volunteers that are currently involved with our program, over 6% of them were former students in the program who came back to give to the next generation," Diana said. "Many of our other mentors did not have access to our program and tell us they wish they had it in high school."
Several mentors join the program at the request of their firm, but Diana said they stay because they get as much out of the experience as the students.
"They're building their presentation skills, improving teamwork, networking, and meeting other professionals, usually of the same age," Diana said. "We have one national board member who pushes all his young associates to join because he believes the skills that it takes to be a good mentor are the same skills required to be a good leader or manager."
Diana said that younger generations are flooded with information in the internet age and understand the importance of exploring their various career options.
"I always tell mentors, 'Be prepared — you're going to get three questions: How did you know you wanted to do what you're doing, how did you get to where you are, and how much money do you make?'" she said. "They are trying to figure out how to make a difficult decision."
More than 70 Affiliates Operating in 37 States
Diana, who has been with ACE for 20 years as both a volunteer and employee, told us that interest in the program has increased significantly from the perspective of both schools and students.
"Selling the program to the educator, in the beginning, was difficult because they didn't understand the need for career exploration," she said. "Today, our schools are overwhelmed — they wish they could do a thousand more things with each of their students, but they don't have the budget or time. They understand that students are hungry for information, so they see the benefit of our program."
Because ACE is an informal afterschool program, mentors aren't limited to a prescribed curriculum; instead, they follow a programmatic model and choose from hands-on activities that reflect the process of designing and constructing a building. Mentors at each affiliate approach the initiative from a unique perspective that may include personal examples and tours of local offices and construction sites.
Diana said that the ACE team can work with school districts or individual schools to solicit involvement in the program.
"The key to our success is finding someone within the school or district that embraces us and will help us recruit the students," she said. "For example, in Cleveland, we have an amazing relationship with the superintendent — he just gets it. He put together a schedule where two new schools in the district join every year."
The organization has also found success with charter schools, including one in Philadelphia that focuses on architecture and design. "They jumped on board with us because they realized that we could enhance their curriculum," Diana said.
Expanding Access via a New Virtual Program
Like so many businesses and organizations, ACE is faced with the challenge of making a previously in-person program digital during the COVID-19 pandemic. But the organization and its mentors are looking on the bright side.
"This is something we've always talked about," Diana said. "There are rural communities, such as Bozeman, Montana, where we have not been able to set up a program because we just don't have the professionals to make it sustainable. But with a virtual curriculum, we'll be able to bring our program to an even greater number of students."
In the meantime, ACE has released ACE @Home, a program that gives students the opportunity to receive information on professional development and industry careers through brief pre-recorded webinars and other activities. Affiliates will receive virtual curriculum information this summer.
"Even if schools are open in the fall, they're probably not going to allow outsiders in," Diana said. "And most of our firms have said they are not letting employees go to outside meetings, especially in the big city. So we know that in the fall, about three-quarters of our program will be virtual."