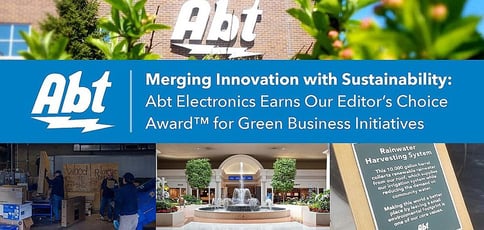 TL; DR: In the retail world, environmentally-friendly practices are often motivated by public opinion or financial incentives rather than core company values. That's why it's refreshing to find a retailer with green initiatives that extend from its culture and brand identity — not its marketing department. Abt Electronics, a Chicago-based, family-owned and operated electronics retailer that's been around since 1936, sets an example of sustainable practices for other retailers. Abt is committed to its Green Program that enables business and public waste-reduction, identifies and creatively utilizes a broad range of renewable energy sources, and looks for other ways to reduce its environmental footprint. By listening to its employees and priding itself on being the first to try new things, Abt Electronics is building a sustainable retail culture that earns our Editor's Choice Award for Green Business Initiatives.
It is in all retailers' best interests to reduce their carbon footprint — not just for the environment, but for business growth. In a Dotcom Distribution survey, 64% of participants reported that they factor in a brand's supply chain practices when considering where to shop. All too often, however, green initiatives become more about generating good PR than expressing company values.
For family-owned Abt Electronics, a high-end consumer electronics and appliance retailer with roots in the Logan Square neighborhood of Chicago since 1936, sustainability isn't just something it does, it's part of the company's identity.
"It's just our culture. I've lived in Boulder, Colorado, and we like greenness there," said Mike Abt, Co-President of Abt Electronics. "My hobby is the green area of the store."
When Mike started working full time for his family's company back in 1989, sustainable business practices hadn't yet become mainstream — only a handful of grocery stores and retailers were even recycling cardboard. Looking for ways to save the company money, Mike and Operations Manager Bob Taylor started questioning waste disposal and took the company's first step to becoming more green by recycling cardboard and other packing materials.
Over the years, Abt Electronics experimented with finding more efficient ways to recycle even difficult items like phones and Styrofoam. But in 2008, the company took huge strides in sustainability: it opened a publicly accessible recycling center and launched several green initiatives, including renewable energy, paperless operations, and natural-gas powered vehicles.
Through its recycling center and other innovative aspects of its Green Program, Abt Electronics shows how sustainable business practices can be converted into core values for the retail industry, which is why Abt Electronics has earned our Editor's Choice Award for Green Business Initiatives.
A 10,000-Square-Foot Recycling Center That Processes Business and Public Waste
Before Abt Electronics started recycling, it required daily garbage pickup. With its waste-reduction efforts, chiefly through the recycling center, Abt Electronics found ways to recycle 95% of its waste, trimming its waste pickup down to once a week. That reduction is no small feat for a business that employs 1,500 people and serves hundreds of customers each day.
The 8,500 tons — 17 million pounds — of waste the Abt recycling center processes each year includes not only cardboard, plastic, and mattresses, but also 240,000 pounds of Styrofoam, 10 million pounds of appliances, and 3 million pounds of electronics.
"That makes us unique because not many people are recycling Styrofoam. We even have businesses that bring us their Styrofoam to be recycled every day," Mike said. "We recycle 8 or 9 trucks of appliances a day; every appliance that comes back gets recycled. There are also a few trucks a week of electronics, mattresses, phones, plastic — all the things we take back — so we have very little waste for what we're doing."
In addition to processing its own operational waste, Abt's recycling center is open to the public, responsibly disposing of a variety of electronics and appliances. The service is free, except to recycle TVs. Abt also provides resources for its customers to learn more about e-cycling, recycling, and to find local providers through Recycle Nation.
By both practicing and promoting waste-reduction initiatives that save resources and take care of the planet, Abt Electronics is setting the sustainable operation standard for other retailers to follow.
Reducing Its Carbon Footprint By Utilizing Renewable Energy Sources
A key focus of many businesses' green programs is reducing energy usage, whether creating spaces that use more natural light or turning to renewable, cleaner energy sources.
Abt Electronics sets an example of creativity and scale in the ways it's utilizing alternative energy solutions, and much of this happens on its roof. Its 1,500 rooftop solar panels, installed in 2016, promise to generate enough electricity to power 80 homes for one year; it also draws naturally-sourced power from two wind turbines. And on the roof is a 10,000-gallon rainwater collection barrel, which supplies the company's irrigation system and reduces its demand on city-provided water.
Abt is also a fan of natural gas since it burns 80% cleaner than coal. To back up its power, Abt has natural gas generators, used not only for emergencies but during the summer months when air conditioning places higher demands on electricity. The company's fleet of trucks includes at least 21 vehicles that run on natural gas rather than fossil fuels. Abt is even testing its first hybrid-electric trucks.
"For 10 years, we made our own power with natural gas. We didn't use the nuclear or the coal plant from Illinois; we used natural gas to burn since it was cleaner. Most people used it as a backup supply, but that was our primary source of energy," Mike said.
By using cleaner, more renewable energy sources in creative and cost-effective ways, Abt Electronics is fostering greater environmental friendliness and succeeding at its goal to leave a smaller carbon footprint.
Abt is Focused on Listening to — and Acting On — Employee Ideas
When it comes to choosing new green initiatives, energy sources, and ways to improve eco-friendliness, some companies get their innovative ideas from big think tanks and organizations. For Abt Electronics, the best sources of ideas have been the personal inspiration of other retail industry leaders who live and operate their companies sustainably — as well as the input of its own employees.
One of the retail leaders Mike finds most inspiring is Yvon Chouinard, the founder of outdoor apparel company Patagonia, who is known for his promotion of environmental organizations and sourcing sustainable clothing materials.
"He really is about sustainable culture. A guy like that inspires me," Mike said.
"It doesn't take much other than a desire and a willingness to do something. Any company can do the little things, and they all add up. There's a lot of complexity, but in the end, it comes down to a willingness to try." — Mike Abt, President of Abt Electronics
Secondly, Abt has implemented several grassroots ideas from employees, and at one time had a green committee that provided ideas for new initiatives.
"One of our employees wanted to have a garden. We had a little bit of land, and it only cost a few hundred dollars, so we put in a nice organic garden," Mike said.
Abt believes that listening to employees and doing even simple eco-friendly things that make sense for your company — regardless of your size — can make an impact, both financially and environmentally.
"It doesn't take much other than a desire and a willingness to do something," Mike said. "Any company can do the little things, and they all add up. There's a lot of complexity, but in the end, it comes down to a willingness to try."
A Pioneer in Green Retail Practices That Sets an Example for Others
The retail industry can learn from Abt Electronics that incorporating more green initiatives doesn't have to be just a PR stunt or stem from a massive budget. By being willing to invest in its values, try new things, and even fail, Abt Electronics has succeeded in setting a standard for green retail practices.
"Some things you can spend more time and energy on, and it really isn't worth it," Mike said. "Biodiesel was a hot topic 10 years ago. We had trucks using biodiesel, and the fuel pumps would clog in the winter and it didn't work out. So, some ideas are good, and some are bad, but I want us to be the pioneer of trying them."
One area where Abt Electronics' pioneering efforts have seen success in recent years are its smart car charging stations for customers, which it plans to expand.
"The electric car wasn't very popular in Chicago in the beginning, but we had a charger early on. It didn't pay to have that charger, but it was a pioneering idea," Mike said. "Now, when we talk to ChargePoint, they say we have the busiest charging station in town. So, we always like to do that – be the first mover on ideas."
Abt Electronics may have been an early adopter of smart-car charger technology, but its Green Program remains its first and most notable innovation for encouraging greener business practices within the retail space.
For its on-site center that responsibly collects and recycles its own — and customers' — waste, appliances, and electronics, as well as its promotion of renewable energy, Abt Electronics has earned our Editor's Choice Award for Green Business Initiatives.