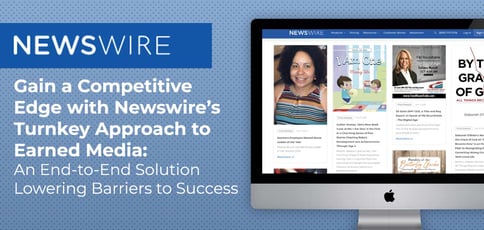 TL; DR: Newswire is on a mission to help brands increase awareness, drive traffic, and generate higher returns on media investments via its Earned Media Advantage Guided Tour. Through this program, the company serves as an extension of your team, providing insight on the right message, audience, timing, and communication channels. As Newswire expands its team and upgrades its media database, the company is furthering its commitment to providing brands an affordable earned media strategy tailored to their businesses.
Many business owners think that blasting out a press release to the masses is the best way to get noticed by the media — the more eyeballs, the merrier, right?
But, in reality, effective press release distribution requires a strategic, targeted approach to messaging, audience selection, and timing.
"Sending out a one-off press release through different wire services or distribution platforms is not going to move the needle for your business," said Charlie Terenzio, Director of Earned Media Strategy at Newswire. "You have to approach the process with a dedicated strategy and be truly thoughtful about it."
Newswire, a press release and multimedia distribution company, is helping brands do just that through its Earned Media Advantage Guided Tour, an agile, managed solution for generating brand awareness, increasing traffic, and boosting ROI on media communications.
Designed to address the needs of small and mid-sized business owners, the guided tour includes the assistance of a dedicated Earned Media Advantage Strategist (EMAS), who becomes an extension of the team, providing an in-depth marketing and media strategy.
"Ultimately, we want our clients to reap the benefits of earned media coverage and the advantages that we're providing as part of the guided tour, from building their staff and increasing their capabilities to growing their businesses," Charlie said.
To that end, Newswire is currently expanding its EMAS team and upgrading its media databases — furthering its mission to provide brands with comprehensive, customized earned media strategies at an affordable price.
Greater ROI with the Earned Media Advantage Guided Tour
Historically, Charlie said Newswire has served as a public relations distribution and monitoring platform offering multiple products, including a media database with access to 1.2 million editors, reporters, and contacts at publishers large and small — from local media outlets to international publications.
Earlier this year, the company appointed Joe Esposito as its new CEO. "He took a long, hard look at the business, and he noticed that customers were very sporadic with their press release efforts — sending out one a year, or every couple of months, with no real strategy," Charlie said. "In turn, the results and coverage they were earning from an earned media standpoint were also sporadic in terms of effectiveness."
Joe also observed Newswire's strengths in terms of customer support in satisfaction. The company is rated number one in PR analytics software by G2, one of the largest tech review sites in existence.
"He thought that we should marry the two sides of the business — the high-tech software that we offer along with a high-touch white-glove approach," Charlie said. "From that vision, the Earned Media Advantage Guided Tour was born."
The 12-month program includes access to the company's software plus the assistance of a dedicated EMAS, who works with the customer to understand their goals, competitors, differentiators, and messaging objectives before formulating a customized earned media strategy.
"If you're a business that is looking to dip its toe into earned media or PR instead of hiring and training someone internally, try out the guided tour," Charlie said. "Our goal is to work with you to achieve success."
Insight on the Right Message, Audience, Timing, and Vehicle
Charlie told us that Newswire helps brands distribute the right message to the right audience at the right time.
"It's about figuring out what your message is based on your KPIs and how it's going to resonate, not only with your target media outlets and reporters but with the end users that you're trying to attract," he said. "From there, you can tap into our vast media database, identify contacts who are covering the areas the business falls into, and match your story to them."
Timing is also key. Charlie said you wouldn't want to send out valuable information on a Friday at 5 p.m. when readers are heading out for the weekend. That time would be better suited for when the NFL wants to share bad news about something, he said.
In terms of the right vehicle, Charlie told us that not everything should be distributed via a wire or mass emails.
"Some things are better as one-off media pitches or exclusives offering new stories in an embargo, or even amplified through social media or a blog," he said. "We provide all the resources, tools, and strategies for clients to pull together that overall campaign strategy."
Newswire's EMAS staff come from a range of backgrounds and areas of expertise. Charlie, for example, is well-versed in higher education, athletics, and technology, and he has working relationships with communications professionals in those industries that help provide customers an earned media advantage.
"We go really in-depth with our clients and their businesses to define what they're hoping to achieve with their overall strategy, and then we report on the results, which speak for themselves."
A Knowledgeable and Affordable Extension of Your Team
Having served as an in-house communications and marketing director in higher ed and technology, Charlie understands the number of hats the average PR and communications specialist is expected to wear with grace.
"You hit the ground running: You're putting out fires and dealing with day-to-day demands, making it difficult to put the time into an earned media strategy or build out targeted lists," he said. "It's just not reasonable to expect people in PR, communications, and marketing to carve out that amount of time, especially when they're in hybrid roles with multiple responsibilities."
Newswire's guided tour eliminates that burden by serving as an extension of the brand's team at a fraction of the cost than it would take a small or medium-sized business to hire an additional employee.
"A company that wants a comprehensive earned media strategy in place will have to hire someone full time, which could cost anywhere from $30,000 to $100,000 a year," Charlie said. "On top of that, they will have to purchase distribution platforms like Newswire, Meltwater, Cision, or PR Newswire. That's a lot of startup costs without knowing what the results will be."
Newswire's white-glove service is so comprehensive that clients don't have to log in to the company's software at all during the course of the partnership.
"Our EMAS will handle everything," Charlie said. "They provide a road map that we'll use throughout the year to execute the plan, build targeted media lists, select the right wire distribution, set up customized media alerts and monitoring, and provide a customized media room that the brand can embed on its site featuring the coverage it earns."
Newswire also offers detailed quarterly analytics that not only touch on campaign results but map those results to core KPIs.
An Upgraded Media Database and Expanding Team
Moving forward, Charlie said Newswire is always making upgrades to the technology and software side of the business to ensure it's smarter, more efficient, and easier to use.
"For example, we just rolled out some major upgrades to our media database to make it more user-friendly from a search perspective," he said.
The company will also continue to scale its guided tour business, which launched about a month ago. "We've already garnered a ton of interest, so we're hiring like crazy to add additional earned media advantage strategists to our team," Charlie said.