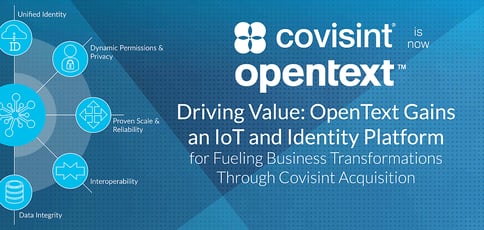 TL; DR: Through its acquisition of Covisint, OpenText now brings customers a leading cloud platform for identity access management. Covisint provides industry-agnostic solutions for external access to internal systems and identity-centric IoT, helping businesses mitigate risk, reduce overhead, and ensure compliance. With plans to integrate Covisint's identity data into OpenText's AI-powered analytics platform, the newly united companies are furthering a joint commitment to fueling business transformations.
From General Motors to Ford, the world's largest automotive companies depend on an enormous network of suppliers to support their operations.
But navigating the network is no easy task: Car companies and suppliers must share B2B information securely and reliably across an increasingly complex digital road map. The cumbersome task includes maintaining the hardware, software, and protocols necessary to monitor internal information and communicate with external parties.
In 2000, DaimlerChrysler, Ford Motor Company, General Motors, Nissan EMEA, and French automaker Renault S.A. joined forces to develop a streamlined, cost-effective solution to the persistent problem. The result, a global B2B supplier exchange project they named Covisint, provided a secure, standardized way for external constituents to access inside information. By June 2000, supplier Delphi Automotive joined the initiative, providing a key piece of the puzzle.
The project eventually evolved into a standalone company also known as Covisint, which has flourished for nearly two decades. Today, the company is entering a new chapter through a merger with OpenText. "Covisint, because of their focus on business relationships and connectivity, fit strategically within OpenText's enterprise information management products," said John Notman, Director of Product Marketing at OpenText.
Through Covisint, OpenText can offer businesses in any industry the solutions they need for secure external access to internal systems, as well as identity-centric IoT through a Platform-as-a-Service model. These tools allow them to enjoy a host of benefits, including the ability to mitigate risk, reduce IT overhead, and meet regulations. With plans to integrate Covisint's identity data into OpenText's AI-powered analytics platform, the now-united companies are shifting their joint commitment to improving business relationships into high gear.
Industry-Agnostic Solutions for External Access to Internal Systems
For more than 20 years, companies have provided traditional IAM solutions that grant employee access to internal systems and, more recently, cloud applications.
"For example, imagine you are a new employee, and on your first day you're provided a laptop and a badge to get into the building," he said. "An IAM system could give you access to certain resources like SalesForce or internal drives. But your access isn't the same as other people that you sit near who have a higher level of access."
Covisint specializes in outside-in identity and access management (IAM). Rather than providing internal users access to internal systems, the company enables businesses to provide external users access to internal systems. "This is a critical differentiation," John said. "Covisint was the first to patent this technology 20 years ago, and we still hold a patent for it. Others are trying, but we haven't seen anyone excel at it."
The company's goal is to provide the right user access to specific information during a designated time frame. Any other action would constitute a data breach. And while Covisint's roots lie in the automotive supply chains, John said the company is fit to serve large enterprises with complex ecosystems in any vertical — including, but not limited to, oil and gas, financial services, and healthcare.
"Secure access is what we focus on: It doesn't matter what industry that you're in," he said. "We serve businesses of all types, from those in complex industries that are heavily regulated to ecosystems where users need access to sensitive data."
Enabling Identity-Centric IoT Through the Platform-as-Service Model
In working with one of the largest automotive companies in the world, Covisint unintentionally built an IoT platform. "Well after we resolved the company's supplier access problem, it started working with subscription-based vehicle technologies, which meant we needed to figure out how to provide identity management for devices," John said.
The goal was to authenticate logins and access points from the driver to the vehicle, then from their systems on that vehicle back to the automotive company. To facilitate this process, Covisint built an identity-centric IoT platform to manage the authentication process securely.
"Let's say you're in your kitchen in the morning and want to start your car in the driveway," John said. "You use your fob key while in the kitchen to start your car and warm it up. That sends a signal to our cloud servers to authenticate that you are on that key fob in your kitchen. It confirms that it's you and goes back to the automotive company, which unlocks your car from its server."
The system can be used to govern all types of data being sent back and forth on IoT devices. "We were the first to market here, and we're one of the few identity players that can tout an IoT platform thanks to this connected vehicle solution we built," John said.
As the IoT industry continues its rapid expansion, Platform-as-a-Service companies like Covisint and OpenText are enjoying growing demand. John said they supply the software that runs internet-enabled devices created by other companies.
"For example, OpenText has a huge density in supply chain and manufacturing, and we're seeing a primary use case around predictive maintenance and pervasive visibility," John said. "Those are the key trends driving IoT development right now, especially in the area of Industrial IoT."
Mitigate Risk, Reduce IT Overhead, and Ensure Compliance
Covisint's holistic approach to IAM alleviates a range of pain points. For example, John said the technology reduces staffing costs for massive supplier ecosystems. "You could have 630,000 users connecting to 800 different applications across 100,000 companies, with two admins managing it all," he said.
There's also the security benefit. Hackers are increasingly turning to compromised user credentials as an access point to private data. Effective outside-in IAM tools are an essential part of a security team's arsenal, though John admits the technology is no silver bullet.
Covisint also helps businesses respond to compliance audits, which are becoming more common through data privacy regulations like the GDPR in the European Union and the CCPA in California. "You can see what someone accesses, when they access it, and what actions they take during their session — this is nearly as fine grain as it gets," he said. "And you can respond to these regulatory queries without slowing down your team."
John said outside-in IAM also serves to enable new lines of business and decrease the amount of time it takes a new customer to derive value from a product. "There are clear benefits under the overall umbrella of operational efficiency," he said.
Future Developments: Integration with OpenText Magellan
Together, Covisint and OpenText will continue to find new ways to solve their customers' most pressing problems. The team is currently working on connecting Covisint's identity data with OpenText's AI-powered analytics platform, Magellan.
The flexible platform combines open-source machine learning with analytics and enterprise-grade business intelligence to manage complex data stored in enterprise information management systems. "This will be great for our target audience, who really want to understand their data," John said.
Covisint and OpenText are exploring the future role of blockchain technology for identity management.
"There was an interesting case study on a Swiss railway that implemented their own in-house blockchain-based identity management solution," he said. "The concern is that because blockchains are immutable, how would you apply a digital ledger to something that is likely to change, like when you're updating your password when you forget your login credentials?"
When Covisint and OpenText aren't conjuring up the latest innovation, the companies are focused on business as usual after adjusting quite nicely to the acquisition.
"Covisint has a dedicated and entrepreneurial team in Southfield, Michigan, with strong leadership and one of the best sales forces I've ever worked in conjunction with," John said. "On the OpenTech side, I've worked for some large companies before, and I appreciate how the company is laser-focused on the problem that we're trying to solve for customers as well as maintaining work-life balance. It's a good fit."