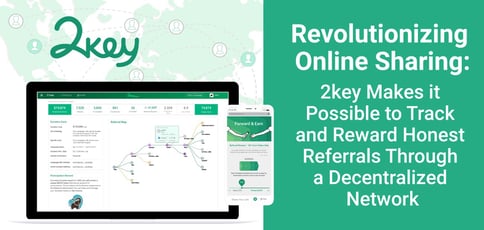 TL; DR: 2key is a decentralized global referral network helping businesses track and reward online sharing directly and automatically. The innovative model employs actionable links that are fused with smart contracts and embedded with multistep tracking technology. When launched, an open API will streamline 2key's usability, demonstrating a truly practical application for blockchain technology.
If you're active on the Uber app, you've probably seen notifications encouraging you to share an invitation code with your social circle in exchange for rewards. You then receive perks, such as free rides, when your friends use the code to request their first trip.
This program may seem to benefit the user, but it's actually a massive boost for Uber in terms of growth. According to a case study on Uber's referral program, several factors have accelerated the rideshare company's expansion, but its referral program is one of the most effective.
The strategy seems to be working: As of December 2018, the company's 3.9 million drivers serve 91 million active monthly consumers. In addition, a whopping 14 million trips are completed each day, spanning 63 countries and more than 700 cities.
But referral programs like Uber's don't come cheap. "At the moment, you'll find referral campaigns with large companies like Airbnb and Uber, but you'll never find them with a yoga instructor or plumber," said Erez Ben-Kiki, Co-Founder of 2key. "And the reason for that is the technology is expensive and demands a significant integration process."
Erez and his team launched 2key in June 2018 with the goal of arming smaller businesses with the tools they need to create affordable and effective referral campaigns. The decentralized referral network helps companies reach their target markets through a blockchain-based system that automatically tracks and rewards online sharing.
The ultimate goal is to ensure the campaign benefits both businesses and consumers through an innovative model that employs actionable links embedded with smart contracts and multistep tracking technology. 2key is currently in a testing phase, but the platform is poised to become a financially practical application for blockchain technology once launched.
An Innovative Protocol Fusing Smart Contracts with Web Links
The all-in-one platform for multistep referral campaigns is run on Ethereum and leverages cutting-edge HTTP links that are fused with smart contracts. These links record all interactions that lead to a conversion through multistep tracking, and reward fans and participants accordingly. Rather than spending money on an expensive centralized campaign platform, 2key allows businesses to give back to its supporters, building greater customer loyalty.
"If you give the right incentives to people, they will share information to help you reach the right person and achieve your goals," Erez said. "We are all connected to everyone else by just six degrees of separation, so you can potentially reach anyone you're looking for."
The groundbreaking technology is also part of the company's mission to facilitate a more open and democratic web, ensuring that anyone can create relevant referral campaigns without breaking the bank. In fact, the platform removes multiple barriers to success.
For example, users don't need a technical background to build a campaign quickly and easily. "It's fast — you can do it in five minutes," Erez said. "There are no integrations, there is no software, no code. Everything is self-serve."
Compared to traditional campaigns, 2key costs businesses next to nothing. "The only startup fees are a few dollars for deploying the contract on top of the blockchain," Erez said. "From there forward, you only pay after your campaign generates results, and even then, we only charge 2%."
This is a far more risk-free tactic than investing heavily in influencer marketing, as the wrong partnership choice can lead to reputational damage, revenue loss, and other unintended consequences.
Build a Blockchain-Based Referral Campaign Benefiting Both Sides
2key's use of Ethereum is also part of the company's mission to support Web 3.0 and accelerate progress toward a decentralized internet. The company was immediately drawn to Ethereum for its community of innovators, but it's also working to support as many cryptographic tokens as possible. Eventually, the 2key team hopes to allow network participants to exchange the token of their choice.
Regardless of the tokens used, the decentralized nature of the platform provides clear benefits for contractors who are aiming to track conversions as well as for users looking to earn money through participation in referral campaigns.
For one, the peer-to-peer network cuts out the middle man, directly rewarding participants who contribute to conversions. The decentralized infrastructure also increases security, lowers costs, and reduces failure points. With blockchain, there are no borders to define value transfer, allowing users to complete international transactions with ease.
Trust is another benefit. Because the platform is run on Ethereum, a public blockchain, 2key campaigns can generate user trust through transparency. Automation also builds confidence, as smart contracts assure users they'll instantly get their fair share for participation.
"Sharing links to products and services creates economic value," Erez said. "It's about time that we have a marketplace where people across the globe can regain control and be compensated for the value they generate when sharing information."
Future Plans, Including Providing API Access for Developers
2key is currently undergoing internal testing and thus remains a work in progress. "We launched a product called Test-Net three months ago," Erez said. "We are going to launch our main app in a few weeks, and then we are going to have the first campaign on the platform."
The company is working endlessly to update its road map in step with market changes and the development of blockchain ecosystems at large. "Technology moves fast, so we are always adding new features and making changes to stay ahead of the curve," Erez said.
That said, 2key was designed with a distinct emphasis on mediation layers that will enable the production network to remain fully functional through what the company describes as the crypto Big Bang. These safeguards will ensure that the user experience on the 2key platform will not be negatively affected by inevitable changes in Web 3.0 infrastructure or protocols.
A few months ago, 2key introduced the option for users to buy Ether, a token for the operation of Ethereum, using a credit card. "Most people aren't yet comfortable with blockchain and cryptocurrency — it's still a very new technology," Erez said. "We want everyday people to use our platform easily, so we added this new feature."
The company also aims to provide developers with API access to the platform's protocol capabilities, empowering them to offer users smart contract capabilities that require zero integration with the blockchain itself.
"Once we have the API open, hopefully by the end of this year, we can integrate with any third party," Erez said.
Bringing Practical Applications to the Blockchain Space
Erez told us he's excited for the launch of the 2key platform on a global scale. Unfortunately, due to regulatory risk, the company is restricting participation in the U.S., but the majority of countries worldwide will have access to the platform from the moment it goes live.
"So if you're creating a donation campaign to help save elephants in Africa, you can collect money from people from all around the world on day one," he said.
2key recognizes that there's been a lot of hype around blockchain technology in recent years, but few practical applications — and it hopes to change that.
"It is time for people to start using blockchain and understanding its significant benefits," he said. "This should not only apply to tech people and geeks — people like my mom should be able to understand and enjoy this technology."
Ultimately, Erez said that the success of the platform depends on two areas: improved value and user experience. "If we can bring both to the market, we will win," he said.