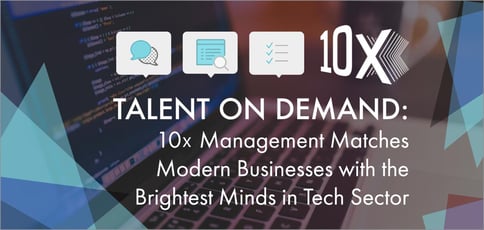 TL; DR: If you're having a difficult time hiring top-notch tech freelancers, 10x Management can match you with the talent you need to get projects up and running in as little as 24 to 48 hours. The groundbreaking tech talent agency boasts a 97% success rate through a rigorous vetting process, quick matching, and hands-on support. Soon, with 10x Ascend, the company will guide clients from freelancing into permanent positions while helping negotiate proper compensation packages.
According to Rishon Blumberg, Founder of 10x Management, finding the right tech talent for your business is like stepping foot in a shopping mall and expecting to make a grand exit dressed to the nines.
The reality is far from glamorous. You're dealing with crowds, long check-out lines, and an overwhelming selection of stores. You have to pick out high-quality clothes that fit you well and come at an affordable price. It's exhausting — and you often regret your purchases.
The experience is far more enjoyable with the help of a stylist whose fashion consultancy services streamline the shopping process based on advanced knowledge of apparel, trends, and sizing.
Rishon founded 10x Management as a personal shopping agency for tech talent, matching businesses with freelancers through expert insight into the talent pool. Rishon told us that in 97% of cases, the first talent suggestion 10x Management makes turns out to be the perfect fit.
"Businesses come to us, we identify their needs, and we zero in on the right resources for the job," Rishon said. "They then get rapid access to prevetted senior-level tech talent, saving time in the recruiting and interviewing process."
For almost a decade, 10x Management has aimed to eliminate pain points by pairing the best contract tech talent available with the world's most innovative companies. Thanks to a rigorous vetting process and hands-on support, the service boasts high success rates. Now, with 10x Ascend, the company is exploring ways to facilitate the growth of senior tech talent while ensuring fair compensation.
Eliminate Pain Points with a Groundbreaking Tech Talent Agency
10x Management was founded in 2012 when Rishon and Michael Solomon, two successful talent managers from the music industry, joined forces to form the world's first tech talent agency.
"We had a background representing talent in the entertainment world," Rishon said. "At the same time, people began to talk about coders as the new rock stars, and we saw a similarity between some of the needs that coders have and some of the representation that we were already doing for a different kind of talent. That was really what kicked it off for us."
To gauge whether talent representation within the tech world made business sense, the pair met with programmer and musician Altay Guvench. "We were introduced to him, and he immediately understood the idea of representation from his experience in the music business," Rishon said. "He said he could certainly use help with freelancing, and we took him on as our first client."
Rishon and Michael quickly realized that this form of representation would benefit both freelancers and the companies that hire them. "As we started to rapidly take on new clients, we realized we didn't want to represent your average coder — our goal was to work with the best of the best," Rishon said. "Using well-defined criteria, we can prove a great pedigree of tech capability via prior work history and code reviews, plus online and traditional reference checks."
In addition to technical vetting, 10x Management screens candidates for equally important soft skills. Rishon said 10xers must demonstrate a high intelligence quotient (IQ) and emotional quotient (EQ). Having both, he said, can make the ultimate difference between a mediocre project and a successful one.
"We want people who can problem-solve and communicate at a very high level, who understand how to set expectations, and who feel empowered to push when a customer has an idea or a protocol that they want to execute that doesn't make sense," Rishon said. "At the same time, they should understand that the customer is always right."
A Rigorous Vetting Process, Quick Matching, and Hands-On Support
10x Management is intended to simplify the hiring process for startups, SMBs, and enterprises seeking top-notch tech talent. Businesses simply fill out a four- to five-question form, and someone from the company will reach out with further questions to identify the right match.
But onboarding freelancer clients into the system is a cumbersome process by design. "We don't want people to take this lightly — if they really want to be represented by us, they have to provide us with the information we need to create the successful matches that we make," Rishon said.
The matching process is extremely transparent, guaranteeing both freelance clients and customer companies know exactly what they're signing up for. To that end, 10x Management sets up an introductory call to nail down a solid understanding of the scope of work and skill set required. The company's goal is to ensure the arrangement is a win-win for everyone.
"We don't want people learning on the job," Rishon said. "If someone has experience in Python but not Django, and the job calls for both, that person's not the right candidate."
10x Management considers itself a boutique agency. The group typically represents between 150 and 275 individuals and entities, plus approximately 6,000 freelancers on a waiting list who have applied to be represented.
"We certainly don't guarantee that we can solve every problem," Rishon said. "But in every case, we will let you know within 24 hours whether we have someone who can handle your project so you can quickly move on if needed."
A Matchmaking Service Boasting a 97% Success Rate
Rishon said 10x Management's 97% success rate is a product of the company's rigorous vetting process. The company doesn't have an automated platform, yet it moves incredibly quickly thanks to a deep understanding of its freelance clients.
"We tell our customers that we can have someone working on their project within 24 to 48 hours, sometimes less if there's an urgent need," he said. "Once we find out all the different elements to the project, the customer doesn't have to do much else — they just sit back, and we'll be in contact to present the profile of the person we think makes the most sense for the job."
10x Management's competitors typically follow a very different process, according to Rishon. Those companies often offer five or six distinct profiles and set up multiple interviews so businesses can get a sense of the candidates' capabilities.
"Even at the end of that lengthy process, a business may still find itself engaging with a candidate they're not all that confident in," he said. "We take on all of that work for our customers."
The company also strives to ensure freelance clients can maintain proper work-life balance and advocate for themselves. After all, working as a 10xer isn't just about dollars and cents — it's also about enjoying a comfortable and flexible working environment.
"At the end of the day, everybody who works here is helping to support all of the people we represent," Rishon said. "We want to make sure they're not exploited. We want them to get the type of engagements that are exciting for them, the type of compensation that is appropriate for them, and then allow them to have the quality of life that they're looking for."
The Next Step: 10x Ascend
10xers are so good that it's not uncommon for businesses to want to hire them full time — and beause of that, 10X has helped its freelance clients shift to W2 positions in the past. This concept inspired 10x Management's newest offering: 10x Ascend. Intended for senior tech talent who have full-time job offers in hand, the service will help candidates negotiate the best deal possible.
"It's not strictly dollar-and-cents compensation — it's things like paid time off, title, reporting structure, working from home — a lot of the soft elements that people don't really think about in addition to compensation," Rishon said.
The company tested a beta version of 10x Ascend throughout 2018 and found they were able to increase the value of initial offers by up to 40%. "We want to ensure that the compensation package is the best it can be," Rishon said.